Article:Home Runs of April 21, 2008
Talk

0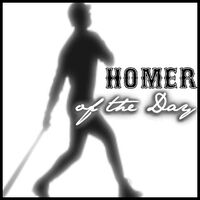 | Batter | Team (B) | Inning | Pitcher | Team (P) | Situation |
| --- | --- | --- | --- | --- | --- |
| Edgar Renteria (3) | Tigers | 6th | Shaun Marcum (4) | Blue Jays | 0 on, 0 out, 4-0 |
| Gregg Zaun (1) | Blue Jays | 9th | Todd Jones (1) | Tigers | 0 on, 0 out, 0-5 |
| Brian McCann (5) | Braves | 2nd | Matt Chico (6) | Nationals | 0 on, 0 out, 1-0 |
| Hanley Ramirez (6) | Marlins | 2nd | Matt Morris (4) | Pirates | 1 on, 2 out, 2-0 |
| Josh Willingham (5) | Marlins | 3rd | Matt Morris (5) | Pirates | 1 on, 0 out, 4-2 |
| Dan Uggla (3) | Marlins | 6th | Franquelis Osoria (4) | Pirates | 0 on, 0 out, 9-2 |
| Aramis Ramirez (5) | Cubs | 4th | John Maine (3) | Mets | 1 on, 0 out, 0-0 |
| Felix Pie (1) | Cubs | 8th | Jorge Sosa (3) | Mets | 2 on, 2 out, 4-1 |
| Rafael Furcal (3) | Dodgers | 1st | Matt Belisle (1) | Reds | 0 on, 0 out, 0-0 |
| Nomar Garciaparra (1) | Dodgers | 6th | Josh Fogg (5) | Reds | 1 on, 0 out, 7-1 |
| Edwin Encarnacion (5) | Reds | 7th | Chan Ho Park (3) | Dodgers | 0 on, 0 out, 9-1 |
| Joey Votto (4) | Reds | 9th | Chan Ho Park (4) | Dodgers | 0 on, 0 out, 9-2 |
| Jim Edmonds (1) | Padres | 2nd | Roy Oswalt (6) | Astros | 0 on, 1 out, 0-5 |
| Adrian Gonzalez (3) | Padres | 6th | Roy Oswalt (7) | Astros | 0 on, 0 out, 2-10 |
| Lance Berkman (5) | Astros | 1st | Justin Germano (1) | Padres | 2 on, 0 out, 1-0 |
| Miguel Tejada (4) | Astros | 2nd | Justin Germano (2) | Padres | 1 on, 0 out, 5-1 |
| Pat Burrell (7) | Phillies | 4th | Mark Redman (2) | Rockies | 1 on, 2 out, 0-3 |
| Jayson Werth (2) | Phillies | 6th* | Mark Redman (3) | Rockies | 0 on, 0 out, 2-5 |
| Chase Utley (9) | Phillies | 6th | Mark Redman (4) | Rockies | 0 on, 0 out, 3-5 |
| Yorvit Torrealba (2) | Rockies | 2nd | Kyle Kendrick (2) | Phillies | 2 on, 1 out, 0-0 |
| Garrett Atkins (4) | Rockies | 5th | Kyle Kendrick (3) | Phillies | 1 on, 1 out, 3-2 |
| Fred Lewis (1) | Giants | 3rd | Micah Owings (3) | Diamondbacks | 0 on, 0 out, 1-1 |
| Mark Reynolds (6) | Diamondbacks | 2nd | Kevin Correia (4) | Giants | 0 on, 1 out, 0-1 |
| Eric Byrnes (3) | Diamondbacks | 5th | Kevin Correia (5) | Giants | 1 on, 1 out, 1-2 |
| Orlando Hudson (3) | Diamondbacks | 7th | Kevin Correia (6) | Giants | 0 on, 2 out, 3-2 |
The asterisk (*) doesn't mean that the guy is on steroids; it signifies that the home run hit was an inside-the-park home run.
For the people who have not been introduced to the "Home Runs of the Day" yet, let me just clarify a couple of things: * The "situation part" (the part that states the score) is the score after the home run is it. ** And, on a second note, the first part of the score is the score of the home run hitter's team. The second number represents the opponent's team.
Notes: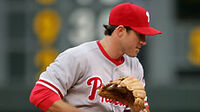 I said in last night's edition of the "
Homer of the Day
", and I will say it again because it needs to be said again: "
How unbelievable is Chase Utley!?
He has now hit a home run in [not 1, not 2, not 3, not 4, but]
5
consecutive games now. "Chase-ing" a record like this is not that easy, but Utley is making it easy because he's on FIRE, leading the Majors with 9 home runs! He has hit 5 of the last 9
Phillies
homers. With
Colorado Rockies
'
Jeff Francis
facing the Phils tonight (tied with 5 other pitchers for the most home runs surrendered), I'd say that Chase has at least 2 at-bats where there is a probability that he could hit a home run in a 6th consecutive game. The chances are good, but will he do it? There are two ways to find out: watch the game, or to find out after the game by reading some sort of recap. Stay tuned to find out whether he did or did
not
hit a homer in a sixth consecutive game.
Aside from the "Chase Utley trying to make history" topic, we must not forget about the first inside-the-park home run hit by Philly's own Jayson Werth. It was actually hit right before Utley's 9th home run. He sent it over center fielder Willy Taveras' head in right-center field, which is pretty weird since Taveras is pretty fast, and Coors Field is a hitter's ballpark. It was rather weird, which made me have the great urge to find a video of it and watch it. What happened was the ball ricocheted off the wall, and the ball got past Taveras by about 30-40 feet. With Taveras going full speed ahead to try to catch the ball, he wasn't able to get to stop and get the ball in time, and Werth made it safely. Congratulations to Jayson Werth for becoming the first player to hit an inside-the-park home run in the 2008 season.
With Chase Utley at 9 home runs, he is now at least two homers in above everyone else in the Major Leagues in the "home run" category. Derrek Lee of the Chicago Cubs stayed still at 7 last night. On the other hand, Pat Burrell (another Phillie) homered last night to tie Lee for second place, making his 2008 season's total number of home runs 7. It truly was an interesting night for the Phillies.
More wonderful news has come in for the Houston Astros: Roy Oswalt is back on the list; being on this list is never a good thing if you're a pitcher. He is now in sole possession for first place in home runs surrendered with 7. San Diego Padres' Jim Edmonds and Adrian Gonzalez are responsible for getting him where he is now, as they both hit home runs off him yesterday. It's never a good sign when a pitcher surrenders more home runs than games pitched, and right now, that is where Roy Oswalt is right now: he has given up 7 home runs in 5 games (30 inings). If Oswalt doesn't do well anytime soon, you can probably predict that the Astros are going to stay in last place for a while.
Remember, you can always have the privilage to cast a vote for the "Homer of the Day" in the comments section down below. Feel free to discuss who should win today or who should've won yesterday, or what I could've done to make the article better.
Homer of the Day (April 20, 2008)
And the Homer of the Day of April 20, 2008, belongs to...
There is finally someone to talk about for a day besides Chase Utley or Pat Burrell in the lineup after a game between the Philadelphia Phillies and the New York Mets; his name is Pedro Feliz. Although Utley had an amazing day, not only connecting on another homer, expanding the number of consecutive games he has with a home run with 4, but he also smashed another shot just inside the right field foul pole for his 5th home run in 4 games! The Phillies were now up 4-0, with Utley collecting all of the RBI's. However, the Mets were able to come back thanks to a couple of RBI singles by Carlos Beltran and Ryan Church, eventually tying the game up a 4 apiece.
An inning later, when Pedro Feliciano was on the mound, Charlie Manuel made a strategic move: he decided to go with Pedro Feliz instead of Greg Dobbs. His plan worked, as Feliz hit a solo shot over the right field wall, making it 5-4 in favor of the Phils. That game was the game winner, as the score stayed the same until the final out by Brad Lidge, as Eric Bruntlett made a tremendous play at shortstop, ending the game with a one run victory.
Others who received votes:
David Eckstein of the Toronto Blue Jays (2 votes) <br Richie Sexson of the Seattle Mariners (1 vote)
Chase Utley of the Philadelphia Phillies (1 vote)
On Another Matter:
In case you missed any of them, here they are (I want to make sure that I can get every baseball fan's votes, since I love people who participate in these):
April 13
April 14
April 15
April 16
April 17
April 18
April 19
Thanks for your patience this entire weeks for those of you who have been waiting for each homer of the day since the beginning. I mean it.
Also, I haven't been getting any feedback on this (I've gotten 1 or 2 comments about this) what do you guys think if I put the players in alphabetical order? What about inning by inning? Or do you guys like it just the way it is? I'd appreciate it if you guys could give me feedback on what I should do. Thanks in advance.
Ad blocker interference detected!
Wikia is a free-to-use site that makes money from advertising. We have a modified experience for viewers using ad blockers

Wikia is not accessible if you've made further modifications. Remove the custom ad blocker rule(s) and the page will load as expected.