Article:Home Runs of April 20, 2008
Talk

0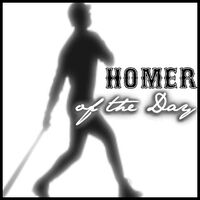 | Batter | Team (B) | Inning | Pitcher | Team (P) | Situation |
| --- | --- | --- | --- | --- | --- |
| David Eckstein (1) | Blue Jays | 4th | Nate Robertson (3) | Tigers | 2 on, 2 out, 2-2 |
| Austin Kearns (2) | Nationals | 5th | Scott Olsen (3) | Marlins | 0 on, 0 out, 0-1 |
| Hanley Ramirez (4) | Marlins | 7th | Luis Ayala (1) | Nationals | 0 on, 0 out, 1-1 |
| Hanley Ramirez (5) | Marlins | 8th | Saul Rivera (1) | Nationals | 1 on, 2 out, 4-1 |
| J.J. Hardy (1) | Brewers | 4th | Aaron Harang (5) | Reds | 0 on, 0 out, 0-0 |
| Edwin Encarnacion (3) | Reds | 5th | Yovani Gallardo (1) | Brewers | 0 on, 1 out, 0-1 |
| Edwin Encarnacion (4) | Reds | 10th | Eric Gagne (3) | Brewers | 0 on, 0 out, 1-3 |
| Paul Bako (1) | Reds | 10th | Eric Gagne (4) | Brewers | 0 on, 0 out, 2-3 |
| Russell Martin (2) | Dodgers | 4th | Jair Jurrjens (1) | Braves | 0 on, 2 out, 0-1 |
| Kelly Johnson (3) | Braves | 5th | Hiroki Kuroda (3) | Dodgers | 0 on, 0 out, 1-1 |
| Mark Teixeira (4) | Braves | 8th | Scott Proctor (3) | Dodgers | 1 on, 2 out, 3-1 |
| Johnny Damon (2) | Yankees | 7th | Chad Bradford (1) | Orioles | 1 on, 1 out, 2-0 |
| Ian Kinsler (1) | Rangers | 1st | Tim Wakefield (2) | Red Sox | 0 on, 0 out, 0-0 |
| Milton Bradley (1) | Rangers | 6th | Tim Wakefield (3) | Red Sox | 2 on, 1 out, 2-0 |
| Jim Thome (5) | White Sox | 1st | Edwin Jackson (2) | Rays | 0 on, 2 out, 0-0 |
| Garrett Atkins (3) | Rockies | 6th | Shawn Chacon (2) | Astros | 0 on, 1 out, 2-3 |
| Brendan Harris (1) | Twins | 3rd | Paul Byrd (4) | Indians | 0 on, 2 out, 0-1 |
| John Bowker (3) | Giants | 3rd | Braden Looper (1) | Cardinals | 1 on, 0 out, 4-0 |
| Ryan Doumit (3) | Pirates | 6th | Bob Howry (1) | Cubs | 0 on, 1 out, 3-10 |
| Ryan Doumit (4) | Pirates | 8th | Michael Wuertz (3) | Cubs | 0 on, 1 out, 4-13 |
| Aramis Ramirez (4) | Cubs | 5th | Franquelis Osoria (3) | Pirates | 1 on, 2 out, 8-3 |
| Richie Sexson (5) | Mariners | 2nd | Dustin Moseley (4) | Angels | 1 on, 1 out, 0-0 |
| Justin Huber (1) | Padres | 6th | Randy Johnson (1) | Diamondbacks | 2 on, 1 out, 2-1 |
| Chase Utley (7) | Phillies | 1st | Mike Pelfrey (1) | Mets | 0 on, 2 out, 0-0 |
| Chase Utley (8) | Phillies | 5th | Mike Pelfrey (2) | Mets | 2 on, 0 out, 1-0 |
| Pedro Feliz (3) | Phillies | 7th | Pedro Feliciano (1) | Mets | 0 on, 0 out, 4-4 |
For the people who have not been introduced to the "Home Runs of the Day" yet, let me just clarify a couple of things:
The "situation part" (the part that states the score) is the score after the home run is it.

And, on a second note, the first part of the score is the score of the home run hitter's team. The second number represents the opponent's team.
Notes: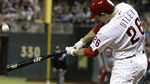 How unbelievable is Chase Utley? He has now hit a home run in 4 consecutive games, and now has sole possession for first place in home runs with 8, passing Derrek Lee of the Chicago Cubs (7). Phillies fans must be extremely glad that at least one player in "The Tremendous Trio is doing well. Many must be wondering whether Utley can homer in today's game against the Colorado Rockies.
Thome blasted a 2-2 pitch off Tampa Bay Rays starter Edwin Jackson in the first inning on on Sunday for his 512th career home run, tying him with Ernie Banks and Eddie Mathews for 19th on the all-time list. With 5 home runs for Big Thome already, who knows how many homers he will hit by the end of the season! At this rate, Thome, will hit around 40. Even though that is not likely, the 37 year old is not slowing down when it comes to hitting home runs. I actually think that there is a chance for him to hit 600 home runs if he stays healthy.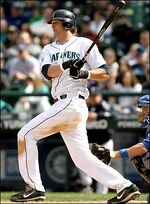 Another milestone is coming close to being broken. Seattle Mariners' Richie Sexson hit another home run in last night's game against the Los Angeles Angels; he actually got help from his teammates, and they eventually won the game, but that's not the point. Sexson's homer was his 299th of his career and his 3rd big bomb in 2 games. He is one home run away from becoming the 116th member of the 300 home run club. Will he catch up to Chase Utley's consecutive home run record when it's all said and done? We'll find out in a couple of days.
Other than Chase Utley and Derrek Lee, Mike Jacobs (Florida Marlins), Carlos Pena (Tampa Bay Rays), Bill Hall (Milwaukee Brewers), Pat Burrell (Philadelphia Phillies), Chipper Jones (Atlanta Braves), and Manny Ramirez (Boston Red Sox) are still the only players with 6 home runs. Out of the 8 players who have hit 6+ homers, two are from the American League; six are from the National League.
Jeff Francis (Colorado Rockies), Scott Baker (Minnesota Twins), Brett Myers (Philadelphia Phillies), Oscar Villarreal (Arizona Diamondbacks), Ricky Nolasco (Florida Marlins), and Bronson Arroyo (Cincinnati Reds) are still stuck with 6 homers. No one else has been added to this list as of this day. * Scott Baker is still the only American Leaguer out of all pitchers who have surrendered 6 homers.
Also, who the heck is that guy who once saved 83 consecutive games? What's his name again? Oh yeah, Eric Gagne, the "closer" for the Milwaukee Brewers. Seriously, is he a closer? He's more of an "opener" (if there is such a thing). As a closer, you're supposed to shut down three straight batters(well, usually) to save a game. The manager relies on that one pitcher to get the job done every time. After 18 games played, Eric Gone!-YAY! has blown 3 saves, and has surrendered 4 home runs. He's worse than Ricky Vaughn in "Major League" when he was in a slump.
Up by 3, 2 men on base in the bottom of the 9th against the Cubs... Kosuke Fukodome hits a 3-run homer to tie the game to go into extra innings. Last night was no different, as Gagne surrender two solo homers to Edwin Encarnacion (4) and Paul Bako (1) to tie the game up at 3 in extra frames. The Cincinnati Reds eventually won the game after a walk-off single by Ken Griffey Jr. I have not said anything about Gagne for the past 6 months, and I probably won't ever again. He has definitely lost it, and it's obvious that ever since his injuries back in 2005-2006 hurt him not only physically, but mentally and professionally as well.
Remember, you can always have the privilage to cast a vote for the "Homer of the Day" in the comments section down below. Feel free to discuss who should win today or who should've won yesterday.
Homer of the Day (April 19, 2008)
And the Homer of the Day of April 19, 2008, belongs to...
As many people would say right now, Chase Utley is having a beastly year. With Jimmy Rollins injured, and Ryan Howard not having his greatest year with the bat, he and Pat Burrell have really done well to keep the Phils near .500. However, Utley's solo shot was not able to defeat the New York Mets on this day, as they lost in a close game, 4-2.
Utley has now homered in his third straight game. Let's see if he can keep up his hot bat later when the Phils need him the most.
On Another Matter:
I have finally caught up with all of my "Homer of the Day" articles. You know what that means, right? That means you have less than 24 hours to vote for all of those "Homers of the Day" from April 13th-April 20th (today). Just in case you missed any of them, here they are (I want to make sure that I can get every baseball fan's votes, since I love people who participate in these):
April 13
April 14
April 15
April 16
April 17
April 18
April 19
Thanks for your patience this entire weeks for those of you who have been waiting for each homer of the day since the beginning. I mean it.
Also, I haven't been getting any feedback on this (I've gotten 1 or 2 comments about this) what do you guys think if I put the players in alphabetical order? What about inning by inning? Or do you guys like it just the way it is? I'd appreciate it if you guys could give me feedback on what I should do. Thanks in advance.
Ad blocker interference detected!
Wikia is a free-to-use site that makes money from advertising. We have a modified experience for viewers using ad blockers

Wikia is not accessible if you've made further modifications. Remove the custom ad blocker rule(s) and the page will load as expected.