Article:Home Runs of April 19, 2008
Talk

0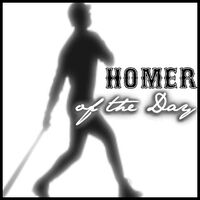 | Batter | Team (B) | Inning | Pitcher | Team (P) | Situation |
| --- | --- | --- | --- | --- | --- |
| Aaron Rowand (1) | Giants | 4th | Joel Pineiro (2) | Cardinals | 0 on, 1 out, 1-0 |
| Justin Morneau (5) | Twins | 1st | Jake Westbrook (4) | Indians | 1 on, 2 out, 0-0 |
| Alexis Rios (2) | Blue Jays | 1st | Jeremy Bonderman (3) | Tigers | 0 on, 2 out, 0-0 |
| Derrek Lee (7) | Cubs | 1st | Tom Gorzelanny (2) | Pirates | 1 on, 1 out, 0-0 |
| Daryle Ward (1) | Cubs | 7th | Evan Meek (3) | Pirates | 1 on, 1 out, 11-1 |
| Corey Hart (1) | Brewers | 2nd | Johnny Cueto (5) | Reds | 0 on, 1 out, 0-0 |
| Joey Votto (3) | Reds | 7th | Brian Shouse (1) | Brewers | 1 on, 2 out, 1-3 |
| Andruw Jones (1) | Dodgers | 2nd | Chuck James (2) | Braves | 0 on, 2 out, 0-0 |
| Jose Reyes (2) | Mets | 7th | Ryan Madson (2) | Phillies | 1 on, 2 out, 2-0 |
| Chase Utley (6) | Phillies | 7th | Scott Schoeneweis (1) | Mets | 0 on, 2 out, 0-4 |
| Miguel Olivo (2) | Royals | 1st | Greg Smith (1) | Athletics | 2 on, 2 out, 0-0 |
| Jose Guillen (1) | Royals | 2nd | Greg Smith (2) | Athletics | 0 on, 0 out, 3-0 |
| J.R. Towles (4) | Astros | 3rd | Aaron Cook (2) | Rockies | 0 on, 0 out, 1-1 |
| Kevin Millar (3) | Orioles | 3rd | Ian Kennedy (1) | Yankees | 0 on, 1 out, 1-0 |
| Josh Hamilton (4) | Rangers | 1st | Jon Lester (3) | Red Sox | 0 on, 2 out, 0-0 |
| Manny Ramirez (6) | Red Sox | 8th | Joaquin Benoit (1) | Rangers | 1 on, 1 out, 3-3 |
| Brian Giles (2) | Padres | 4th | Edgar Gonzalez (2) | Diamondbacks | 0 on, 2 out, 0-1 |
| Paul McAnulty (1) | Padres | 5th | Edgar Gonzalez (3) | Diamondbacks | 1 on, 0 out, 1-1 |
| Adrian Beltre (3) | Mariners | 7th | Ervin Santana (2) | Angels | 0 on, 2 out, 0-4 |
For the people who have not been introduced to the "Home Runs of the Day" yet, let me just clarify a couple of things:
The "situation part" (the part that states the score) is the score after the home run is it.

And, on a second note, the first part of the score is the score of the home run hitter's team. The second number represents the opponent's team.
Notes: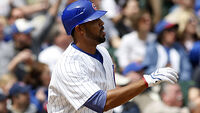 For the first time since April 11th, Tampa Bay Rays' Carlos Pena does not lead in home runs anymore. Chicago Cubs' Derrek Lee is now in sole possession for first place right now with 7, as he hit a solo homer off of Pittsburgh Pirates' ace Tom Gorzelanny in the first inning.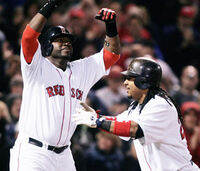 Two players hit their sixth home runs on the 19th of April: Chase Utley of the Philadelphia Phillies and Manny Ramirez of the Boston Red Sox. Both of them are now tied with Mike Jacobs (Florida Marlins), Carlos Pena (Tampa Bay Rays), Bill Hall (Milwaukee Brewers), Pat Burrell (Philadelphia Phillies), and Chipper Jones (Atlanta Braves) for second place in home runs hit.
Chase Utley has now hit a home run in 3 consecutive games. Can he go for more? We'll find out sooner or later. (I find it quite ironic that after 13 days without a home run, Utley hits a home run for the next three games.
Manny Ramirez's home run was game winner in the eighth; the Red Sox beat the Rangers 5-3 on the two-run tater by Man-Ram.
Out of the 8 players who have hit 6+ homers, two are from the American League; six are from the National League.
Jeff Francis (Colorado Rockies), Scott Baker (Minnesota Twins), Brett Myers (Philadelphia Phillies), Oscar Villarreal (Arizona Diamondbacks), Ricky Nolasco (Florida Marlins), and Bronson Arroyo (Cincinnati Reds) are still stuck with 6 homers. No one else has been added to this list as of this day. * Out of the 6 pitchers who have surrendered 6 home runs, Scott Baker is the only American Leaguer out of the bunch.
Even though Brett Myers has surrendered 6 homers, he still has an ERA under 4.00 (3.96); 7 of the 12 runs he has surrendered have been from his opponents' home runs.
Scott Baker has only allowed 9 runs (all of the home runs he has allowed have been with no one on base). He has an ERA of 4.34 as of now.
Johnny Cueto has allowed at least one home run every single game he has pitched so far. With that being said, yes, Cueto now has 5 home runs surrendered, and is currently tied with Roy Oswalt (Houston Astros) Jason Bergmann (Washington Nationals), Todd Wellemeyer (St. Louis Cardinals) Andy Sonnanstine (Tampa Bay Rays), Jason Jennings (Texas Rangers), C.C. Sabathia (Cleveland Indians), Mike Mussina (New York Yankees), Jeremy Guthrie (Baltimore Orioles), Johan Santana (New York Mets), and Daniel Cabrera) for second place (or sixth place, depending on how you look at it) in the "HRs surrendered" category with 5.
Out of the 11 pitchers have surrendered 5 homers, 6 are from the American League and 5 are from the National League.
Remember, you can always have the privilage to cast a vote for the "Homer of the Day" in the comments section down below. Feel free to discuss who should win today or who should've won yesterday.
Homer of the Day (April 18, 2008)
And the Homer of the Day of April 18, 2008, belongs to...
After finding out that a grand slam and a "break out" homer won the last two homers of the day, why not combine both into one? According to the people who voted on April 18, 2008, Big Papi's grand slam in the 3rd inning won the "Homer of the Day", as it gave the Red Sox a 4-1 lead, as well as possibly ending this minor slump that he has had in the season so far.
Here are some facts you didn't know about this home run:
This grand slam was the eighth grand slam of his career.
The home run was Ortiz's seventh career grand slam in Boston, tying him with Ted Williams and Jim Rice for the most at Fenway Park. Ortiz has eight career slams and 210 homers overall, tying him with Rico Petrocelli for ninth place on the club's all-time list.
He needs 311 home runs to tie Ted Williams for the all-time club record for home runs. :P
Others who received votes:
Chipper Jones of the Atlanta Braves (1 vote)
On Another Matter:
I would like some to take this time to thank Trizz for creating the amazing "Homer of the Day" logo above. Thanks so much. I'm truly grateful.
Also, what do you guys think if I put the players in alphabetical order? What about inning by inning? Or do you guys like it just the way it is? I'd appreciate it if you guys could give me feedback on what I should do.
Sorry guys, for the late article. Thanks for your patience. I'll be sure to catch up. It's my weekend, and I'm free, so... you'll be sure that I'll be working for the next couple of days.
Ad blocker interference detected!
Wikia is a free-to-use site that makes money from advertising. We have a modified experience for viewers using ad blockers

Wikia is not accessible if you've made further modifications. Remove the custom ad blocker rule(s) and the page will load as expected.