| Batter | Team (B) | Inning | Pitcher | Team (P) | Situation |
| --- | --- | --- | --- | --- | --- |
| Josh Hamilton (1) | Texas Rangers | 1st | Edwin Jackson (2) | Detroit Tigers | 1 on, 1 out, 0-0 |
| Ian Kinsler (2) | Texas Rangers | 3rd | Edwin Jackson (3) | Detroit Tigers | 1 on, 0 out, 2-0 |
| Brandon Inge (4) | Detroit Tigers | 8th | C.J. Wilson (1) | Texas Rangers | 0 on, 0 out, 0-4 |
| Mark DeRosa (1) | Cleveland Indians | 3rd | David Purcey (1) | Toronto Blue Jays | 1 on, 0 out, 1-0 |
| Vernon Wells (1) | Toronto Blue Jays | 6th | Anthony Reyes (1) | Cleveland Indians | 1 on, 1 out, 2-5 |
| Travis Hafner (3) | Cleveland Indians | 8th | Brandon League (1) | Toronto Blue Jays | 1 on, 1 out, 5-4 |
| Brandon Phillips (1) | Cincinnati Reds | 1st | Ian Snell (3) | Pittsburgh Pirates | 1 on, 2 out, 0-0 |
| Ben Zobrist (1) | Tampa Bay Rays | 5th | Brian Bass (2) | Baltimore Orioles | 2 on, 1 out, 4-0 |
| Jason Bartlett (1) | Tampa Bay Rays | 7th | Brian Bass (3) | Baltimore Orioles | 0 on, 2 out, 8-0 |
| Evan Longoria (5) | Tampa Bay Rays | 8th | Brian Bass (4) | Baltimore Orioles | 0 on, 1 out, 9-0 |
| Carlos Pena (2) | Tampa Bay Rays | 8th | Brian Bass (5) | Baltimore Orioles | 0 on, 1 out, 10-0 |
| Delmon Young (1) | Minnesota Twins | 2nd | Mark Buehrle (2) | Chicago White Sox | 0 on, 1 out, 0-0 |
| Jim Thome (2) | Chicago White Sox | 6th | Nick Blackburn (1) | Minnesota Twins | 1 on, 0 out, 1-1 |
| Jermaine Dye (1) | Chicago White Sox | 8th | Joe Nathan (1) | Minnesota Twins | 0 on, 0 out, 5-1 |
| John Buck (1) | Kansas City Royals | 3rd | Joba Chamberlain (1) | New York Yankees | 0 on, 1 out, 0-1 |
| Dexter Fowler (2) | Colorado Rockies | 2nd | Chan Ho Park (1) | Philadelphia Phillies | 0 on, 0 out, 4-1 |
| Chase Utley (1) | Philadelphia Phillies | 8th | Manny Corpas (1) | Colorado Rockies | 1 on, 0 out, 3-5 |
| Matt Stairs (1) | Philadelphia Phillies | 9th | Huston Street (1) | Colorado Rockies | 1 on, 1 out, 5-5 |
| Kevin Youkilis (1) | Boston Red Sox | 2nd | Dustin Moseley (1) | Los Angeles Angels | 0 on, 0 out, 0-0 |
| J.D. Drew (1) | Boston Red Sox | 2nd | Dustin Moseley (2) | Los Angeles Angels | 0 on, 0 out, 1-0 |
| Vladimir Guerrero (1) | Los Angeles Angels | 8th | Hideki Okajima (1) | Boston Red Sox | 0 on, 0 out, 4-3 |
| Chase Headley (2) | San Diego Padres | 3rd | Tim Lincecum (1) | San Francisco Giants | 1 on, 2 out, 1-0 |
| Alfonso Soriano (4) | Chicago Cubs | 1st | Jeff Suppan (2) | Milwaukee Brewers | 0 on, 0 out, 0-0 |
| Corey Hart (2) | Milwaukee Brewers | 4th | Ryan Dempster (2) | Chicago Cubs | 0 on, 0 out, 1-5 |
| Rickie Weeks (1) | Milwaukee Brewers | 9th | Kevin Gregg (1) | Chicago Cubs | 0 on, 2 out, 4-8 |
Getting Rocked in the End
Last Wednesday, the Phillies were able to erase what was a 10-3 deficit against the Braves. However, when the Phils flew over to Colorado to face the Rockies in their second series of the season, they got stopped in their tracks right when they had had the potential to build some momentum after their amazing comeback win. They also had Cole Hamels back, who started for the first game of the series. He did well to start the game, as he only allowed two men on base in the first two innings; he picked off one of them at second base. However, in the third inning, it was a total disaster for him and the Phillies when he surrendered 10 more hits and 7 more runs before being pulled out. The Phillies would end up losing that game, 10-3. The next game was a different case, as the Phils knocked Rockies starter Jorge De La Rosa and Jason Hammel for a relieving 8-4 victory. The first battle of the 2009 between the last two National League champions ended Sunday, with Philadelphia trying to capture their first series win of the young season and Colorado trying to move up 2 games over the .500 mark before the first week of the baseball season was over.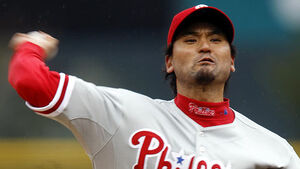 The Phillies seemed to have the upper hand coming into the game. After all, they did win the previous game. However, that was not the case at all when Chan Ho Park stepped on the mound for the visiting team. After a 1-2-3 inning by 2008 All-Star Aaron Cook, the Rockies' offense started early. Brad Hawpe hit a double in the gap of right-center field, which scored Ryan Spilborghs easily from first base after singling to left field. Garrett Atkins, who came into the series 0-for-11 with a walk, singled to center field, bringing in Hawpe to give the Rockies an early 2-0 lead. Park was still not locating his pitches where they should've been, as he gave up another single to Ian Stewart and walked Troy Tulowitzki to load the bases. Park finally got the second out of the inning by striking out Chris Iannetta, but then gave up a fifth hit to Clint Barmes, scoring both Atkins and Stewart. Thankfully for him, Cook was up; at least he was able to get him out to end the inning.
Updated score: 4-0, Rockies
With the first inning so skewed, it looked like this ballgame could've been over early. However, the teams had to play it out inning by inning and see what would happen. After all, the Phils did come back from a seven-run deficit not too long ago. The next batter was the cleanup hitter in Ryan Howard, who didn't do well at the plate in the first game of the series, but went 2-for-4 in the second game along with 3 RBI's and a strikeout (sorry, Philly fans... I just had to put that in there). He led off the inning with a double, with Raul Ibanez eventually driving him in with a single that deflected off Cook that Troy Tulowitzki could not get to in time. Trainers came onto the field to check on Cook, but he was fine, and he proved it when he got the next two batters out to end the inning. Meanwhile, Chan Ho Park was still having trouble locating his pitches, as he surrendered a leadoff homer to Dexter Fowler. Park walked another batter in the inning, but he got out of the inning with just one more run allowed.
Updated score: 5-1, Rockies
In the fourth inning, the Phillies got one run back, as Chase Utley led the inning off with a single, stole second base, and hustled in to score on a Jayson Werth single to center field. Phillies manager Charlie Manuel was finally convinced that he needed to take Chan Ho out and rely on his efficient bullpen to hold the Rockies from scoring if he wanted to come close win this game. Park's didn't live up to what people thought he was going to do (judging from what he did in Spring Training) in his first outing as a Philly. Park only went 3 1/3 innings with 5 earned runs, 7 hits, and 3 walks. As Park left for the bench, Chad Durbin came in for 2 innings of work. Durbin was able to leave two potential runs on base that could've scored on Park's account.
Updated score: 5-2, Rockies
After a very quick fifth inning, the Phillies were up again, with the top of the order due. After a Chase Utley walk and a Ryan Howard single, Jayson Werth came up clutch [again], bringing in Chase Utley [again], making it a 5-3 ballgame [again... no wait... never mind]. Afterwards, Raul Ibanez stopped the rally by grounding into a 4-6-3 double play to end the inning. However, the Phillies were chipping away, little by little, in hopes to get back into the game. Chad Durbin pitched 2 innings of perfect baseball, but had a little trouble in the sixth, surrendering a single and a walk. Manuel took him out and replaced him with left-handed pitcher Scott Eyre. He got Brad Hawpe and Garrett Atkins to fly out and end the inning with no harm done.
Updated score: 5-3, Rockies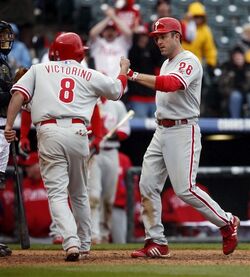 The seventh inning ended rather quickly as well with two new pitchers for the Rockies in Jason Grilli and Alan Embree held the two-run lead, and Clay Condrey got three straight outs and held the Rockies to maintain the deficit at two runs. The game was getting down to the nitty gritty, as the Rockies were only six outs away from winning the ballgame. Manuel Corpas entered the game with the Rockies' lead, but gave up a soft single to Shane Victorino. Chase Utley, who scored twice via Jayson Werth singles, figured it was time to start scoring on his own [with the aid of anyone besides a simple, easy pitch to hit]. Chase lifted a 1-0 sinker high and deep that [just barely] went over the right field wall for a two-run blast for a clutch home run that tied the ballgame at 5!
"I thought it was not a home run -- I thought it was a fly ball," Corpas said. "I don't know him [Utley]. Now I know."
"After six games, you'd like to see a game be put away with a 5-3 lead going into the eighth inning," Rockies' manager Clint Hurdle said. "That didn't happen. These guys are capable."
Updated score:  5-5 Rockies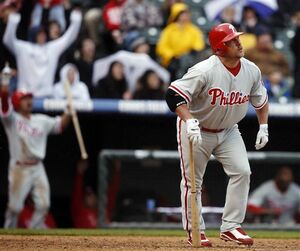 Hurdle might have been disappointed to have seen the lead go away, but it gets even more disappointing for the Rockies. After set-up man Ryan Madson struck out Dexter Fowler to end a 1-2-3 inning, the ninth inning came around. Huston Street was on the mound for Colorado, trying to keep the game tied at 5. After surrendering a leadoff double to third baseman Pedro Feliz, Charlie Manuel subbed Matt Stairs in as a pinch hitter for Madson. Now, Stairs only needed a base hit (even a sacrifice fly) to give the Phillies the lead, as catcher Chris Coste moved Feliz over to third base with a sacrifice bunt. Who would be better to put in the situation than Matt Stairs, with him being the active leader in pinch hit home runs (14)? The count was 1-1, and Street threw a 90 mile per hour slider that Chris Iannetta wanted outside and low but instead went right down the middle. Big mistake... Stairs took advantage and hit a high fly ball that went over the wall for his 15th home run. His heroics gave them the lead for good, although Brad Lidge put two runners on base in the ninth.
"My approach doesn't change," Stairs said Sunday. "It's amazing how it just came out last year that I try to hit home runs. It's been like that for 15 years. It doesn't happen as much as I'd like to, but it seems like the last couple times it's worked pretty well."
"That's a tough job to do, and he does it pretty good," manager Charlie Manuel said. "Hitting a pinch-hit home run is pretty hard, especially when they know what kind of hitter he is.
"I remember thinking, 'Make sure you get it in,' and I just missed," Street said of the pitch that went over the wall for what ended up being the game winning homer.
Final score: Philadelphia Phillies: 7… Colorado Rockies: 5
Some Final Thoughts:
Troy Tulowitzki: "We just kept them around and they kept themselves around; it just seems like it was a game we should've won."
Chan Ho Park: "They beat me, but they couldn't beat us." (Great way to put it, in my opinion)
On Another Note:
I thought Dexter Fowler would do well for the Rockies as leadoff man because of his speed. I thought he'd be a new, younger Willy Taveras, but I guess he's got a little power in him, too. Stiles predicted that he'd have 11 homers and 31 stolen bases and finish second in the Rookie of the Year voting (only behind Diamondbacks' Max Scherzer. Good prediction. For more info, click here.
Matt Stairs now has 15 career pinch hit home runs. That's 5 away from the Major League record, held by Cliff Johnson (20, if you don't feel like adding, or mathematically challenged).
The Phillies took part in an Opening Day ceremony in Philadelphia and in Colorado. They will face the Nationals, where they will be included in their third straight home opener of the season. As if the first one in Philly wasn't enough...
Cole Hamels will make his second appearance of the season on Wednesday against Washington. He says that he's not worried about his first outing. He insists that he's healthy, saying, "I feel great. I was a little nervous because I always get the second-day soreness. I never get the first-day soreness. I felt good yesterday. I worked out. And today I felt really good. That's good stuff." He threw about 45 fastballs on Sunday, working on his mechanics. Phillies fans (and/or Cole Hamels fans) will still worry until he's back to his old self though.
Lidge's consecutive save streak improves to 46. He has 53 straight saves if you include last year's playoffs.
Other Notable Home Runs:
Trivia Question
I guess the last trivia question was a little hard, as no one even attempted to answer it, except [possibly] for DAndrew, who showed that my question needed to be reworded.
Matt Stairs is the active leader in pinch hit home runs. Who is second on the list?
Answer to Last Trivia Question
The question has been out in the open for about 3 days now, so I figure either no one wants to answer the question, or it was just "too hard". The question was:  There are three other players who won both the Gold Glove and Silver Slugger award in the same season with the Red Sox, just like Pedroia did. Name them.
The correct answer is: Dwight Evans (1981), Ellis Burks (1990), and Jason Varitek (2005).
Homer of the Day (April 11, 2009)
And the Homer of the Day for April 11, 2009 goes to...
Click here to check out what Alfy did to earn the Homer of the Day for Saturday.
Others who received votes on this day:
Jason Bay (1 vote)
Don't Forget
...to vote for the April 12, 2009 Homer of the Day for April 12, 2009 before 12:00 NOON (April 15, 2009).
Ad blocker interference detected!
Wikia is a free-to-use site that makes money from advertising. We have a modified experience for viewers using ad blockers

Wikia is not accessible if you've made further modifications. Remove the custom ad blocker rule(s) and the page will load as expected.