| Batter | Team (B) | Inning | Pitcher | Team (P) | Situation |
| --- | --- | --- | --- | --- | --- |
| Hank Blalock (2) | Texas Rangers | 2nd | Justin Verlander (2) | Detroit Tigers | 0 on, 0 out, 0-0 |
| Nate McLouth (2) | Pittsburgh Pirates | 1st | Johnny Cueto (1) | Cincinnati Reds | 1 on, 1 out, 0-0 |
| Ryan Doumit (1) | Pittsburgh Pirates | 9th | Mike Lincoln (1) | Cincinnati Reds | 3 on, 2 out, 5-1 |
| Adam LaRoche (1) | Pittsburgh Pirates | 9th | Mike Lincoln (2) | Cincinnati Reds | 0 on, 2 out, 9-1 |
| Carlos Quentin (2) | Chicago White Sox | 7th | Philip Humber (1) | Minnesota Twins | 0 on, 0 out, 5-0 |
| Russell Branyan (2) | Seattle Mariners | 4th | Josh Outman (1) | Oakland Athletics | 0 on, 1 out, 0-3 |
| Jack Cust (1) | Oakland Athletics | 5th | Felix Hernandez (1) | Seattle Mariners | 1 on, 2 out, 3-3 |
| Mike Napoli (1) | Los Angeles Angels | 3rd | Brad Penny (1) | Boston Red Sox | 0 on, 0 out, 1-0 |
| Mike Lowell (1) | Boston Red Sox | 5th | Joe Saunders (1) | Los Angeles Angels | 1 on,  1 out, 0-2 |
| Mike Napoli (2) | Los Angeles Angels | 5th | Brad Penny (2) | Boston Red Sox | 0 on, 0 out, 2-2 |
| Jason Bay (1) | Boston Red Sox | 7th | Joe Saunders (2) | Los Angeles Angels | 1 on, 0 out, 2-3 |
| Jason Bay (2) | Boston Red Sox | 9th | Justin Speier (1) | Los Angeles Angels | 0 on, 1 out, 4-3 |
| Torii Hunter (1) | Los Angeles Angels | 9th | Jonathan Papelbon (1) | Boston Red Sox | 0 on, 0 out, 3-5 |
| Albert Pujols (2) | St. Louis Cardinals | 5th | Roy Oswalt (2) | Houton Astros | 3 on, 1 out, 2-0 |
| Albert Pujols (3) | St. Louis Cardinals | 7th | Wesley Wright (1) | Houston Astros | 2 on, 0 out, 6-0 |
| Jose Reyes (1) | New York Mets | 5th | Ricky Nolasco (2) | Florida Marlins | 1 on, 1 out, 1-0 |
| Ryan Zimmerman (1) | Washington Nationals | 3rd | Kenshin Kawakami (1) | Atlanta Braves | 1 on, 1 out, 1-0 |
| Kelly Johnson (2) | Atlanta Braves | 3rd | John Lannan (2) | Washington Nationals | 0 on, 0 out, 0-3 |
| Prince Fielder (1) | Milwaukee Brewers | 3rd | Carlos Zambrano (1) | Chicago Cubs | 1 on, 2 out, 0-0 |
| Kosuke Fukudome (2) | Chicago Cubs | 4th | Dave Bush (2) | Milwaukee Brewers | 0 on, 0 out, 0-2 |
| Aramis Ramirez (2) | Chicago Cubs | 8th | Mark DiFelice (1) | Milwaukee Brewers | 0 on, 2 out, 3-5 |
| Alfonso Soriano (3) | Chicago Cubs | 9th | Carlos Villanueva (1) | Milwaukee Brewers | 1 on, 1 out, 4-5 |
| Melvin Mora (1) | Baltimore Orioles | 1st | Jeff Niemann (1) | Tampa Bay Rays | 3 on, 0 out, 1-0 |
| Nick Swisher (2) | New York Yankees | 5th | Horacio Ramirez (1) | Kansas City Royals | 1 on, 1 out, 4-0 |
| Orlando Hudson (1) | Los Angeles Dodgers | 4th | Yusmeiro Petit (1) | Arizona Diamondbacks | 0 on, 1 out, 0-0 |
| Troy Tulowitzki (3) | Colorado Rockies | 2nd | Brett Myers (4) | Philadelphia Phillies | 1 on, 1 out, 0-0 |
| Garrett Atkins (2) | Colorado Rockies | 4th | Brett Myers (5) | Philadelphia Phillies | 0 on, 1 out, 2-3 |
| Clint Barmes (1) | Colorado Rockies | 5th | Brett Myers (6) | Philadelphia Phillies | 0 on, 0 out, 3-5 |
| Raul Ibanez (2) | Philadelphia Phillies | 7th | Jason Hammel (1) | Colorado Rockies | 0 on, 2 out, 5-4 |
| Henry Blanco (1) | San Diego Padres | 3rd | Jonathan Sanchez (1) | San Francisco Giants | 0 on, 0 out, 0-0 |
| Henry Blanco (2) | San Diego Padres | 5th | Jonathan Sanchez (2) | San Francisco Giants | 0 on, 0 out, 1-1 |
| Chase Headley (1) | San Diego Padres | 6th | Brandon Medders (1) | San Francisco Giants | 0 on, 0 out, 5-1 |
Another Division Rival Matchup
Here we go again... another contest between the two teams who finished in first and second place last year. The only difference is that this game recap is about the two teams who didn't make it to the Championship Series in 2008: the Chicago Cubs (the team who finished off with the best regular season record in the National League) and the Milwaukee Brewers (a team that ended a 26 year playing drought last year). Both teams' records were 2-2 before the game, and whoever won the ballgame would only be behind the St. Louis Cardinals for the possession of first place by 1/2 a game. They put on quite a show for the 43,768 fans in attendance and for the people glued to their screens watching via television/computer... or the people whose ears were hooked to their speakers listening on the radio. (?)
The Brewers/Cubs game ended in a walk-off the day before this game, and what better way to start this game off and quiet down Milwaukee's bats than fireballer Carlos Zambrano? The ragin' hard-throwing ace was on the mound for the Cubs at Miller Park, which is probably Big Z's favorite ballpark besides Wrigley. The ace of the Cubs is 4-0 in four starts Milwaukee's ballpark since 2007 with an ERA of 1.46 since then; he didn't surrender one run in 27 innings in Miller Park in 2008. Also, if you remember, it was Milwaukee's very own park where Z no-hit the Houston Astros; the Astros had to vacate the city due to Hurricane Ike. El Toro was going to face Dave Bush, who really needed to take charge and have a great game to compete with Zambrano, at least with what we can predict with the stats provided.
Dave Bush cruised through the first inning easily, retiring the top of the Cubs' lineup 1, 2, 3. Zambrano had the potential to surrender a couple of runs pretty early. After walking Corey Hart, he surrendered a double to Prince Fielder; Hart was held up at third base. With guys on second and third, J.J. Hardy popped out to catcher Koyie Hill for the final out of the inning.
Updated score: still 0-0.
Bush continued to do well in the second inning as well as in the third inning. As a matter of fact, the only Cub to have gotten on base that far in the game was Mike Fontenot, who walked in the middle of the second. The Brewers didn't do much in the second either, but that's where the similarities stop. Corey Hart was up again, and got on base again via single. After Ryan Braun struck out, Prince Fielder was up. Last year, it took him 15 games for him to hit his first home run after what was a 50 home run during the 2007 season. This season, it only took him 5 games, as he crushed a fastball located right down the middle of the plate to drive in two runs, giving the Brew Crew an early two-run lead.
Updated score: 2-0, Brewers
The Cubs' offense is probably one of the last teams you'd consider to get shut out. Tell Kosuke Fukudome that and he'll make sure that they'll prove you wrong, just like he did when he led off the top of the fourth. Koss-K launched the second pitch of the fourth inning over the right field wall for a solo homer, good for his second of the season. Unfortunately for the Cubs, they couldn't do anything else, as the score stayed 2-1. However, it didn't stay that way for long. The bottom of the fourth was when Big Z got knocked around pretty good. Bill Hall led the bottom half off by singling. Zambrano then surrendered another single to Mike Rivera. Dave Bush didn't have a good day at the plate (why should he?), as he went 0-for-3, including a pop out to the catcher in this situation. It was all good for the Brewers though, as Rickie Weeks hit one up the middle to score Bill Hall and increase the lead back to 2. That was all the Brewers could do that inning, as Corey Hart and Ryan Braun both struck out. However, Milwaukee will take the one run.
Updated score: 3-1, Brewers
I guess the fact that the Brewers were hitting off Zambrano made him think that he needed to step his game up a little bit. After striking out the last two batters in the fourth, he was able to get a double play started and strike out Mike Cameron. In the sixth inning, he sent Bill Hall and Mike Rivera back to the bench with nothing to show for their at-bats, as well as get his opposing pitcher to ground out for his last out of the game before getting subbed in by Angel Guzman. As for the top of the sixth, the Cubs finally came around and gave Zambrano some offense. Take a guess as to who it was to who did that… yep, Kosuke Fukudome. After a leadoff double by Alfonso Soriano, Koss-K drove him around with a double on a ground ball right past the first base line (way out of Prince Fielder's range); Fukudome reached third base thanks to an error by Corey Hart. Again (although there were no outs with Fukudome at third), that was all the Cubs' offense could do. Derrek Lee (who didn't do anything offensively on this day except get sent back to the bench 5 times) lined out sharply to Bill Hall for the first out, Milton Bradley grounded out on a fielder's choice; Fielder gunned Fukudome out at home to keep him from tying the game at 3. Finally, Aramis Ramirez flied out to center fielder Mike Cameron for the third out.
Updated score: 3-2, Brewers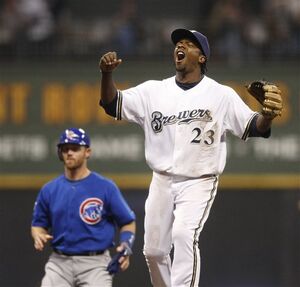 It's now the 7th inning: an inning where someone besides Kosuke Fukudome did some damage for the Cubs. Mike Fontenot led the inning off with a walk. The next two batters (Ryan Theriot and Koyie Hill) singled, which loaded the bases (not to mention putting the tying run at third and the leading run at second). Micah Hoffpauir, the man who pinch hit for Carlos Zambrano, ended up striking out, giving Dave Bush a huge sigh of relief. Brewers' manager Ned Yost Dale Sveum Ken Macha took Bush out and put Mark DeFelice in the game to pitch to Soriano. Soriano didn't as much as the fans wanted him to do, as he grounded into a force out with J.J. Hardy getting the force out at second base; the Brewers couldn't convert the double play thanks to Soriano's speed. Thanks to his speed, he did bring in a run, so there was some good that came out of the at-bat. This put runners at the corners for the man who already had two hits and two RBI's in the ballgame: Fukudome. He didn't do anything except strike out swinging, ending what could've been quite the rally for Chicago.
Updated score: 3-3, Brewers
Milwaukee was up against new pitcher Angel Guzman. They needed to score some runs to stop the momentum that Chicago was slowly starting to steal from them. After a Rickie Weeks popup, Guzman ended up walking the next two batters he faced; he only threw 5 strikes out of the 13 pitches he threw. Cubs' manager Lou Piniella said before the games that so far this season, all he knows is his relievers are issuing too many walks. So, Piniella took Guzman out and put Neal Cotts in. You could only guess what Cotts did: he walked Prince Fielder to load the bases. That surely got Piniella off the bench to give the ball to someone who could throw strikes. You wanna know who he chose? Frickin' Aaron Heilman (go ahead and laugh, Mets fans. This probably put smiles on Brewers fans faces, as their team didn't only have the bases loaded with the game tied, but their team was about to face a pitcher who had a 5.21 ERA last year, lost 8 games, and blew 5 saves (which definitely seems like a lot to you Mets fans out there, I'm sure). Of course, this wasn't a save situation for him, but he did allow a couple more runs to score, as J.J. Hardy came up with his second hit in his 20th at-bat to give the Brewers a two-run lead... again. Thankfully, for the Cubs, that was all the Brewers did, as Heilman struck out Mike Cameron, and Koyie Hill started the second part of a double play, picking off Prince Fielder in a rundown (what was he, or Macha, thinking?).
Updated score: 5-3, Brewers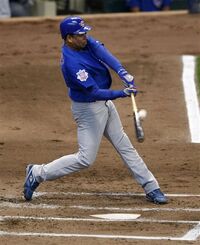 The teams move on to the 8th inning, the inning that never has a walk-off, but has just as many (if not more) game changers (probably because guys like Aaron Heilman are on the mound at this time rather than guys like Joe Nathan or Brad Lidge). Mark DiFelice got the first two outs, but Aramis Ramirez got a hold of a slider that was hit so high, it seemed like it would never end. The ball just managed to go over the wall for a solo homer, to make it a one-run ballgame. That was it for DiFelice, as Todd Coffey made his appearance in the game and finished the inning.
Updated score: 5-4, Brewers
After a very "surprising" 1, 2, 3 inning by Heilman, including 2 strikeouts, the teams headed into the 9th inning. The Cubs were down to their final three outs. Carlos Villanueva came in to close it out for the save; Trevor Hoffman couldn't come into the game due to the fact that he was still battling with a muscle injury in his rib cage. Koyie Hill got things started in the inning, and he flied out to left field for out #1. Reed Johnson came in to duke it out with Villanueva as a pinch hitter. On the third pitch, he hit it right up the middle in an attempt to get something started for Chi-Town. Soriano was next up, who was having a pretty good game. On the first pitch he saw, he tatered a changeup to the upper deck for a two-run blast and the lead. That was all the Cubs' needed to do, and that sealed the deal, as Carlos Marmol replaced Aaron Heilmann and struck out two of the four batters he faced for his first save of the season. Final score: Chicago Cubs: 6... Milwaukee Brewers: 5
Some Final Thoughts:
"It was very important for us to come back tonight and win this game," the hero of game, Alfonso Soriano, said. "They did it yesterday and we were able to do the same thing today."
"I have to leave it here when I walk out the door," Villanueva said after the game about giving up what was the game winning homer. "Tomorrow's another day, and we can't have any carry-overs from today to tomorrow. Tomorrow, they might need me again."
"They clawed their way back into it, and we couldn't get her closed out [in] that ninth inning," Brewers manager Ken Macha said.
"He came in and did a heck of a job," Piniella said of Marmol, who closed out the game. "I said when the season started that there would be opportunities for both of them. Tomorrow if we get in a similar situation, Gregg will be in there."
Cubs' everyday playing catcher, Geovany Soto, didn't play today due to a soarness in his shoulder. However, he is due to play within the next couple of days.
On Another Note:
Zambrano didn't get the win, but he didn't get the loss either. I'd still say that he pitched reasonably well in Miller Park...
Other Notable Home Runs:
Homer of the Day (April 9, 2009)
And the Homer of the Day for April 9, 2009 goes to...
Cabrera his a grand slam that led to a 15-2 crushing of the Rangers.
Ad blocker interference detected!
Wikia is a free-to-use site that makes money from advertising. We have a modified experience for viewers using ad blockers

Wikia is not accessible if you've made further modifications. Remove the custom ad blocker rule(s) and the page will load as expected.