| Batter | Team (B) | Inning | Pitcher | Team (P) | Situation |
| --- | --- | --- | --- | --- | --- |
| Miguel Cabrera (3) | Detroit Tigers | 4th | Kris Benson (1) | Texas Rangers | 3 on, 2 out, 3-0 |
| Jeff Larish (1) | Detroit Tigers | 5th | Kris Benson (2) | Texas Rangers | 0 on, 0 out, 7-0 |
| Nelson Cruz (3) | Texas Rangers | 9th | Eddie Bonine (2) | Detroit Tigers | 0 on, 0 out, 1-15 |
| Corey Hart (1) | Milwaukee Brewers | 3rd | Rich Harden (1) | Chicago Cubs | 0 on, 2 out, 1-0 |
| Milton Bradley (1) | Chicago Cubs | 4th | Braden Looper (1) | Milwaukee Brewers | 0 on, 0 out, 0-2 |
| Koyie Hill (1) | Chicago Cubs | 6th | Seth McClung (1) | Milwaukee Brewers | 1 on, 2 out, 1-2 |
| Travis Hafner (2) | Cleveland Indians | 3rd | Scott Richmond (1) | Toronto Blue Jays | 0 on, 2 out, 2-0 |
| Aaron Lind (3) | Toronto Blue Jays | 4th | Scott Lewis (1) | Cleveland Indians | 1 on, 1 out, 0-3 |
| Marco Scutaro (2) | Toronto Blue Jays | 5th | Scott Lewis (2) | Cleveland Indians | 0 on, 1 out, 3-3 |
| Shin-Soo Choo (1) | Cleveland Indians | 6th | Brian Tallet (1) | Toronto Blue Jays | 0 on, 1 out, 3-5 |
| Victor Martinez (2) | Cleveland Indians | 7th | Brian Tallet (2) | Toronto Blue Jays | 1 on, 1 out, 4-7 |
| Garrett Atkins (1) | Colorado Rockies | 3rd | Cole Hamels (1) | Philadelphia Phillies | 1 on, 2 out, 2-1 |
| Evan Longoria (3) | Tampa Bay Rays | 1st | Mark Hendrickson (1) | Baltimore Orioles | 0 on, 2 out, 0-0 |
| Evan Longoria (3) | Tampa Bay Rays | 8th | Jim Johnson (1) | Baltimore Orioles | 1 on, 1 out, 1-5 |
| Dioner Navarro (1) | Tampa Bay Rays | 9th | George Sherrill (1) | Baltimore Orioles | 0 on, 1 out, 3-5 |
| Hanley Ramirez (2) | Florida Marlins | 1st | John Maine (1) | New York Mets | 0 on, 2 out, 0-0 |
| Dan Uggla (2) | Florida Marlins | 2nd | John Maine (2) | New York Mets | 0 on, 0 out, 1-0 |
| Yunel Escobar (1) | Atlanta Braves | 3rd | Shairon Martis (1) | Washington Nationals | 2 on, 1 out, 0-1 |
| Joe Crede (2) | Minnesota Twins | 2nd | Jose Contreras (1) | Chicago White Sox | 0 on, 0 out, 1-0 |
| Paul Konerko (1) | Chicago White Sox | 3rd | R.A. Dickey (1) | Minnesota Twins | 0 on, 2 out, 2-2 |
| Justin Morneau (2) | Minnesota Twins | 7th | Clayton Richard (1) | Chicago White Sox | 0 on, 0 out, 4-3 |
| Carlos Quentin (1) | Chicago White Sox | 7th | Brian Duensing (1) | Minnesota Twins | 1 on, 1 out, 12-3 |
| Ryan Ludwick (2) | St. Louis Cardinals | 7th | Doug Brocail (2) | Houston Astros | 0 on, 1 out, 4-2 |
| Carlos Lee (1) | Houston Astros | 8th | Josh Kinney (1) | St. Louis Cardinals | 0 on, 1 out, 2-5 |
| Chris B. Young | Arizona Diamondbacks | 3rd | James McDonald (1) | Los Angeles Dodgers | 0 on, 0 out, 0-1 |
| Casey Blake (2) | Los Angeles Dodgers | 7th | Jon Garland (1) | Arizona Diamondbacks | 1 on, 1 out, 1-6 |
| Scott Hairston (1) | San Diego Padres | 8th | Merkin Valdez (1) | San Francisco Giants | 2 on, 1 out, 4-2 |
Red Hot Blue Jays vs. Blue Cold Tribe
When discussing the AL East during the 2008-2009 offseason, everyone was either talking about how the Red Sox would win the division, how the Rays will repeat, and/or how the Yankees will disappoint… again. It's always about those three "reputable" teams, if you will. However, what about the Toronto Blue Jays? Fans just overlook them and don't think about how their season will be because they are considered great competitors (at least most people). Well, they surely opened many fans' eyes these past couple of days, as they won 3 out of 4 games against Detroit. Their offense helped carry the team to 3 wins quicker than any American League team. Guys like Adam Lind, Marco Scutaro, Aaron Hill, and Scott Rolen made quite the difference and showed the sports world that pitching isn't the only thing they should worry about.
As for the Indians, they got swept by the Texas Rangers right before this game. And they didn't just sweep the Indians: they brutalized their starting rotation. It wasn't as bad as "Major League", but the Indians' pitching was pretty bad, as the Rangers tore apart their ace in Cliff Lee, winning their season opener 9-1. Fausto Carmona was knocked up as well, as he surrendered 6 runs in 5 innings. Lastly, new acquisition Carl Pavano, who hasn't pitched regularly in over four years, pitched his first game... and he had the worst of it all, giving up 9 earned runs. I know the Rangers are a good offense, but the Indians' starting rotation can't surrender that many runs if they want to end up in any place in the division besides last, especially in the AL Central division. This was a chance for Cleveland to get things started though, as they were facing a new team that didn't have their number. In fact, in 2008, the Indians were 6-1 against Toronto. Starting for Cleveland was rookie pitcher Scott Lewis, who did well as a starter late into the 2008 season, going 4-0 with a 2.62 ERA. He was looking to become the first Indians pitcher in 88 years to start off his career with 5 wins in 5 starts. He would face Blue Jays' own rookie in Scott Richmond, who (last time was on the mound for Toronto) pitched a shutout against the Orioles. 'Tis another battle of rookies... a battle of the Scotts... a battle of the (SHUT UP!!!!)... okay...
The Indians were never able to take the lead in their series with the Rangers. However, they were able to quite early into the first game of this series. After Grady Sizemore led the home half of the first inning with a strikeout, the new utility guy in Mark DeRosa hit a single. After back-to-back doubles by Victor Martinez and Travis Hafner right after DeRosa's single, it quickly turned into a 2-0 game. Nothing else happened from that point through the second inning.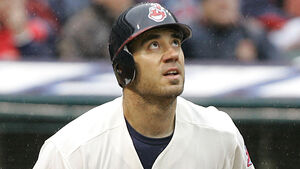 The third inning was an inning that lasted a lot longer than it seemed. Kevin Millar hit a double on a soft fly ball into left field, and he moved over to third base after a sacrifice hit by Michael Barrett. Scott Lewis then surrendered a walk to Marco Scutaro to put runners on the corners, but that was all that they did, as Aaron Hill popped to first basman Ryan Garko to end the top half of the inning. As for the Indians, they continued to produce runs… well at least Travis Hafner did. In his second at-bat, he jacked a 1-1 pitch into the right field stands to make it a 3-0 game.
It looked like the Indians had all the momentum and were slowly going to win their first game of the season. However, the Blue Jays thought differently and tied the game up at 3 in the 4th inning. Adam Lind hit a well placed changeup for a two-run homer to the opposite field for his third long ball of the season. Kevin Millar also brought in Scott Rolen after he doubled right after Adam Lind's homer. All of the sudden, it seemed like the positive energy was shifted back to Toronto.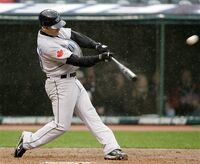 In the 5th inning, red hot players from the Blue Jays struck again. Marco Scutaro hit a solo homer, good for his second homer of the season. Aaron Hill, who homered his last time up, continued to raise his average by singling to left field. After those two hits, manager Eric Wedge had seen enough of Scott Lewis and replaced him with hard throwing Rafael Betancourt. Blue Jays' manager Cito Gaston felt like Scott Richmond pitched enough and replaced him with Brian Tallet. Good choice... at least for the fifth inning.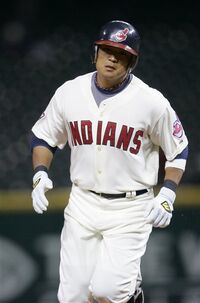 He struck out the side in order and the teams moved on to the 6th inning. Betancourt was back on the mound, but didn't really do a good job "relieving". He gave up two straight hits: a leadoff double by Adam Lind (meaning he was only a triple away from the cycle) and a single by Scott Rolen; Lind scored when Kevin Millar grounded into a 5-4-3 double play. The top half was over, and it was time for Cleveland to come back.
Shin-Soo Choo
homered on the second pitch of his at-bat for yet another solo home run, making the game a one-run contest again.
The 6th inning was an inning of offense for both teams. Joe Smith subbed in for Betancourt, who gave us the impression that he's going to re-pitch his 2008 season, and not his 2007 season. After Michael Barrett led off the inning with a ground out (Mr. "I Can't Believe it's Not Butter a Former Silver Slugger"), Marco Scutaro (or should I say Indians' shortstop Jhonny Peralta) started a rally when Scutaro managed to get on base via throwing error. Next up was Aaron Hill, and he hit a double; Marco Scutaro was kept at third base. After that, Alexis Rios hit a ground ball that deflected off Peralta, which scored both Scutaro and Hill.
At this time, the Jays were up by three runs. After a Grady Sizemore walk, catcher Victor Martinez changed the game, as he homered on a fly ball to left-center field. After that homer, Tallet was replaced by left-hander Jesse Carlson, who did pretty well for the Jays last year as a reliever, with a 7-2 record and a 2.25 ERA. After an out and two walks, Gaston put righty Brandon League in the game, who settled with a 2.18 ERA in 31 games last year. The first batter he faced was Ryan Garko, and he walked him on four straight pitches to load the bases. On the very next pitch, League hit Ben Francisco, which didn't only bring in a run with bases loaded, but it also tied the game up at 7! Asdrubal Cabrera ended the inning, as he lined out to left fielder Jose Bautista.
So, it's all tied up again. What's going to happen next? Well, the Jays made quite a rally. With Rafael Perez on the mound, and he gave up 5 runs in the top of the 8th. Scott Rolen led off the Jays' rally with a single, Kevin Millar reached on a fielder's choice, and Jose Bautista played small ball and moved the runners up one base with a sacrifice bunt. Rafael Perez decided to intentionally walk Michael Barrett (Romi input: Why? Especially when Marco Scutaro is up next?) to load the bases and attempt to end the inning with a double play. That didn't really work out, as red hot Marco Scutaro singled on a fly ball that neither right fielder Shin-Soo Choo nor Asdrubal Cabrera could get. After Aaron Hill flied out for the second out of the half-inning, Barrett and Scutaro moved forward one base thanks to a balk. Alexis Rios then doubled both of them in. Wedge finally pulled him and thought Masahide Kobayashi could end the inning; he was wrong. After walking Vernon Wells, Adam Lind hit another double, driving in both runners. Koba finally ended the six-run inning by getting pinch runner John McDonald out on a pop fly first base. Gaston took out Brandon League and relied on Shawn Camp to finish the game. He did just that, as he threw two innings of no-hit ball. The game ended over 7 hours after the first pitch was thrown.
Your final score: Toronto Blue Jays: 13... Cleveland Indians: 7
Some final thoughts:

"I thought I was going to be in bed sleeping by now," Adam Lind declared, who never managed to get that triple for the cycle. "We battled through a lot of things and got a nice win."
"I wouldn't describe it as ugly. I wouldn't describe it as sloppy. I'll describe it as a win," Blue Jays manager Cito Gaston said. "I'm glad we got it in."
"It's a long season, manager Eric Wedge said when asked about how the Indians' season will end up. "As bad as these four games have been, and they've been bad, we've got to separate from it.
On Another Note:
A sellout crowd of 42,473, as usual when it comes to the home opener for just about any team, was reduced to about 500 people right before the final out. The game was recorded to be 7 hours 12 minutes. At one point, the grounds crew had to remove the tarp and make some minor repairs to the infield before covering it again. I felt bad for the fans that had to wait for the final outcome of the game. Now those 500 people in the stands that waited until the final out are true baseball fans. Much respect...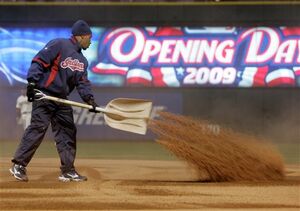 Toronto won 4 of their first 5 games of the 2009 season. They haven't done this well since 2001.
Is it just me, or is it weird that both Victor Martinez and Travis Hafner are doing better and Cleveland is having a worse time trying to win ballgames.
"Pronk" will definitely get some recognition this season and will be thought of as a well deserving candidate for "Comeback Player of the Year". He's got his swing back, and will (most likely) go back to his 30+ home runs per season days.
Before the game started, the Indians also took the time in their home opener to honor Herb Score and thank him for what he did for the Cleveland organization. Score, who passed away on November 11, 2008 at the age of 75, was well acknowledged by the Indians' players, staff, and fan through a video tribute and the first pitch thrown out by his wife, Nancy.
I, personally, want to thank Herb Score again for and what he did for us baseball fans, whether he was on the mound or in the broadcast booth. He was definitely someone that fans could relate to, and he cared about the game more than anything. One of his great quotes was, "It's about the game, it's not about us." I just wish that everyone had the mind that he had. He was just a great guy, who always thought about others before him. Rest in peace, Herb. We miss you down here.
Other Notable Home Runs:
Homer of the Day for April 9, 2009
And the Homer of the Day for April 9, 2009 goes to...
Coco Crisp (right) hit a two-run shot against Chicago White Sox's own Bobby Jenks in the top of the 9th inning. The homer proved to be the deciding factor of the game, as the Royals won, 2-1.
Others who received votes:
PSYCH! All the votes went to Coco this time...
Don't forget to vote for the April 10, 2009 Homer of the Day before April 13, 4:00 PM
Ad blocker interference detected!
Wikia is a free-to-use site that makes money from advertising. We have a modified experience for viewers using ad blockers

Wikia is not accessible if you've made further modifications. Remove the custom ad blocker rule(s) and the page will load as expected.