The temperature at 9 a.m. on Friday morning was a balmy 22 degrees in Rochester, Minn. Not something folks from Hawaii would be normally accustomed.
Something folks Minnesota might not be accustomed to is hearing the world aloha.
Both worlds collided as Punahou School from Honolulu made its first appearance at the nation's top high school dual meet tournament, The Clash.
Walking into the University Center Rochester Fieldhouse, a local car dealer painted "Aloha Wrestlers" on one of its display vehicles and The Clash tournament staff was adorned in Hawaiian-style shirts. The welcome mat was definitely rolled out for Coach Matt Oney and his squad from Punahou.
"We thought we'd celebrate the fact they were coming so far to come to The Clash and we got shirts to make them feel welcome," said tournament director Steve Patton.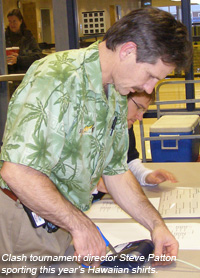 While the BuffNBlu (yes, that's their nickname) didn't fare too well in their first-ever competition out of the islands, Oney had more than just wrestling to prepare for.
"I wanted them to see the best level of wrestling in the country and I want them to know that when they push themselves to the limit, they can compete," said Oney.
Getting to Rochester wasn't an early option it seemed, but as days went by, things started to come together.
"The Clash sent us the invitation and obviously that was a huge event for us," explained Oney. "We've never been able to travel to the mainland before as a team. This is the only event we would ever consider. We don't have a lot of other options in a sense, that's because it's normally too much of an investment from the school's perspective to get us out and go to California. We've had opportunities in the past, but we just haven't been able to do it."
"When this invitation came in, our school supported us completely and the level of not only the competition, but what this tournament means within the wrestling community. Our administration heard that when we explained it to them and supported us after we got the invitation," said Oney.
Patton figured 'what the heck' in trying to draw another out-of-state team to Rochester and fellow Clash staffer Randy Cirksena made the call.
"They were the state champions, so of course we called them," said Patton. "They initially they were reluctant because of the cost, but they came around to the idea and then confirmed coming."
The Clash's format, while not a true bracketed-style advancement tournament, was a plus for Oney and his team and Patton knew it.
"(Oney) wanted to give his team an opportunity to compete against competition at this level. At home, they just don't have this type of event where they can get six tough matches in two days," said Patton.
Oney confirmed.
"The format of this tournament, certainly in terms of our administration understanding more competition relative to the rest of the country was going to be here," said Oney. "We would not be here if we weren't guaranteed five or six matches over the two days."
Punahou's present for coming nearly 4,000 miles and starting a day approximately at 4 a.m. – Illinois powerhouse Glenbard North.
Glenbard North powered past the BuffNBlu, earning a 68-0 shutout in the tournament's first round. State champions fell, but lessons kept coming.
"Glenbard North is a great team, no question about it," said Oney. "My boys need to step it up. We did not perform the best of our abilities, but they're an amazing team."
The differences were subtle, but enough to open up some eyes.
"(Glenbard's) well-coached," said Oney. "Their fundamentals are flawless. They beat us on fundamentals. They beat us on hand control, they beat us with pressure on top and solid position."
Punahou would finish out the day 0-3, dropping Bracket A duals to Blue Springs of Missouri, and Carl Harrison High of Georgia. They'll come back for three more on Saturday.
But while wins weren't the reason for the trip, Punahou's experience has gone from hanging ten to actually learning the use of heaters.
"We came in Wednesday morning, I wanted to give them two full days to acclimate both to the time zone and to the climate," said Oney. "The internal temperature difference too. Inside of a gym in Hawaii is typically 75-85 degrees, some gyms can be hotter than that. You can't air condition buildings of that size very well. The temperature isn't a lot different, but it's a different type of heat. This is artificially created, so there's no humidity at all, so our kids needed to feel the dryness of 75 degrees versus natural humidity."
But while 22 degrees in Minnesota in January could be considered "warm" to some folks here, it wasn't quite the same for the group of teens from Honolulu.
"We got here and it was three degrees and the wind chill was about minus five," said Oney. "I knew what to expect and I moved to Hawaii for that reason, I got sick and tired of the snow on the East Coast."
"I tried to prepare them the best I could," he said. "They've been prepped on how to layer and how to handle the extreme cold. They're still teenagers and they're like 'yeah coach, whatever', and the first thing out of eight of the guys' mouths were, 'Coach, you're right. This is way cold'."
So what would any kid do when they see snow for the first time? Go play, of course.
"(Thursday) afternoon we were given the opportunity to give our kids about half an hour to 45 minutes to ride around on snowmobiles," said a grinning Oney. "It's something they would never have an opportunity to do."
"Some of these kids were surfing two days before we left, because that's what they do in their free time. They're surfing on Sunday-Monday and snowmobiling on Thursday," he said.
If there was ever a contrast in activities, the kids from Punahou got the best of both worlds.
But one thing that's really made Oney and his kids feel comfortable has been the hospitality. The Clash staff and volunteers have long been known to be agreeable, supportive and positive wrestling fans and that showed through to Oney.
"Hawaii has that aloha spirit and we try to be nice to everybody," said Oney. "We're a tourist-based industry and our kids understand what that means."
"We have been shown 100 percent aloha everywhere we've been; From the restaurants to the hotel, to the guys outside that are driving us around. Every single person has expressed their appreciation for us having traveled all this way. If nothing else, my kids are going to realize Hawaii isn't the only place that has the aloha spirit and it's really good for them because a lot are going to go to college on the mainland and this is one of those experiences that could very well change their perspective in a good way before they go off to college. They'll be less intimidated. Everybody here has been amazingly supportive of us. We appreciate the invitation."
But many wrestling fans can't help but bring up one name when talking about Hawaii wrestling – former two-time NCAA champion Travis Lee of Cornell, a native of the islands.
"Travis Lee is a huge part of why we're here," said Oney. "Obviously he wasn't from our high school, but I hope that when this is all said and done that our performance and our kids' character is a message strong enough to be sent to other Hawaii teams."
"We know we're representing more than just our school," added Oney. "There are some good competitive Hawaii teams out there that this might open up opportunities to them in the future."
Ad blocker interference detected!
Wikia is a free-to-use site that makes money from advertising. We have a modified experience for viewers using ad blockers

Wikia is not accessible if you've made further modifications. Remove the custom ad blocker rule(s) and the page will load as expected.