From: http://www.afraidofedhochuli.com  
February 19, 2008 will go down as one of the best birthdays in Dave Niehaus' life.
On this day, his 73rd birthday, he becomes the most recent Frick Award winner for his excellence in broadcasting for the Seattle Mariners.
For those who aren't familiar with it, the Frick award is given to broadcasters and means that he will be inducted into the Pro Baseball Hall of Fame.
To me, this is long overdue, but I guess it comes as better late then never.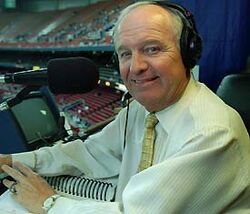 Niehaus has been with the Mariners since their inception to the MLB in 1977. In that time he has worked 4,817 of their 4,899 games. (MLB.com)That followed stints will the LA teams. (Angels, Rams and Lakers)
"Dave Niehaus is the heartbeat of Mariners baseball," Hall of Fame president Dale Petroskey said. "Since Day One, he has painted a picture of baseball and summer in Seattle better than anyone ever has.
"Every Mariners fan knows his style and signature calls such as 'My, oh my!' and 'It will fly away!' By virtue of his talent, dedication, and professionalism, he has earned his rightful place among the elite broadcasters in baseball history in receiving the 2008 Ford C. Frick Award. We are looking forward to welcoming Dave and his family in Cooperstown this summer." (MLB.com)
Congrats, Dave. It is well deserved.
My Favorite Quote: "Get out the rye bread and the mustard grandma! It's Grand Salami time!" http://www.youtube.com/watch?v=QucUdihCe9E
Ad blocker interference detected!
Wikia is a free-to-use site that makes money from advertising. We have a modified experience for viewers using ad blockers

Wikia is not accessible if you've made further modifications. Remove the custom ad blocker rule(s) and the page will load as expected.