It's been awhile, AGMers. As of late, there hasn't been a lot of traffic; as a matter of fact, it seems like there hasn't been any at all (besides spam) within the past couple of months. I know how it is: several people have moved on to individual blogs, new jobs, college, or any other roadblock that keeps one from writing articles, commenting, and/or editing. However, it's summertime, and I've finally found a topic that has gotten me interested enough to type something up and discuss with you internet users.
I usually don't write an article about something unless I truly care about a current topic, and (of course) if I have the time to create an opinion here. Over the past three days, I have found about ten articles regarding this athlete's actions. This one man has gotten more publicity for not hustling after a ball than the coverage of the NHL Conference Finals series combined. MLB Tonight If you been out of the sports world for the past few days, let me fill you in.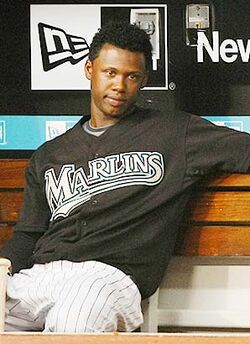 There is no question in anyone's mind that Hanley Ramirez is one of the best players in all of Major League Baseball. He is currently the reigning National League batting champion, and is one of the very few five-tool  players out there. Han-Ram is being looked upon differently mainly because of the game the Marlins played against the Diamondbacks this past Monday. During the first inning of that game, Hanley fouled a pitch off his shin. In the next inning, with runners on first and second, Tony Abreu hit a shallow blooper just beyond Hanley's reach. After inadvertently kicking the popup after it dropped, Ramirez slowly trotted to retrieve the ball from left field. Two runs scored on that play, and Abreu made it all the way to third due to the lack of Ramirez's hustle. He was charged with an error in Florida's eventual 5-1 loss, and was pulled out of the game by manager Fredi Gonzalez. He wasn't put in the lineup during the next game, either; however, the Marlins won that game easily, 8-0.
After Monday's game and finding out that he would also be benched during the next game, Ramirez took his frustrations out publicly and took an aim at the manager.  He said that he was made an example of, and that he lost a measure of respect for Fredi. "I wasn't trying to give up," Ramirez said. "That was the hardest I could go after the ball." Was he, really? You can be the judge, simply by clicking here.
Not only that, but Hanley gets personal by saying that he never played at the Major League level. Gonzalez then states,  "Whatever feelings he has with me or doesn't have with me, it's fine and dandy. We don't have to get along, but I think he has to get along with the other 24 guys on this team. When that happens, we'll run him back in there. When he sets his ego aside, this could be good." Hanley is, by far, the best player on this young team. However, the concept of hustle is one of the most important components of the game, which gets overlooked by most spectators of the game (unless someone on the field lacks hustle).
Joe Frisaro from MLB.com  got a few players to talk about the situation. Quite a few players backed Fredi Gonzalez's decisions:
A number of Marlins have backed Gonzalez's decision. Several noted that if nothing had been done, it would have hurt the team:
"The way Fredi handled it, it can pump the team up, because it shows the other 24 guys that it's not going to be something we commend here," Wes Helms said. "It gives those other 24 guys the extra fire to play hard, and to run balls out. It can hurt and help the team. The way it was handled last night, it can help us."
Cameron Maybin agreed and said, "I think if it happened to anybody else in here, I think other teammates would feel the same way about it. As long as you are playing hard nobody can really say anything bad about you. We definitely support Fredi's decision and we thought it was the right decision."
Outfielder Cody Ross added that Ramirez typically plays hard, but it's important to hustle all the time.
"It sends messages to guys that this is a team effort. It's not just about one guy. It's about 25 guys. That's what we're about. We're about the Marlins. It's a touchy subject, but it's something we have to address. If I was in the same situation, and I was dogging it, I'd hope somebody would put me in my place."
Even with five seasons under his belt, he is still relatively young on a relatively young team; he is still the eighth youngest player on the twenty-five man roster. As someone who has played the game for that long in the majors, and as a leader, people should look up to his style of play and his attitude for the game, and not by how well he hits the ball or how fast he is. Judging from Wednesday's win over the Cardinals, the team's chemistry is intact, and the Marlins are looking to focus more on winning ballgames and getting back to that title picture.
On another note, it's still anyone's division in the NL East.
How about them Nationals, huh?
Anyways, here are a few questions to ponder after reminding you guys that this happened:
Is Hanley Ramirez officially in the toolbox? Is he a part of the athletes' club of selfish guys? Granted, he's not going to get as much hate as Gary Sheffield or Alex Rodriguez… but is he on, let's say… Dallas Braden's level?
How important do you think the concept of hustle is now that a guy like Hanley Ramirez got pulled? Should everyone be punished for a fault like that, or is there a line drawn for certain people/managers? Ramirez is a very important part of the lineup, and pulling him out could be a major risk. For Fredi, obviously the fundamentals of baseball come before talent… which is why I admire him. A close friend of mine just finished telling me a few days ago, "Sometimes the hardest thing to do and the right to do are the same." Other people might've given him a slap on the hand, or a little pep talk and leave it at that. Seriously, what would you have done if you were in Gonzalez's position? C'mon… it's Hanley Ramirez. :P
(I know I'm going to get a lot of crap for putting that :P on a sports website, but whatever.)
Do you think this was a big deal mainly because of the way Hanley Ramirez looked at the situation, or because it's Hanley Ramirez? I remember when Joe Maddon benched B.J. Upton in 2008… twice. The Major Leagues is no joke: everyone wants to get  a chance to play, including those who are injured. Justin Ruggiano, who was not even twenty games into his MLB career, gladly took his spot. In Hanley's case, Brian Barden (who has a sprained ankle) replaced Hanley Ramirez without any hesitation. Does anyone remember any other times where someone was taken out due to their lack of hustle?
Examples of Hustle:
Examples of Lack of Hustle:
Anyone remember this? The 2006 Blooper of the Year award winner... Sean Casey. He didn't hustle after what should've been a hit. He ended up becoming the laughing stock of baseball for a little while when left fielder Pablo Ozuna threw him out from left field.
Ad blocker interference detected!
Wikia is a free-to-use site that makes money from advertising. We have a modified experience for viewers using ad blockers

Wikia is not accessible if you've made further modifications. Remove the custom ad blocker rule(s) and the page will load as expected.