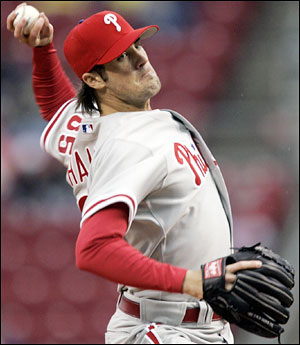 Major League Baseball doesn't have many truly elite pitchers. Johan Santana, Jake Peavy and a handful of others. This list could start an endless debate, so I'm not going there. My point is that this list will have a new member soon.
A few weeks ago, I said Cole Hamels would be as good as or better than Johan Santana in two years. I think I grossly underestimated Hamels' ascension.
The Phillies knew Cole Hamels was destined for greatness from the time he stepped on a mound. In his debut with the Class A Lakewood Blueclaws here at the Jersey Shore, Hamels went five innings, surrendering one hit and two walks while striking out eight.
But his runaway train to the majors was derailed more than once. Elbow soreness caused Hamels to miss all but four starts in 2004. During the offseason, he broke his hand in a bar fight. In 2005, he was shut down for the season in July with back spasms after being promoted to Class AA Reading.
Hamels learned two valuable lessons. First, if you want to even make it to the big leagues, grow up and get your head straight. Second, make sure you're physically prepared or you'll have a short career.
Hamels returned to full strength in 2006 and again dominated the minors for a month before receiving his call to the big leagues. His career minor league numbers: 14-4, 1.43 ERA, 273 strikeouts in 195.1 innings.
His major league debut was strikingly similar to his Blueclaws debut. Five innings, one hit, seven strikeouts, five walks. Another lesson learned. Big league hitters don't hack at those pitches outside the strike zone that whiffed minor leaguers, so you need to be more precise with your location. Hamels struggled early, but went 7-3 with a 2.70 ERA in his final 12 starts to show a glimpse of what he could do.
A lot of things came together in 2007. An All-Star appearance. An improbable post-season run. 15-5 with a 3.36 ERA. But a left elbow strain sidelined Hamels for a month and again prevented him from truly breaking out. Fortunately, he showed no ill effects upon returning from the disabled list, pitching eight scoreless innings and striking out 13 in his final regular season start.
The 2008 numbers through three starts are brilliant. 2-1, 0.82 ERA, 22 IP, 15 K. But those numbers don't tell the whole story. After last night's performance (7 IP, 0 ER, 5 K, 2 BB), Hamels said he "lucked out" and Cubs hitters allowed him to "get away with a poor game," so he'll have to work harder. This is a far cry from the cocky kid who got in a bar fight after possibly taking his immense talent for granted.
The biggest speed bump for Cole Hamels on the way to elite status has always been Cole Hamels. That speed bump is gone. Yes, he has an injury history, which will dog him until he completes a season unscathed… although legend has it that his knee buckling changeup actually became even better after he broke his left arm as a junior in high school. The handful of elite major league pitchers will have a new member by season's end. Hamels is on the doorstep.
Ad blocker interference detected!
Wikia is a free-to-use site that makes money from advertising. We have a modified experience for viewers using ad blockers

Wikia is not accessible if you've made further modifications. Remove the custom ad blocker rule(s) and the page will load as expected.