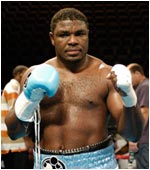 Sameul Peter
'  
The old saying "patience is a virtue" can easily be attributed to Samuel Peter.
The Nigerian born Las Vegas based heavyweight has waited for 16 months to solidify himself as force in the heavyweight division. Furthermore, the WBC interim champion gets a chance to certify himself as a credible champion.
Peter (29-1, 22 KOs), will make history Saturday night when he takes on Oleg Maskaev (34-5, 26 KOs) in the first heavyweight title fight in Mexico. For Peter this is a welcoming outcome being that he has been a victim to the politics of the heavyweight division. Now he gets a chance to take out his frustrations on Maskaev, put on a show and at the same time do it in historic fashion.
Maskaev, 39 became one of boxing's unlikeliest champions when, having been knocked out in all of his five losses, stopped overwhelming favorite Hasim Rahman in the final round at Las Vegas in August 2006 to take the WBC championship. A month later Peter met James Toney in a WBC eliminator. Peter outpointed Toney by split decision to become Maskaev's mandatory challenger; however, Toney's camp objected decision and filed their protest to the WBC. Eventually the WBC ordered an immediate rematch resulting in Peter winning in convincing fashion thereby becoming the mandatory challenger.
There was strong evidence indicating that Maskeav tried to avoid a collision course with Peter. It has been documented that Maskaev's promoter Dennis Rappaport secured an exception to the mandatory obligation. This meant an easy ride for Maskaev against relatively unknown opponent Peter Okhella whom he handled with ease in December 2006 in Moscow. The WBC added fuel to the fire by allowing Vitali Klitschko to come out retirement and step in front of Peter's place in line. Months later the Maskaev-Klitschko deal fell apart and Maskaev was ordered to fight Peter.
Maskaev and Peter had been scheduled to meet in New York's Madison Square Garden on Oct. 6 2007, but a back injury forced Maskaev to pull out of the fight on Sept. 21 2007. The WBC Board of Governors convened on Sept. 24 2007 and voted Peter its interim heavyweight champion.
For many in the boxing circles there is a confident feeling that Maskeav is no match for Peter. Peter, 27 is a younger, stronger and hungrier fighter. More importantly he has evolved from being a powerful one dimensional fighter with no endurance and mechanics.
After rolling to a 24-0 record Peter met his match in Wladimir Klitschko in a title eliminator. Peter dropped Klitschko three times, but he lost his stamina and Klitschko managed to outbox him in the later rounds winning the fight in a unanimous decision.
Peter immediately began to progress in a comeback trail. In his two bouts with seasoned veteran Toney he demonstrated sharp accurate punches, combinations and mobility that had seemed dormant in his repertoire. Furthermore, he showed endurance, heart and determination in his first title defense against Jameel McCline. In the McCline fight, Peter was surprisingly dropped three times and badly hurt for the first time in his career; however, he survived to win a decision, which finally set up Saturday's showdown
Maskaev might be encouraged and confident having seen Peter's flaws and knowing that he is a capable fighter with a powerful right hand. Moreover, he seems to have developed a strong chin after absorbing Rahman's best blows during their clash. Still Maskaev knows he is the underdog and his time as a heavyweight contender is seemingly running out as he approaches his 40th birthday.
It is hard to imagine Maskaev holding off a charging and resolute Peter. Out boxing Peter does not seem viable option given that Peter has an advantage with his enhanced skills, mobility and speed. In addition to this, Peter's condition may not be a question mark given that he arrived in Mexico two weeks before the fight to familiarize himself with the heat and altitude.
It seems as if Maskaev's saving grace is Peter making mistakes and remaining unfocused. That might not be possible. Peter most likely is aggravated from the long wait and it is certain his intent is to punish Maskaev.
The stage is set for Peter to claim glory, notoriety and stature. It is all in his hands now
Ad blocker interference detected!
Wikia is a free-to-use site that makes money from advertising. We have a modified experience for viewers using ad blockers

Wikia is not accessible if you've made further modifications. Remove the custom ad blocker rule(s) and the page will load as expected.