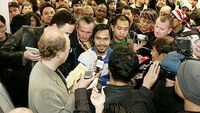 Manny Pacquiao
'  
It is easy to see why Manny Pacquiao is such a revered figure.
Victories over battle tested warriors such as Marco Antonio Barrera, Eric Morales, and Oscar Larios have cemented Pacquiao as the number two pound-for-pound best behind Floyd Mayweather. Furthermore, many in the boxing world have come to know and cherish him as the Mexican assassin after he defeated Mexican opponents in his last six fights.
With such international stardom and iconic status it should come as no surprise that Pacquiao, 29, wound up lost in a conflict of interests and desires.
He made headlines when he failed to launch his political career as a congressman. He made headlines in his numerous business deals (He owns a lottery outlet for the Philippine Charity Sweepstakes Office. Also he is the owner of the Pac Man Gensan of the Mindanao Visayas Basketball Association) He made headlines with a movie on his life. He made headlines in an alleged affair with Filipino actress Ara Mina, rumors which put a strain on his marriage.
It became increasingly clear in 2007 that the hunger for boxing success had left Pacquiao. After a pair of unconvincing wins over the Jorge Solis and Barrera, something needed to be done to light burning desire and single-mindedness in Pacquiao. In a strange twist of fate, the memory of Mexico's Juan Manuel Marquez seems to have created a spark of inspiration in Pacquiao.
Almost four years ago Pacquiao and Marquez met for the featherweight championship in May 2004. From the opening round many witnessed the beginnings of a scintillating fight.
For about 90 seconds in the first round, Marquez had everything under control, boxing with a relaxed feel and confidence. Then Pacquiao like a tsunami unloaded with brute force and power sending Marquez to the canvas in three straight knockdowns. Miraculously a bloodied Marquez stayed on his feet at the end of the round and fought his way into the fight despite the deficit.
The dramatic slugfest ended with the featherweight championship match ruled a controversial draw. Marquez had done enough to mount one of the most stunning comebacks in recent history, while Pacquiao was left to ponder what went wrong.
Many theories and explanations have been derived from that epic clash and a proposed rematch provided a forgone conclusion as to who the better fighter is.
As is the common case in boxing, long delays in rematches result from numerous complications that include contractual disputes and negotiations, this case involving promoters Bob Arum Top Rank and Oscar De La Hoya's Golden Boy Promotions as the instrumental figures.
Both fighters wanted a rematch; however, some questionable management decisions by Marquez and his trainer/manager Nacho Beristain against Arum's Top Rank, put a dent on the highly anticipated second fight.
"Money was the issue," states Marquez to the associated press. "They [the promoters] promised me more money or a better promotion for the second fight with Pacquiao. My promoters never came through and never delivered. They were lying to me about the promotion, that Pacquiao was making the same [money] I was making. A lot of crap, you know. And I decided not to do it because I knew that they were lying and I just didn't like it."
Marquez, 6-1 since the draw, defended his titles twice in the United States under Arum before his contract expired. He then went to Indonesia to fight mandatory challenger Chris John and lost his titles in a controversial decision.
Marquez's climb back to relevancy began in 2006. In September of that year, Marquez signed with Golden Boy before going on to defeat Barrera in March 2007 and seasoned veteran Rocky Juarez in his last fight, November 2007, thus paving the way for a possible rematch with Pacquiao
Since the draw, Pacquiao has gone 7-1. During that time, he split from his former promoter Muhad Muhammad, waged an epic trilogy with Morales and was the central figure in a legal battle between Arum's Top Rank and Golden Boy over his promotional contract, a fight that began because Pacquiao inexplicably signed with both companies.
Last summer a settlement was agreed, paving the way for Pacquiao to defeat Golden Boy's Barrera for the second time last fall, which set up the rematch with Marquez.
The rematch is fittingly titled 'unfinished business.'
Marquez (48-3-1, 35 Kos), now a junior lightweight titleholder, will meet Pacquiao (45-3-2, 34 KOs) for the WBC superfeatherweight championship and the vacant Ring world championship at the Mandalay Bay in Las Vegas on Saturday night
Both are different fighters today. Pacquiao is clearly improved, no longer a left-hand obsessed wild man who only moved his head when looking down at a fallen opponent. Marquez, at 34, may not be all that he was four years ago but he remains a formidable counter puncher and superior technical boxer as well as a wiser man than when they last met.
Despite Marquez's confidence and determination to solidify his boxing status, oddsmakers have Pacquiao as the favorite, citing his superior strength and youth advantage. Also judging from a focused and assured Pacquiao in press conferences, many believe a Pacquiao victory is forthcoming.
Predicting the outcome of the fight will be no easy feat. However, the motivation, pressure, and national pride that Pacquiao seems to consume himself with, should enable him to add Marquez to his acclaimed status as Mexico's public enemy number one.
Ad blocker interference detected!
Wikia is a free-to-use site that makes money from advertising. We have a modified experience for viewers using ad blockers

Wikia is not accessible if you've made further modifications. Remove the custom ad blocker rule(s) and the page will load as expected.