Yesterday, the Chicago Bears re-signed QB Rex Grossman to a one-year deal worth around $3 million. This means that the Bears will have the same three QB's on their roster as last year. Both the Bears GM, Jerry Angelo, and Chicago Head Coach, Lovie Smith, wanted to give Rex one more chance as their QB. Rex's best season came in 2006, when he led his team to a Super Bowl appearance, only to lose to Indy. During the Bears Super Bowl run, Rex threw 20 INT's, and only completed 54.6% of his passes, with a QB Rating of 73.9. Rex played just 8 games last season, and the Bears finished the season with a 7-9 record, good enough for 4th place in the NFC North.
The pressure is really on Rex now. If he doesn't get the Bears to the playoffs this year, his career in Chicago will likely be over. Grossman will still have to compete with Brian Griese, and Kyle Orton for the starting job, but I think Lovie will likely start Grossman on Opening day, unless he gets injured. Grossman re-signed with Chicago because he believes he has the best shot at starting, but I don't think that's true. I'm sure teams like the Miami Dolphins, Atlanta Falcons, and San Francisco 49ers would love to have Grossman on their team.
Personally, I don't see why Chicago still wants him. He may have taken them to the Super Bowl in '06, but I think they could've gone with a High School QB under center. Chicago's Defense was just too good that year. I am also surprised Grossman still wants to suit up in a Bears uniform, especially since they released wideout Muhsin Muhammad, and Bernard Berrian is also a Free Agent. I wouldn't be surprised if Chicago's offense was the worst in the NFL this year, they have three below average QB's, hardly any talent at the WR position, and the Bears leading rusher last season was Cedric Benson, who ran for 674 Yards (3.4 YPC), and just 4 TD's.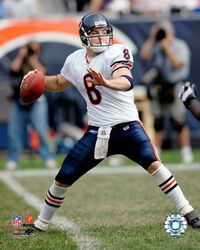 Maybe they are better off putting second-string RB, Adrian Peterson, at QB (1 for 1, 9 Yds, 1 TD in '07), he does have a higher Comp %, QB Rating, and hasn't thrown more INT's, than TD's. As a team, the Bears threw 18 TD, and 21 INT, with a 57.5 Comp %, and a QB rating of 72.2, which gave them a ranking of 27th in overall offense, 15th in Passing offense, and 30th in Rushing offense. Chicago was alos tied for 28th in INT's thrown (21), 27th in Comp % (57.5), tied for 20th in TD's thrown (18), 24th in sacks allowed (43), and 27th in QB Rating (72.2).
Rex Grossman's Career Stats in Chicago:
5 Years: 32 Games (6.4 games/season), 489 for 900, 54.3 Comp %, 5,907 Passing Yards, 31 TD, 33 INT, 6.6 YPA, 70.9 QB Rating
Other NFL News:
Ad blocker interference detected!
Wikia is a free-to-use site that makes money from advertising. We have a modified experience for viewers using ad blockers

Wikia is not accessible if you've made further modifications. Remove the custom ad blocker rule(s) and the page will load as expected.