Cross-Posted at my new blog: www.bryantwrestling.com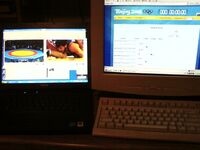 This is my room at my dad's house back in Poquoson, Va. I've got three screens on the laptop and my dad's dinosaur with the brackets.
No, I can't run video on the bigger screen due to the fact he's running Windows 2000.
Already, we've seen one great match as Armen Nazarian of Bulgaria topped 2007 World Champion David Bedinadze of Georgia in three periods at 60kg.
Still anxiously awaiting St. Louis' own Spenser Mango to step to the mat. NBCOlympics.com is doing great with these camera angles and quality, but as typical with FILA, the scoring on the live play-by-play was an afterthought and you can tell.
FILA really needs to seed this thing, but they don't have the American mindset of best final, they just want  one champion. Bedinadze now has to hope Nazarian makes the semis just to hope to get a medal.
Hamid Soryan (or Sorian, FILA spellings change daily) has crushed his first two opponents.
10:19 p.m. -- Michael Phelps just set a world record. Mango's wrestling and just won the first period over the Romanian 1-1. Neither could turn each other or scored from their feet.
10:23 p.m. -- Spenser finishes a slick blast double, sending the Romanian to his back for three. Wins the second period 5-1 and moves on in the bracket at 55kg. Great win for Mango.
I don't have Photoshop on this new computer, so I bring you MS Paint's freeze frame.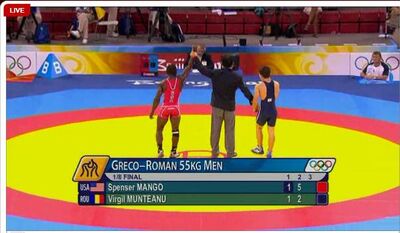 Just checked the forum over at www.thematforums.com, it looks like USA Wrestling's got a chat room set up for the Olympics. While we might be 12 hours behind, it's still the best live coverage we've seen. Once the folks get the thing up and running, it will be an added benefit for interaction. Here's the link.
10:49 p.m. -- Huge test coming up for Mango, as Craig Sesker from USA Wrestling has just dropped me a line. Obviously we know the Korean is tough, but it's crucial because to have any hopes of a medal, he must continue on in the draw. The issue is we've got Park of Korea and Soryan of Iran down low. With this follow-the-leader type of bracketing, it's about positioning in the draw. Mango needs to beat Park, if he doesn't, he'll need Park to beat the world champion just to stay alive. This bracketing is horrible, but it's better than it used to be with guys taking dives in the pools.
11:11 p.m. -- Waiting for Spenser's second match while watching Mankiev (RUS) and Soryan (Iran) go into the third period. The Mango-Park winner has the winner of Mankiev-Soryan.
11:23 p.m. -- Park of Korean beat Mango in two periods, now Spenser has to wait to see how far Park will go in the draw. This is less of a problem, at least on paper, since Mankiev of Russia beat Soryan in three periods. Park will now face Mankiev in the semifinals. If Park makes the finals, Mango will have a chance to come back through the repechage (stupid French word) and have a shot at one of the two bronze medals (again, another stupid concept, but hell, I'll take it if we get one).
11:28 p.m. -- The other semifinal at 55kg is set and it's not exactly one of those matchups that makes you feel warm and fuzzy inside. There's a lot of bitterness between the countries of Azerbaijan and Armenia. As I asked some Azerbaijani citizens when I was in Baku for the 2007 World Championships, I got more than I'd bargained for in an answer ... when an Armenian stepped to the mat in Baku, they were whistled and jeered. Wrestlers from places like Finland had huge cheering sections, as in the entire arena, when they faced off with an Armenian. Now, it's Rovshan Bayramov of Azerbaijan against Roman Amoyan of Armenia with the winner facing either Park or Mankiev.
11:36 p.m. -- If anyone's listening to the three feeds, it's pretty apparent that other than the Chinese, the folks from Kazakhstan are pretty excited about their wrestlers. Nurbakyt Tengysbaev moved into the semis defeating Ji-Huyn Jung of Korea. A late arm throw gave the Kazakh (is that the correct terminology?) the win. Now you can start to hear the Azerbaijani's kick it up at as Vitaliy Rahimov faces Bulgaria's Armen Nazarian (again, his spelling changes as frequently as FILA wants it to).
11:51 p.m. -- 2007 World Champion David Bedinadze of Georgia will not medal in the 2008 Games. Rahimov topped Nazarian with a blistering third period to knock Nazarian out of the championships draw. That loss means Bedinadze, who lost to Nazarian in the opening round, will not have a chance to wrestle back through the repechage for a bronze.
11:55 p.m. -- If this is being shown in Baku (or anyplace in Azerbaijan) on LiderTV, then the folks out that way have plenty to be cheering about. Rovshan Bayramov has reached the Gold Medal final at 55 kg with a two-period win over Amoyan of Armenia. If Rahmiov makes the final, AZE will be two for two on the day.
12:02 a.m. -- FILA likes to pull colored balls out of bags to determine who locks first in Greco-Roman if there's no scoring in the first minute. The U.S. hasn't quite made it to the world of weighted discs (coins) for the toss. I love corruption!
12:14 a.m -- The first part of the day is over as both finals are set at 55 and 60kg. It's a two-country run as Russia has entries in both finals, as does former Soviet republic Azerbaijan. Mankiev's win over Park of Korea not only put him into the finals, but it eliminated Team USA's Spenser Mango from medal contention. Mankiev will face Azerbaijan's Rovshan Bayramov. Bayramov pounded Amoyan in the top semi, while Mankiev lost all three "coin tosses" (that stupid ball thing again) and beat Park on the bottom half. At 60kg, It'll be Russia's Islam-Beka Albiev taking on Azerbiajan's Vitaliy Rahimov, who torched Kazakhstan's Tengysbaev.
Looks like we're kicking up in about four hours. See you then.
Ad blocker interference detected!
Wikia is a free-to-use site that makes money from advertising. We have a modified experience for viewers using ad blockers

Wikia is not accessible if you've made further modifications. Remove the custom ad blocker rule(s) and the page will load as expected.