So, Lebron "Whiny" James (nickname given to James by Wizard SG, Deshawn Stevenson), and his Cleveland Cavaliers sent home the no-name Deshawn Stevenson, and his 5th seeded Washington Wizards. In case you didn't hear, the no-name SG, Deshawn Stevenson of the Wizards referred to SF Lebron James (AKA King James) as a "whiner", and says he should just play the game. I thought this was rather laughable, especially considering Lebron is a 4-time All-star, with 2 All-star game MVP's, and an NBA Finals appearance. Lebron simply replied to Deshawn's comments by saying that if he responded to his comments it would be like Jay-Z responded to a comment said by Soulja Boy.
Well, Lebron silenced the Wizards by recording a triple-double (27 points, 13 rebounds, 13 assists) in a 105-88 Game 6 victory. The 17-point victory sealed the series win for the Cavs, 4 games to 2, to advance to the Eastern Conference Semifinals. The Cavs will face either the 1-seeded Boston Celtics, or the 8th-seeded Atlanta Hawks, all depending on who wins Game 7, which will be played at 1 PM ET in Boston, MA.
Personally, I really didn't think the Wizards even had a chance at winning the series, even with Gilbert Arenas. But, guys like Caron Butler (18 points, 9 rebounds in Game 6), and Antawn Jamison (23 points, 15 rebounds in Game 6), and even Brendan Haywood (13 points, 10 rebounds in Game 6), really stepped up their game, and was able to stretch the series to 6 games, only to lose at home last night. Lebron was hit hard every single time he touched the ball, but overcame the physical toughness of the Wizards, and led his team to victory. Lebron averaged 29.8 PPG, 9.5 RPG, and 7.7 APG in the 6 playoff games so far. While Lebron's new foe, Stevenson, averaged just 12.3 PPG, 2.2 RPG, and 3.0 APG in 6 playoff games. This Stevenson guy is my new "Least favorite" NBA player, I really don't like how this guy thinks he can just walk into Cleveland and talk trash about the NBA's biggest superstar (...one of the biggest, anyway). I especially feel this way after looking up his stats, and seeing that he averages just 8.7 PPG, 2.4 RPG, and 1.9 APG in 549 career games. This guy is 6 foot 5, 218 pounds, shouldn't he be getting a few more rebounds per game than 2.2?! I don't know, maybe it's just me, but I really don't like this guy, and don't blame Lebron for the way he reacted after Deshawn shot his mouth off.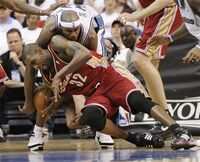 I smell a rivalry a brewing. Anyone who watched the series would say that this matchup has rivalry potential. Each and every game between these two teams have been a physical, and close-matched ballgame. The Deshawn/Lebron situation has just made these bigger.
Cleveland pretty much owns D.C., especially when it comes time for the playoffs.
Cavaliers all-time Playoff record v.s. Washington: 17-9
The Cavs have faced Washington 5 times in the playoffs, and have defeated them 4 of those 5 times.
The Cavs defeated Washington in the playoffs for the third straight season (12-4 against D.C. since 2006 playoffs).
I don't know about you, but I smell an Eastern Conference rivalry a brewing.
Question: Can the Cavs repeat as Eastern Conference Champions???
Answer: They obviously have a chance with Lebron. You never know what team you're gonna get, though. They have a shot in the Semi-finals against either the #1 Celtics, or the #8 Hawks. The Hawks are proving that the Celtics are beatable, and the Hawks are the number 8 seed, so I think the Cavs can easily play with them. I believe Lebron can lead the Cavs to the Eastern Conference Finals, and possibly win it. But, will it happen? No. I think, despite their troubles with Atlanta, Boston will get over the bump in the road, and go to the NBA Finals. Sorry, Lebron.
Ad blocker interference detected!
Wikia is a free-to-use site that makes money from advertising. We have a modified experience for viewers using ad blockers

Wikia is not accessible if you've made further modifications. Remove the custom ad blocker rule(s) and the page will load as expected.