The Baltimore Orioles released OF/1B/DH, Jay Gibbons, on Sunday, less than 24 hours away from their opening day game against the Tampa Bay Rays (which they lost to the Rays Monday afternoon at Camden Yards at Orioles Park, 6-2). It appears as though the O's staff just lost patience with Gibbons, and thought it was time for a change. On December 6th, MLB Commissioner Bud Selig, suspended Gibbons, and Kansas City Royals outfielder Jose Guillen for 15 days after being informed that Gibbons received a shipment of HGH in January of '05.
Add recurring injuries on to the whole steroid mess, and you've got yourself a recipe for unemployment. Jay played just 84 games last year, and started just a few times a week. Gibbons hasn't hit 20+ HR's since 2005, when he hit 26 round trippers, and batting .277. Gibbons never really hit many guys in, racking up 100 RBI's just one time in his 7 seasons in orange and black. Jay's production has really been going downhill, hitting just .189 with ZERO homers, and 4 RBI's in 16 spring training games. The O's still owe Gibbons $11.9 million.
I don't believe that Gibbon's 15 game suspension, which has been delayed for 10 days according to Bud Selig, had anything to do with Jay being cut. It appears Gibbons probably wouldn't have been an everyday starter, due to new acquisition, former Houston Astros outfielder Luke Scott. Gibbons' injuries may have kept him out a good amount of games anyway.
Baltimore President Andy Macphail stated that the decision was down to two players, and they just decided to go with Scott over Gibbons, which I believe was the right choice, and was best for the team. He added that he doesn't think there was much of a chance for him to play much, considering his track record.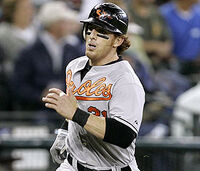 Here's what Baltimore Manager, Dave Trembley, had to say when asked whether he thought Gibbons could return to his peak form:
"I don't know if he could, but I know in order for him to have an oppurtunity to do that, he would have to play on a regular basis. I just wasn't able to do that for him."
I have a pretty good feeling that he won't be on the unemployment list, I think there's a team out there that will take a chance with him, and sign him before the trade deadline. So, look for Gibbons to be back in uniform by June or July.
Rays win first season-opener in 8 years.
Ad blocker interference detected!
Wikia is a free-to-use site that makes money from advertising. We have a modified experience for viewers using ad blockers

Wikia is not accessible if you've made further modifications. Remove the custom ad blocker rule(s) and the page will load as expected.