Joe Martinez made his first big league appearance since he took a line drive off of the skull back on April 9th. The 26 year-old made his first career major league start a memorable one, by defeating the Astros and leading the Giants to a big road series victory while pushing their record back to 12 games above .500.
Many wondered how effective, and what kind of confidence Joe Martinez would have if and when he returned to a big league mound, but just as he showed during him minor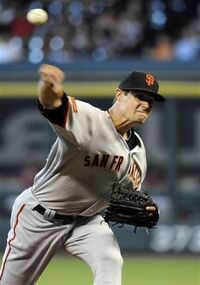 league rehabilitation assignment, he's throwing with plenty of confidence and doesn't seem to have missed a beat. He went 5 solid innings on Tuesday, allowing 3 runs on 7 hits while walking none and striking out 4 against a very potent
Astros
lineup, in a very potent offensive yard. The Giants are really hoping that Martinez can step up behind
Tim Lincecum
,
Matt Cain
,
Barry Zito
, and
Jonathan Sanchez
and help anchor down the starting rotation until
Randy Johnson
can rejoin it (likely not until mid-September) and he has locked rock solid on his road to recovery. It looks like Martinez will be the fifth starter for the time-being, and since that's the case, hopefully there won't be any more changes to the Giants rotation until Randy Johnson can hopefully return next month. If Martinez cannot keep handle of the fifth spot (which I don't think will happen), my guess would be that
Kevin Pucetas
(10-3, 3.76 ERA in Fresno) will be next in line.
The Giants' offense showed up in full force to support Martinez's effort, in fact, they totaled 18 runs over the final 2 games in the series. During that 2 game stretch, Pablo Sandoval went 5-for-7 with 1 homer, 3 RBI, and 4 runs scored. The Giants two newest acquisitions also showed up big on Tuesday afternoon. Freddy Sanchez hit out of the three hole (more on that later) and had a 3-hit day while Ryan Garko put up his second multi-hit effort in the last 3 days with a 2-4 with a couple of RBI. As a matter of fact, Garko had himself a real solid series overall in Houston, as he went 5 for 10 with 3 RBI in the 3-game set.
Speaking of the two new additions, and their spots in the batting order, there has been a lot of discussion lately about possibly changing the Giants lineup around a bit.
Eugenio Velez
has sort of forced his way into the lineup everyday, playing in left field and leading off and I wouldn't look for him to be moving anywhere anytime soon. Bochy loves his speed at the top of the order with Fred Sanchez's solid bat control behind him the the two spot. The area which is under question though, and has been for the better part of the last 2 years, is the middle of their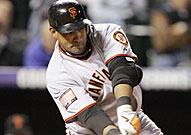 order.
Bengie Molina
, in particular, has really been playing himself out of the clean-up spot, and it's amazing that Bochy continues to trot him out there night in and night out. Molina is sporting an OBP of .270, which is barely a respectable batting average, and a pathetic on-base percentage. He had a hot starting in April and parts of May, but over the last 2 1/2 months, he's been relatively non-existent on offense. The thing is though, the Giants don't really have your prototypical cleanup option on the roster. Ryan Garko figures to be next in line when Molina inevitably gets dropped in the order, and he'd be a better option as he gets on bast a lot more than Molina does, but he's still learning a new league, and asking him to become the teams cleanup guy this early could be putting too much pressure on him. I still would try it out for 7-10 days just to get an idea of how things went. My ideal lineup for the roster as is now would be as follows:
1. LF Eugenio Velez (until he cools down)
2. 2B Freddy Sanchez
3. 3B Pablo Sandoval
4. 1B Ryan Garko
5. CF Aaron Rowand
6. RF Randy Winn/Nate Schierholtz (when he returns)
7. C Bengie Molina
8. SS Edgar Renteria/Juan Uribe
Trevor Cole The Giants Baseball Blog
Ad blocker interference detected!
Wikia is a free-to-use site that makes money from advertising. We have a modified experience for viewers using ad blockers

Wikia is not accessible if you've made further modifications. Remove the custom ad blocker rule(s) and the page will load as expected.