I know it happened a few days ago, I was just waiting for another move to follow, which is why I'm just now getting around to posting about it. I'm sure everyone who cares knows by now that
Randy Johnson
signed a 1 year, 8 million dollar deal with the
Giants
. I fully support this move, as the pitching staff
was a little overrated before this move (Outside of
Matt Cain
and
Tim Lincecum
, you didn't really know what you were going to get) but adding R.J. into the mix for a year is a great move. He can still pitch (obviously), as evident of his 2.41 era, and 8-5 record over the second half of last season. Put that together with the fact that he's now coming to pitch at a legitimate pitcher's park for the first time in his career and we could see The Big Unit find a fountain of youth here. While he should be a fine pitcher here, he will be a great sounding board for the young power pitchers, and should be a solid overall team leader. Now, I'm not saying R.J.'s add is the one that puts the Giants over the top, they still need to add hitting to be a true contender, but their overall pitching staff, from top to bottom, is looking pretty darn good after this winter's signings. Right now I'd guess that R.J. would start the season as the #2 starter in between Lincecum and Cain, with
Jonathan Sanchez
and
Barry Zito
rounding things out. There is also the slight possibility that
Noah Lowry
gets healthy for the start of the season which would provide the Giants with an abundance of major league caliber starting pitchers. Only then would I like to see
Brian Sabean
deal one of them.
Ever since Johnson signed, Jonathon Sanchez's name has been brought up again as possible trade bait in order to get another hitter in here. Like I said last time the thought of trading Sanchez (for
Jorge Cantu
) was brought up, if they can't get better than the likes of Cantu, it'd be more worth it for them to carry the strong starting staff and hopefully watch Sanchez's trade value skyrocket in 2009. I personally would prefer the deep, quality starting pitching, unless, of course, Sanchez would bring a guy like
Dan Uggla
or
J.J. Hardy
aboard: quality, all-star caliber bats that are in their 20's. After all, I'd consider Sanchez a young quality lefty with all-star capabilities as well. So no, do not deal Sanchez just for the simple fact that you signed R.J., Sabean. Those kind of moves have put the Giants behind the 8-ball in the past. I would just like to see them almost stand pat from this point forward. I still like the possibility of bringing in
Ty Wigginton
(apparently the Giants have contacted his agent) as insurance at third and to be kind of Mr. Everything the way
Rich Aurilia
was in 2008 and
Pedro Feliz
was before he was handed the full time gig at third.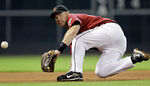 Wigginton has shown what he can do with limited at-bats. For a guy still in his prime and with the versatility of Wigginton, I'd see it as another win/win signing for the Giants. Wigginton's not going to cost anymore than 2 years and around $10 million or so, plus it would mean the Giants hang on to all their pitchers. Well worth it if he'd continue to do what he's done over the last 3 seasons, and I don't think there is any question that he would.
Published @ The San Francisco Giants Blog
Ad blocker interference detected!
Wikia is a free-to-use site that makes money from advertising. We have a modified experience for viewers using ad blockers

Wikia is not accessible if you've made further modifications. Remove the custom ad blocker rule(s) and the page will load as expected.