Article:Giants Continue Their Search For A Bat
Talk

0
Ad blocker interference detected!
Wikia is a free-to-use site that makes money from advertising. We have a modified experience for viewers using ad blockers

Wikia is not accessible if you've made further modifications. Remove the custom ad blocker rule(s) and the page will load as expected.
I don't think the
Giants
will get
Manny
, but seeing that
Brian Sabean
is looking into other options via free agency, maybe he would settle on an
Adam Dunn
or
Pat Burrell
. I hope I'm wrong as neither of those guys are near the difference maker Manny is and both would want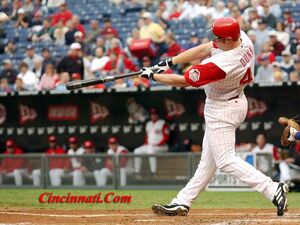 longer-term contracts than what Man-Ram will get. It obviously appears as if the Giants wouldn't mind adding another outfielder, as they may have something up their sleeve. I just really hope it's not
Bobby Abreu
. I guess Dunn wouldn't be so bad if he came on a 2-3 year deal do to the depressed market, but I just don't see him wanting to come here, as this park could diminish his power numbers. Burrell though, would be a slower, a little more powerful, and a lot less average version of
Aaron Rowand
. No thanks; at least Dunn will probably somehow manage to still pull off 35-40 home run seasons, even playing for SF.
Barry Bonds
did it, and Dunn has that kind of pop. Even
Ray Durham
managed to hit 26 home runs in a season while taking most of his at-bats from the left side of the plate at AT&T Park. But again, I doubt he would want to come here on a discounted deal over other places that might offer a more lucrative hitter's park. Whatever does go down though, I hope it doesn't cost
Fred Lewis
his spot on in the starting lineup or on the team. I like Lewis' upside and I want to see him play everyday somewhere. He showed so much improvement last year that I can't wait to see what he does this time around. I see him as fitting the same mold as
Cleveland Indians
'
Grady Sizemore
. Lewis doesn't quite have the power that Sizemore has, but can hit for average, power and has the ability to steal bases while hitting at the top of the order. (12-15 home runs, .290 average, 25-30 steals per season with an .800+ OPS).
Speaking of the slow free agent market, we are 4 days into January and amazingly, there are still a load of high profile free agents left on the market. I figured that I would go ahead and take my best guess at where the elite eight (remaining) will end up:
1. Manny Ramirez: Dodgers (Giants have a shot too, but I think the mercurial Manny goes back to LA, especially after they cut ties with Andruw Jones) 2. Adam Dunn: Nationals (They missed out on Tex and may now turn to Dunn to help out Zimmerman in the middle of the order) 3. Ben Sheets: Rangers (Texas always needs starting pitching and Sheets could be the best they've had in a while) 4. Orlando Hudson: Braves (Market not there for O-Dog, could end up with the Braves, who could then move Kelly Johnson back to left-field) 5. Derek Lowe: Mets (Seems like the Mets are the most serious about the 2nd best remaining FA starting pitcher, even though discussions haven't been fruitful thus far) 6. Pat Burrell: Angels (After missing out on Tex, the Angels could look to Burrell as the consolation and use him at DH in addition to left) 7. Bob Abreu: Mets (Mets need another outfielder and the solid Abreu could land on their laps. Also could end up with an LA team if the Giants or someone else land Ramirez) 8. Oliver Perez: Dodgers (The Dodgers need pitching badly after losing Lowe and Penny, could now turn to Perez to help fill one of the spots) Published @ The San Francisco Giants Blog