When Gerald Green blew out the candle on that cup cake in the Slam Dunk contest I doubt he wished to be waived by the Houston Rockets. Well last weekend that became true. What makes this story even sadder is the recent entry on the Sports Brief where I went through the NBA and listed all 53 players who could still be playing college basketball. Gerald Green was very much on this list; in fact he would be a junior, presumably at Oklahoma State, where he committed to.
The 22 year old played nearly 3 full seasons in the league for a combined 3 teams, the Boston Celtics, Minnesota Timberwolves, and most recently the Houston Rockets. Growing up in Houston, Green was thrilled at the move on the deadline, and excited to get a chance to play for his hometown team. Yeah didn't make a lot of since to me either. Green played in just 29 games for the worst team in the West and just over 12 minutes when he did get in. Now he gets traded to a team who hasn't lost in years and are currently hosting a 1 st round series. How is he going to play there? I'll answer that, he won't. Green managed to get on the court just once in his 3 weeks with the Rockets for a grand total of 4 minutes.
As a Celtics fan I closely watched Green's first 2 years in the NBA. It all started on draft night in 2005. The Celts had the 18 th overall pick and two 2 nd rounders. What kind of moves could they make? It was the last year for players to enter the league straight out of high school. Perhaps the C's would go to that well again as they have taken Kendrick Perkins and Al Jefferson in previous drafts. Green according to most experts was a sure fire lottery pick. Well he wasn't. Maybe those teams knew something. Green "fell" to 18 in the draft, and he was supposed to be such a steal. Most people thought he would go 6 to the Trail Blazers. Instead Portland went with another kid from high school in Martell Webster. The picks kept coming, Bynum, a couple foreign players, 2 from UNC, Antoine Wright, on and on. Hey that Green kid is still on the board. They pulled the trigger on the player with perhaps the most potential in the entire draft.
While we're here, by selecting Gerald Green with the 18 th overall pick you might be wondering, who else could they have taken. The list really starts and ends with 2 nd round steal Monta Ellis. Yeah they took the wrong high school kid. But other players who followed Green in the 1 st round include: Jarrett Jack, Luther Head, Hakim Warrick, Jason Maxiell, Linas Kleiza, and David Lee. In the 2 nd round the Celtics kept both there picks and went with Ryan Gomes (career numbers better than Greens in points, rebounds, assists, and steals, also played in 54, and counting, more games), and they picked Orien Greene, because they had to take someone.
Green did not exactly burst on to the NBA scene following the draft. He played in just 32 games, starting 3, as he was up and down all year to the D-League. He showed some improvement in his second season playing exclusively with the big club. In 81 games, 26 starts, Green average 10.4 points per game. Of course he did most of this during the tank-a-thon that was the Boston Celtics 2006-2007 season. He was the perfect player for that debacle. Zero defense, I mean none at all, but he can obviously dunk and can be fun to watch. He scored 33 points in a game at Atlanta last year, shot 5-5 from behind the arc vs. the Bucks. The last 25 games of the season Green scored double figures in 14 of them. You just never knew what Green would show up. Would it be the guy who posted 33, 22, and 21 in three straight games or would it be the guy who scores a total of 13 points the following three games shooting 4-26 from the floor and 1-13 from deep? Way too inconsistent.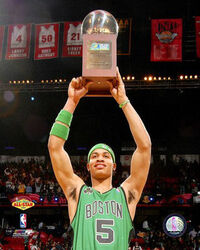 Despite nights where he looked like a guy who could get 20+ a night for an entire season and winning the dunk contest, the only thing the Celtics won last year, Boston traded him away. And as crazy as it is to say some people actually thought the Celtics gave up too much to get KG. Can you believe that? Trust me, in New England some thought Gerald Green would be the next Joe Johnson. Al Jefferson, Gerald Green, Sebastian Telfair, Ryan Gomes, for Garnett. I still get a kick out of it. But some people, who I'm sure would not admit it now, didn't want to part with both Big Al and Green. Ha.
When Green could not crack the lineup with the young Timberwolves I saw that as a horrible sign for his NBA prospects. What's next for this kid? Maybe this will motivate him to work harder. That had always been the knock against him. In the off season he could join a team where he might fit in, and be back in the league. You've seen guys who declare for the draft, don't get picked, and then bounce around other organization and finally reach their goals. But how many guys are in the league so young, have mild success (I'll say winning a dunk contest, and averaging 10+ for a season is mild success), and then get waived come back and make it? It's going to be tough, but with all that talent some team will likely take a chance. The question remains will Green make the most of that chance?
If a team does not go after Green, like the 17 franchises picking ahead of Boston back in 2005, what are his options? I hear Greece is nice this time of year. He may want to start at lower levels of European ball. And how would his game correlate over seas? It's going to be difficult. I think his best bet would be to join the And 1 Mix Tape Tour. I bet Green is better than the Helicopter. And 1 and Green would be the perfect marriage. Green gives them a little more basketball creditability, while And 1 give Green a place to play and some sneakers. Make it happen And 1. For Gerald Green maybe all is not lost, his former teammate Rafer Alston (Skip to my Lou) made a nice career for himself after playing street ball. Something to think about.
-Rich Keefe
Check out all of our stuff at http://sportsbrief.blogspot.com/ and be sure to e-mail us at sportsbrief@gmail.com
Ad blocker interference detected!
Wikia is a free-to-use site that makes money from advertising. We have a modified experience for viewers using ad blockers

Wikia is not accessible if you've made further modifications. Remove the custom ad blocker rule(s) and the page will load as expected.