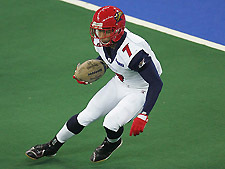 Site : Staples Center
TV : FSN Prime Ticket
Radio : 570, 1330
Records : Avengers (3-4), Gladiators 3-3
Record v. Gladiators (2007) : 1-0
Preview : After ending a four game slide with a 79-62 victory over the Utah Blaze, the Avengers look to capture their second consecutive victory over the Cleveland Gladiators at Staples Center on Saturday night. The Gladiators are playing their first season away from Las Vegas, after moving to Cleveland this past offseason, and are lead by former Avenger defensive coordinator Mike Wilpolt. Like the Avengers, Cleveland has had trouble maintaining consistency as they are on a three game slide of their own after a heartbreaking 69-66 loss to the Colorado Crush.
However, the Gladiators are certainly a dangerous team led by veteran quarterback Raymond Philyaw, who has completed 127-of-194 for 1,529 yards and 28 touchdowns.
"I know Raymond really well," Avenger head coach Ed Hodgkiss said. "He played for me in Albany. He won't turn the ball over and is a real smart mobile quarterback. We will need to put pressure and contain him in the pocket."
While Cleveland has a nine year veteran, the Avengers have a first year starter in Tim Hicks who has been filling in for the injured Sonny Cumbie. Hick's exceptional performance against Utah a week ago earned him "Offensive Player of the Game" honors. Against the Blaze, Hicks was virtually unstoppable, completing 18-of-29 for 294 yards and eight touchdowns.
However, Hicks shouldn't receive all of the credit for last week's 79 point outburst for half of Hicks' scoring tosses went to speedy wideout LaShaun Ward, who had a breakout game with 169 receiving yards. Ward has been exceptional this season as he leads the league in yards per reception at 18.7 yards. Lining up at the other wideout is Timon Marshall (pictured) who leads the Avengers in receiving yards (646) and all-purpose yards (1,305).
With victories over Cleveland in seven of the last nine games, the Avengers look to hand the Gladiators their fourth consecutive loss while also solidify their first place lead.
Ad blocker interference detected!
Wikia is a free-to-use site that makes money from advertising. We have a modified experience for viewers using ad blockers

Wikia is not accessible if you've made further modifications. Remove the custom ad blocker rule(s) and the page will load as expected.