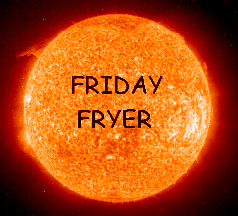 A look at the sports week's biggest losers…
On behalf of Christof, SSreporters will run this into the ground by hosting this week's episode.
SSR here to ruin your Friday Fryer. I made a promise like TB and will do this thing....doesn't mean you'll like mine but who cares?
It's the best time of the year for sports. The NHL, NBA, and College Basketball gear up for the final stretch of the season with the playoffs. Baseball season (for most of you guys) is here and you're ready for the Yankees to lose.
Don't worry, I'll promise not to make this a Favretastic thread.
THE FINALISTS
Texas Tech Basketball Team
How do you wipe out a famous win over #5 Texas, possibly denying your rivals the #1 ranking? Lose by 58 points at Kansas on senior night when you're fighting for your NIT life. The worst loss in school history before that was a 44 point ass kicking from Texas A&M....last week. This one was special though because you can only imagine how pissed Bobby Knight would've been if he dealt with what his son Pat Knight had to deal with. At the 6 minute mark of the 1st half against the Jayhawks, the Red Raiders were already down by 12 at 34-22. Write that down, Texas Tech scored 22 points in 14 minutes.

Texas Tech got to 31 points at the 14:47 mark of the 2nd half!!! In the next 14 minutes, they scored a whopping 9 points. Oh yeah, and were down by 35 by then. Literally everyone from Kansas scored, Mario Chalmers, Russell Robinson, Bill Self, Ron Franklin from ESPN, Texas Tech looked awful. Granted, this program's been pathetic and hasn't made the top 20 in the polls in eons, but to get doubled in a game you could not afford to lose to make it to virtually any post-season tournament is awful. On the other hand, they probably could've pounded the Knicks 115-98 in a pick-up game at the Garden.

 

John Madden for Losing Favre
What are you going to do now? Brett Favre has retired and that absolutely means Brett Favre will get his ass kissed by Madden about his playing career, not what he needs to do to win it in Chicago. Instead, he had this to say:

"Brett Favre is Brett Favre and when you consider the Brett Favre achievements made specifically for Brett Favre he is undeniably the best Brett Favre ever. We could talk about Brett Favre's struggles and whatnot in his Brett Favre life, he played like a kid, a Brett Favre kinda kid, and Brett Favre kids grow up to be Brett Favre adults who will be amazing Brett Favre football players who will be Brett Favre football players. Favre had a special something, because Brett Favre did what some QB's not named Brett couldn't do. He would throw the ball downfield, his receivers would catch it, and BOOM!!! Brett Favre gets a Brett Favre touchdown. I will surely miss Brett Favre. But his retirement speech on Thursday showed me that only Brett Favre can retire like Brett Favre and when Brett Favre is put under the spotlight, he handles it the only way Brett Favre can."

Thank you John....not enough to get you the Friday Fryer though. Two topics into it and already it sucks. We can make it though.........

 

Dirk Nowitzki
That was more than just a flagrant foul from Dirk Nowitzki. If you didn't see the video, click here before you continue reading. You mean to tell me that it was impossible for Dirk to move his hands away from Andrei Kirilenko's neck? Nowitzki, I don't care if it was accidental, if hooked a guy's neck and drag him down with that kind of force that is mega dangerous. Now I'm reading that Kirilenko may have flopped. Are you serious?

Look at the video again. Notice how Kirilenko pump fakes, Nowitzki's buys it. As his arm is pulling back, he turns it into a hook on his neck and now Kirilenko has missed the last 2 games.

That's more than just a one game suspension, it should be at a minimum three. Justice was served though, as the Mavs have gone the route of the Suns, and are struggling now that they traded a young guy (Devin Harris) with a bright future for an old guy (Jason Kidd) who have 2 years left in their career.
AND THE LOSER IS . . .
Philadelphia Sports
Okay, Philadelphia sports is actually clicking right now. But it's like an unwritten rule for The Friday Fryer to have some sort of Philadelphia content. The Flyers are still clinging to the 8th spot in the NHL playoff race. The 76ers are clinging to the 8th spot in the playoff race. The Eagles.....still have Andy Reid as head coach which means Brian Westbrook won't be able to do anything in crunch time this season either. The Phillies are in Spring Training.

So it looks like I picked the wrong week to host because Philly Sports is currently not doing anything wrong. But fear not my friends!

Knowing Christof would probably say yes (even though I haven't asked him), Philadelphia Sports Teams, any team, will be an honorary member of The Friday Fryer!

Now it's official, Philadelphia will permanently be a part of The Friday Fryer no matter what.
If Philly does nothing wrong, it doesn't matter, you'll always be a part of AGM's favorite series.
Have a great weekend everyone! Hoped I wasted your time very well.
Ad blocker interference detected!
Wikia is a free-to-use site that makes money from advertising. We have a modified experience for viewers using ad blockers

Wikia is not accessible if you've made further modifications. Remove the custom ad blocker rule(s) and the page will load as expected.