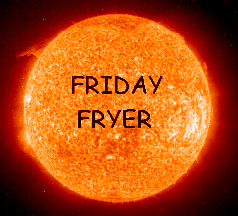 A look at the sports week's biggest losers…
A public service by guest host SSreporters on behalf of the creator himself, Christof.
The Friday Fryer is making a special appearance but the loser carries a serious tone.
THE FINALISTS
Canadian Men's Soccer Team
This has become such an alarming pattern that I can't just assume it's total incompetence. If it were a different referee on a different day it may very well have been Canada facing the United States in the CONCACAF Gold Cup semifinals on Thursday. Instead, Honduras was gift-wrapped a 1-0 win over the Canadians in the quarterfinals last Saturday. The moment in question was when Honduras forward Walter Martinez was attempting a bicycle kick in the penalty area with Canadian defender Paul Stalteri close behind him. The shot was poor as Martinez fell to the Lincoln Financial Field turf. However, El Salvadorian referee Joel Aguilar whistled a penalty on Stalteri for dragging him down. Replays showed that there was absolutely no contact between the two and Stalteri did nothing wrong. In the end the Canadian was cautioned and Martinez scored on the penalty kick for the only goal of the game. Granted, Canada had plenty of chances (5 shots on goal out of 12 total shots), but the Honduran goalkeeper was in fine form. Honduras hardly was interested in scoring and put up just 2 shots on target (1 of them the PK). Late on the Hondurans resorted to diving to waste some time, much to the dismay of Canada.

This isn't the first time Canada has been screwed out of at least a chance to win in extra time. In the last Gold Cup official Benito Archundia erroneously disallowed a Canadian equalizing goal late against the United States for offside.

Canada got robbed. Again. But with all of the bad calls and poor handling of fights (Mexico vs. Panama earlier this tournament) in games not involving Canada, I'm starting to think this is much more than incompetence. You know what? The more I keep seeing USA vs. Mexico in the final the more I get the suspicion that these results are being manipulated in some way to ensure that we get that matchup. Why? Because it's a big rivalry game and it sells tickets. The officiating in this region is alarmingly bad and I don't buy the "referees make mistakes" argument when it's consistent.

 

CF Navata
It's July, meaning that for most of Europe, league play begins in 1 month. They prepare by scheduling friendlies with top teams and even the lowly minnows. Spanish side CF Navata got a dream friendly with one of Spain's top teams in Villareal. Navata play in the lowest possible league in the Catalan football league system. They are a full eight divisions below their opponents. Now, usually for friendlies you test out new formations and lineups with new players. You have unlimited substitutions but for a squad like Navata surely you would want to give it your all against (currently) one of the top clubs in the country.

[1] Villareal 27 Navata 0.

That is not a typo. Despite playing two different sets of 11 for each half, Villareal hung 27 goals on their sorry opponents. Jonathan Pereira scored 7 goals. Robert Pires scored twice. Joseba Llorente and Ruben Marcos each scored four goals. Even the head toilet cleaner probably scored a few on Monday.

I don't really care who you play, that is embarrassing. Even for a friendly. No pro team should ever be beaten that badly.

On the flip side, was Villareal going for a world record for most goals scored in a soccer game? Talk about running up the score.

Then again I will hedge a bet that the New York Red Bulls would be beaten by the same score if they were in the same league.

 

Josh Barnett
Usually when you're caught once you don't try to repeat that mistake. Because when you do you'll probably get a big punishment. Headlining a main MMA card formed by Affliction next week against Russian  superstar Fedor Emelianenko, heavyweight Josh Barnett failed a drug test. He tested positive for anabolic steroids by the California State Athletic Commission and was forced to pull out of the fight. This isn't the first time the Seattle native has been caught. In 2002 he knocked out Randy Couture to become the UFC Heavyweight Champion. It was a stunning moment. He was the youngest champion in UFC history. Buuuuuuut.....he was later stripped of the title when he tested positive for three anabolic substances.

His fighting license in Nevada was suspended for 6 months and his UFC career was O-V-E-R.

What's even worse is not only is another suspension inevitable but it's because of him that the entire Affliction event has been canceled.

It's a shame because he is a very good fighter but he has to lay off on the steroids.

I'm quite sure rivals UFC are loving every moment of this.

UPDATE: UFC will really love this. Affliction as an MMA promoter is defunct! Thanks to Barnett he has managed to destroy an entire organization. So instead Affliction will go back to sponsoring the UFC.



AND THE LOSER IS . . .
ArmchairGM
This is not just for the last week but probably the past 4-5 months. I can't pretend much longer that I am even the slightest bit happy about what a once great website has now become.

What I witnessed yesterday in this article just about epitomizes what AGM is today. A place where trolling reigns supreme and personal attacks are aplenty. I was disgusted with almost that entire thread. Sure I said it was comical publicly but I was just fooling myself.

We have a Code of Conduct that nobody (including the admins) follows. We have trolls and personal attacks that once would previously come with some form of punishment or at a minimum a warning, is now met with "just ignore him" or "he's being himself" as justification for absolutely pathetic actions.

We have substandard articles that are poorly researched yet are somehow getting promoted.

Over half of the 211 comments yesterday were either illegible, nonsensical, profanity-laden, sometimes a combination of the three and completely irrelevant to sports.

I understand people are making efforts to help rebuild this site and I respect and appreciate it. But to me, ArmchairGM, for lack of a better word, sucks. No sugarcoating. It sucks.

What more can we do? Yes in a way it is a bunch of bitching from someone who got to witness the heyday of 2007. But is it not true? I dare you all to go look back in the archives (say March 2008) and realize how much meaningful production there was even when there were clear signs that many of the old users were moving on. Compare it to as late as yesterday and you tell me that the quality of the writing, discussion, and the community's togetherness hasn't gone down the toilet.

The founders may not be with us to help make this site better, but I had to put this up and say what I think about this site publicly. I love ArmchairGM. All I want, and hopefully everyone else, is a website with lively SPORTS discussion, a place where differing opinions (yes, DIFFERING OPINIONS) are allowed without some form of hissy fit and a gigantic locker room post stating why they're leaving.

All I've heard during this is the generic "we need to comment more" for discussion, "he's just being himself" and "use the ignore button" for trolling, and "write more articles" and "AGM will rise again". It's not working. The Water Cooler, the articles, the discussion, the recruiting drives, they've all failed.

Not one of us is really above or below responsibility for dragging AGM down. We've all contributed to the mess in some way and it may be too big for this decreasing community to handle.

Normally Friday Fryer is reserved for sports, but ArmchairGM as a community really has been one big loser for many months.
I want your HONEST opinion of AGM today. I don't want any rhetoric or generic responses. It can be criticism or praise or both but I just want people to speak up. I've voiced my opinion. Voice yours.
And maybe you can talk about the finalists too....
Ad blocker interference detected!
Wikia is a free-to-use site that makes money from advertising. We have a modified experience for viewers using ad blockers

Wikia is not accessible if you've made further modifications. Remove the custom ad blocker rule(s) and the page will load as expected.