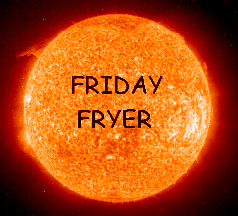 A look at the sports week's biggest losers…
A public service by guest host JuTMSY4 on behalf of Christof
Welcome to the next guest edition of the Friday Fryer, where we take a look at who was the sports world's biggest idiot(s) this week. I liken myself to a better Dan LeBetard subbing on PTI…minus the tard.
And yes, you're witnessing two JuTMSY4 articles in the matter of two days…its like some sort of record or something.
So let's stop dicking around, and go take a look at our three finalists and of course, the special people who are being dunked into the Fryer...So
THE FINALISTS
The Philadelphia Phillies
Maybe not the biggest losers today, but the Phillies, in all their glory got hosed by Ryan Howard. Not only do the Phillies have to pony up the 10 million Howard originally requested, but they managed to go through the arbitration hearing for nothing. They have nothing to show for it except for a more pissed off Ryan Howard, and the dream of Howard wearing pinstripes in 2012 (and not the red kind!). The Phillies, who had never lost an arbitration case in their history, are now 7-1 all time with that 1 being perhaps the largest blunder in the history of the franchise for the current decade. Hope Bill Giles is Happy with himself as Howard's 2009 salary should approach roughly 15 million and his requests for a contract extension are looking to be somewhere in the 150 million 7 year range.




 

Bill Simmons Readership
For those of you who don't read the Beantown Bullshiter, Bill Simmons is now in full NBA form. He's working his magic trade machine and will eagerly be feeding the masses information about the NBA a) we could do ourselves b) we don't care about and c) trades that only work in NBA 2k8.

Sad part is, Simmons actually got close to one and now we have the pleasure of listening to his boasting for the greater part of the next four months. God forbid Cleveland goes to the finals again, we'll all be screwed. The real question is come June, which article will come first; a) A Fire Doc Rivers article, b) A I was so smart, I predicted that Cleveland trade and now they're awesome article or c) an article where he rants about how awesome the Red Sox are even though its only June and he really doesn't know that much about baseball…or football…or hockey…or anything between New York/Boston and Los Angeles.




 

The Philadelphia Flyers
The last time the Flyers won a game Roger Clemens still had a shred of dignity, Hillary Clinton still had a chance and John McCain was still fidel. The Flyers haven't posted a W since February 6 and have one point in their last 9 games. They have fallen from 2nd to 10th in the Eastern Conference. The only bright spot is that the Flyers are only 2 points out of a playoff spot and 10 points short of the top spot (as compared to 23 in the west). It looks like it could be another dismal season in Philly



AND THE LOSER IS . . .
Bill Belichick and Roger Goodell
Conspiracy Theorists jump on the bus. As if Arlen Specter (R-PA) and former New England Patriots assistant Matt Walsh weren't enough, an unknown former player has stepped forward in the Spygate case to end the reign of terror. Others have also condemned Belicheat, including current Tennessee Titans head coach, Jeff Fisher. Additionally, a few St. Louis Rams season ticket holders have filed a class action lawsuit on behalf of…well everyone, for the Patriots cheating.

To clear the air on the Patriots, lets review a few Myths about Spygate:

1) Everyone is Doing it – Not everyone is doing it and even Jeff Fisher has stated as such. If everyone were doing it, they would have been caught by like the Patriots…multiple times!

2) It Doesn't Help you – If it didn't help, then Belicheat wouldn't have done it. Fact of the matter is, you don't do something in the NFL if it's useless. If that were true, maybe Bobby Hoying would still have a job

3) The Rules aren't Very Clear – Oh contraire. To borrow the quote courtesy of John Branch and Greg Bishop of the New York Times: "The rules are very, very clear," said Tennessee Titans Coach Jeff Fisher, a [competition] committee member. "There is no need to be more specific or clarify any rules whatsoever."

4) It was Only the Jets Game – Also factually inaccurate. As it turns out, there are serious doubts about the Green Bay Packers games, a preseason game against the New York Giants, and the St. Louis Rams Super Bowl game. And this are just the ones we know about now, more will follow.

So for those of you who think this is anywhere close to over, think again. Especially when the Patriots won't be drafting in the first day of the 2008 Draft.
Geez, and I can only do four. That's ashame, I've still got the Sixers and Eagles Left…
And Voila! JuTMSY4's PED free edition is complete. For Christof and the Friday Fryer... stay cool.
Until next Friday, AMF.
Ad blocker interference detected!
Wikia is a free-to-use site that makes money from advertising. We have a modified experience for viewers using ad blockers

Wikia is not accessible if you've made further modifications. Remove the custom ad blocker rule(s) and the page will load as expected.