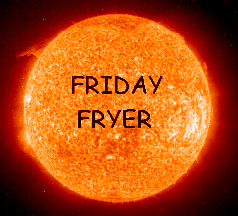 A look at the sports week's biggest losers…
A public service by guest host SSreporters on behalf of Christof
The Friday Fryer is back. Time to see who is going to get fried this week. And there is no cheap knockoff this time, it's the real thing...minus the creator.
It's the best time of the year. The NHL Playoffs are here, the NBA Playoffs, the NFL Draft is tomorrow. And the best part, I'm not live blogging crap this weekend because I'll be on the couch watching all of those events.
Okay, let's see who is on the fryer this time.
THE FINALISTS
NBA Eastern Conference
I know I bash the Eastern Conference to no end, but have you watched some of these games? There have been 8 Eastern Conference games, and a whopping 2 have been decided by 6 points or less, and that is game 1 of the Pistons/76ers, and game 2 of the Magic/Raptors. Even Charles Barkley, who seems to be the only person who doesn't care about the producer, was a little cranky because the Magic and Cavaliers put up their worst performances of the season.

There is no excitement anymore. I mean, they are partially responsible IMHO for the ratings going down in the NBA Playoffs. Look at the Western Conference, sure there are blowouts, but didn't we just have a classic Spurs vs. Suns game? Don't forget Houston stunning Utah in Salt Lake City.

I guess what I'm trying to say is that the Eastern Conference is so predictable that it is not even worth watching that side until they start getting more than 6 teams over .500. I don't know about you, but please wake me up when the EC Finals begins.

 

John Arne Riise
John Arne Riise is probably the most hated person in Liverpool right now. Own goals are bad enough, but in the UEFA Champions League Semifinal against Chelsea at Anfield (where Liverpool plays for the non-soccer fans), he took it to a whole new level. With the Reds leading 1-0 in the first leg of this home and home series, and literally seconds remaining, Chelsea sent a dangerous cross in, and with essentially no Chelsea players near it, Riise's header away....went into the back of the net.

The significance of this goal is that they wasted a chance to be up 1-0 heading into the 2nd game, the own goal was in front of their famed Kop end (it's a part of the stadium that is very steep and has more terraces and stands than any other part of the stadium), and they gave Chelsea an away goal, which is what would be the tiebreaker in case the two teams draw again. The most important one however, is when Liverpool heads into Stamford Bridge next week, they not only have to score at least 2 goals if they don't win, but they would have to become the English first team (unless Man Utd win tomorrow) to beat Chelsea at their home ground in over 4 years.

Essentially, Riise's blunder screwed the whole team probably cost them a chance for redemption after the loss to AC Milan last season in the final. Rafa Benitez is probably sweating because his job is on the line.

 

Philly!
Amazing how a couple of nights can change the mood of a whole city. Last week, the Flyers were cruising to a 3-1 series lead over the Washington Ovechkins, and the 76ers upset the Pistons in game 1 90-86 in Detroit. Oh yeah, and the governor Ed Rendell wasn't bored and decided to change the name of a highway.

Okay, it's a week later. The Flyers needed an OT goal from Joffrey Lupul to avoid collapsing, and headed to Montreal to face the top seeded Canadiens last night. It looked like they were going to continue their remarkable run in this Stanley Cup Playoffs, they were up 2-0 at the Bell Centre and 3-2 with under a minute to go. To quote the Boom Goes the Dynamite guy...."Boom Goes the Dynamite". Alex Kovalev scores on a power play with under :30 to play, tie game. Note that the power play was with Mike Richards in the penalty box and Carey Price pulled, so they had a 6 on 4 advantage. OT, Philly had never trailed...until Tom Kostopoulos scored 48 seconds into OT for the thrilling winner.

The 76ers had the momentum and a chance to go up 2-0 heading back to the Wachovia Center. They fell flat and got destroyed.

In the span of a week, these to Philly sports teams went from being on top of the world to pretty much hanging their heads heading into tonight. Don't get me wrong, the Flyers choked game 1 of their last series away, but this time they choked against the team with the 2nd best record in the NHL.

The 76ers better watch it, when Detroit gets mad, they blow you out.

So Philly gets mentioned this week, but not as the loser of the week. Speaking of which...
AND THE LOSER IS . . .
Everyone involved in the whole Sonics to OK City scandal
I've really tried to stay out of this topic, but the events that have unfolded have given me no choice but to speak about this. Everyone takes their lumps in this one.

Howard Schultz sold the team and now he is suing Mr. Bennett and he wants the team back. What kind of nonsense is that? He has a change of heart all of a sudden? I have said it 1000 times, HE was the one that started this whole fustercluck of a move. If anything we should be yelling at him because the talks of the Sonics moving happened not too long after he sold the team.

David Stern, I think, wanted a team in Oklahoma City. I think he wanted to move the Hornets to Oklahoma City permanently because of the tragic disaster of Hurricane Katrina. But New Orleans wouldn't give it up, and now they're kicking ass and taking names. Now he turns to Seattle, whoops! The city won't cough up a new arena, apparently KeyArena blows according to him (which I'll get to later), let's move boys! He was backing Bennett the entire way, and he specifically said the NBA will probably never come back to Seattle. He acted like he did not care, but maybe he did not. He totally disregarded the whole e-mail scandal between Bennett and Aubrey McLendon and just wanted to get the trucks ready.

Clay Bennett and McLendon are really stupid doing all of this "Heck yeah we have a basketball team now" kinda crap on a computer. A phone call you can erase, e-mail is free to see. Now it looks like they breached the "good faith" contract, which could possibly delay or completely stop the move. What I want to know is why is Bennett is getting all of the punishment? He is a businessman, what do you expect from him? He probably couldn't care less about the tradition of the Sonics and the city of Seattle, he just wanted to get this over with and everything is over.

Finally, the City of Seattle. It's because of them that I have no reason to believe Seattle should even bother to have a professional sports team. Put this into perspective, if Paul Allen doesn't buy the Seahawks from Ken Behring at the last second, they are in Anaheim. If the Mariners don't have this miracle run to help convince the city to give them Safeco Field, they are gone as well. Now the Sonics are the subject, and they pretty much don't know what to do. It's almost as if they put themselves in a position to be powerless, and they are forced to go into dirty work. Pathetic, I thought people voted for politicians who were competent and could handle something like this.

Will I be sad if the Sonics leave? Yes and no. The yes is that the Sonics won a title, the only one in Seattle men's pro sports history. They are the longest tenured franchise in this city and this state. The no is that I know Oklahoma City will get what they asked for, a horrible basketball team. Also, the government did nothing, let them take their lumps and watch most of them get voted out of office by angry Sonic fans come November.

Before I finish, I want to go back to the KeyArena deal and David Stern. Radio talk show host for 950 KJR (our sports station) Mitch Levy played a clip from 12 years ago to show the opening of KeyArena. Levy was a reporter and he interviewed Mr. Stern, who said he thought the arena was beautiful and was excited about this event.

It's 2008, 12 years later, he thinks the same beautiful arena of 1996, is all of a sudden pathetic and the main reason the Sonics are going to move.
Have a great weekend everyone, enjoy the NFL Draft, NBA Playoffs, NHL Playoffs, and passover for Jewish people.
Ad blocker interference detected!
Wikia is a free-to-use site that makes money from advertising. We have a modified experience for viewers using ad blockers

Wikia is not accessible if you've made further modifications. Remove the custom ad blocker rule(s) and the page will load as expected.