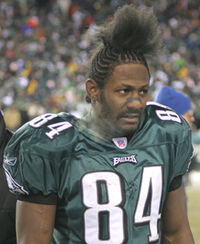 Yes, you read that correctly. In all honesty you cannot make some of this stuff up, it's just too damn funny. Former Eagles wide receiver Freddie Mitchell was held in Lakeland Florida earlier this week on suspicion of possession of pot. Mitchell (who used to go by the name Fred-Ex) was detained after signing for a Fed Ex package that arrived at his BBQ restaurant last Thursday. Police say the package was originally shipped to Mitchell's grandmother's house first. She then told the delivery man the package must be for her son. Mitchell contacted Fed Ex and had them forward the package to his restaurant, "thinking it must be supplies." Upon receiving the package Mitchell stated he thought the seven pound package was oregano he had ordered. Officials said a trained dog sniffed the narcotics in the package and that is how the authorities were tipped off. It should be known that Mitchell is not under arrest at this time and although he was handcuffed by police, Freddie Mitchell was never arrested. Currently he is under investigation.
Ad blocker interference detected!
Wikia is a free-to-use site that makes money from advertising. We have a modified experience for viewers using ad blockers

Wikia is not accessible if you've made further modifications. Remove the custom ad blocker rule(s) and the page will load as expected.