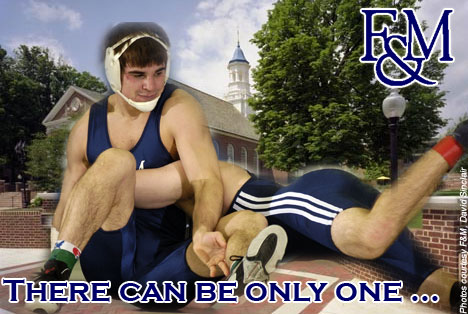 Part One : Introduction
PLAYING UP
Currently, there are 13 men's sports on the Division III level playing up in Division I and eight on the women's side. Men's ice hockey has the largest concentration, with six schools (Clarkson, Colorado College, RPI, RIT, St. Lawrence and Union College) competing in Division I.
Other sports where you'll find Division III schools are men's and women's crew (MIT), men's soccer (Hartwick and SUNY-Oneonta), women's soccer (Colorado College), men's volleyball (Rutgers-Newark), women's water polo (Hartwick) and lacrosse.
Lacrosse might be the sport most fans identify in relating Division III programs playing up as Johns Hopkins competes on the Division I level in men's and women's lacrosse, while Hobart also plays D-1 lacrosse.
Of the schools listed above, eight offer athletic scholarships. F&M is one a program that has never, nor will ever offer, athletic scholarships for its Division I wrestling program.
"This is a historic decision when Division III started in the early 1970s and it was allowed for colleges to grandfather in Division I programs in Division III schools," explained F&M Athletics Director Patricia S.W. Epps. "At the time, F&M made the decision to maintain the program (as Division I)."
The scenario of playing up isn't a hard one for Epps to understand. Before taking over as AD last August, Epps led Diplomat tennis and squash teams for nearly two decades and doesn't see too much difference, at least from the college's standpoint, on competing with traditional Division I teams.
"Squash is a sport that's played by Division I and Division III, so in squash we compete against Division I schools," said Epps. "I don't see wrestling as much different, but it's a unique opportunity to compete at a Division III school against a different level and a group of diverse institutions."
"It's more the quality of the experience," explained Epps. "We're not as much about winning as we are the quality experience."
That experience is what makes programs like F&M unique, although one school loves the experience and couples it with winning. That school is 2007 NCAA Division I Men's Lacrosse champions Johns Hopkins in Baltimore.
"What I really like about our situation is that we're playing schools like Virginia, Syracuse, North Carolina and Maryland," said Tom Calder, Athletics Director at Hopkins. "It's unique to be associated with those types of schools and win our share of games against them."
Calder's programs at Hopkins have the benefit of athletic scholarships and a deep sense of pride surrounding the lacrosse programs.
"It's unique to be associated with those types of schools and win our share of games against them," said Calder.
"We have a section we call 'The Nest' and our students sit in that section," explained Calder. "We can have as many as 800 to 1,000 students in that one section. It's kind of like Duke basketball and the students really get into the games."
"Several years ago, when we beat Duke here and how pumped up everyone was … it's been real good for the school spirit," he said.
But Calder realizes tradition alone isn't enough to sustain winning at the Division I level.
Would Hopkins be successful without scholarships?
"It's hard to say. Obviously like Hobart, we have a lot of history and tradition in the sport, but it would be extremely difficult to compete against those types because of those facilities and what they have in Division I," said Calder.
A 2004 NCAA ruling grandfathered in the eight Division III schools that awarded scholarships, allowing them to stay in Division I for those sports and also allowed them to keep granting athletic money.
Looking in from the outside on that ruling were Hobart's men's lacrosse program, Union College's men's and women's ice hockey programs and F&M's wrestling program.
"For that handful of schools (that offered scholarships), it was a big fight," said Hobart Athletics Director Michael J. Hanna. "I remember speaking at that convention."
"They were allowed to keep them, but there was a lot of anxiety that (the D-3 schools) might lose them," said Hanna.
While F&M has long been associated with Division I wrestling, and did at one time compete in the College Division and Division III tournaments to qualify for the Division I nationals, Hobart was a Division III powerhouse before moving to Division I in 1995.
"It's not so much the Roman numeral," explained Hanna about his lacrosse program at Hobart. "It's the level of competition. One of the hallmarks of Hobart has been the David & Goliath mentality."
Hobart won the first 12 NCAA Division III lacrosse championships and made the finals in 14 of the first 15 years before moving up.
So why the move in 1995?
"For us, it was maintaining a lot of our traditional rivals on our schedule," said Hanna. "There had to be a certain percentage of contests against Division I schools and we were going to lose schools like Penn State, Syracuse and Cornell."
"Do we move up to Division I and keep the schedule we had or stay in Division III?" asked Hanna. "The pro was maintaining a very competitive regular-season schedule and sustaining our relationships with some long-time lacrosse rivals."
Being non-scholarship and not having the ability to offer scholarships wasn't initially a concern in terms of staying competitive with the nation's elite.
"We didn't think that would be the case at the outset, but there's been quite a run-up in scholarships in Division I lacrosse," said Hanna. "A number of schools that were partially funded back in 1995 are fully funded now."
But at F&M, winning isn't the key philosophy with its athletic programs, as Epps points out.
"From our standpoint, it's in keeping with our mission statement and academic and athletic philosophy," said Epps. "(Being non-scholarship) is not a drawback from our standpoint given our philosophy."
"It provides a great opportunity," said Epps. "It's unique. All our athletic programs are integral to the college and to the learning atmosphere here."
PART THREE : The Recruiting Quandry
Ad blocker interference detected!
Wikia is a free-to-use site that makes money from advertising. We have a modified experience for viewers using ad blockers

Wikia is not accessible if you've made further modifications. Remove the custom ad blocker rule(s) and the page will load as expected.