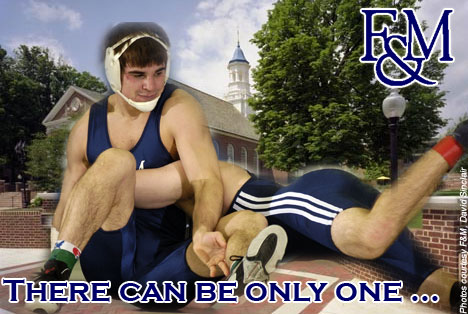 PREVIOUS ENTRIES: Part One | Part Two
THE RECRUITING QUANDRY
Schuyler has to sell the school and the F&M degree to a potential student-athlete, which isn't without its own share of difficulties.
"We have a small-college environment. A small liberal arts college yet our wrestlers compete with the big boys in the EIWA and NCAA," is Schuyler's normal pitch.
"It's very expensive and very competitive academically," explained Schuyler.
But what he continues to sell the parents is the education aspect, because unless you pursue Olympic gold or mixed-martial arts, there isn't much of a future in wrestling after college.
"We have a number of areas where we have a national reputation – medical school is one of them," said Schuyler. "We have a 90 to 95 percent acceptance rate among students that apply to medical school. It's very similar in law school – about a 96 percent acceptance rate."
"Those percentages change year to year, but since I've been here, they don't veer very far from that," added Schuyler. "Nationwide, about only half of the kids that apply to law school actually get accepted."
As impressive as the statistics and the bounty of post-collegiate career opportunities that an F&M degree might get potential recruits, there's still the cost.
"We don't have athletic money," said Schyuler. "It's something that would be hard if the kid needs to pay $30,000 versus a school that's free. As good a place that this is to be from, if you have to pay thirty-grand a year … that's $120,000 a guy is going to owe as opposed to owing nothing."
"We have to find the kids on where their financial packages are somewhat reasonable and want to be at a high-profile private institution and all the advantages that go with it," said Schuyler.
That potential group of athletes also dwindles when battling with recruits from the usual suspects – the Ivy League.
"We go head to head with guys that are looking at the Ivy League teams," said Schuyler. "Occasionally, we go with kids that are looking at high level Division III programs and we go head to head with some real strong programs in Division III. We also compete against schools like Bucknell and Davidson. Bucknell's a little bigger but very similar in terms of academics."
But don't some of the most competitive academic institutions have ways to get someone that might just be under the admissions requirements in?
Epps has a blunt, yet honest response, to questions like such.
"We don't want students here that can't meet the academic requirements," she said. "It's a tough pill to swallow, but if a student comes here to just play a sport and you're not interested in the academics, you're not going to enjoy your time."
Herbert doesn't find the rigors of F&M to be too over the top, but he does put it into perspective.
"Well, this is the only college I've gone to and didn't go anywhere else for summer classes, so I guess I'm kind of used to it," he said. "It's pretty tough, I guess, a lot of reading and writing, but I think wrestling helps me with it time management-wise.
"After practice, I come home and study instead of watch TV or something," said Herbert.
At Hobart, Hanna points to another factor that has an impact with Division III schools playing up.
"If you look in multi-division, the schools that compete well at the national level have very large endowments and they have scholarships," said Hanna. "In men's ice hockey, Colorado College is very strong and they have a huge endowment."
"Those of us that don't have scholarships -- Union, F&M, Hobart – there are more modest endowments and no scholarships, it's difficult to make inroads real deep," said Hanna.
And endowments can be used to pick up the tab on coaching salaries, like at Cornell and Harvard.
F&M is working with one full-time paid coach (Schuyler), one part-time paid assistant coach (Mike Catullo) and periodically gets the services of volunteer coach Mike Rush.
Catullo, in his third year as an assistant, spent two years as a graduate assistant at Division II Northern State after graduating from West Virginia.
He left a comfortable atmosphere in Aberdeen, S.D., and head coach Patrick Timm to test the waters of Division I coaching.
"I took the job with the possibility of it becoming full-time within a year," said Catullo. "I stayed because our recruiting class was a chance to build a program and build my resume to get to where I want to be at a top level Division I school coaching."
But instead of bolting for another job because his $4,000 stipend wasn't enough, Catullo feels the program is definitely worth the time and the roughly three bucks an hour he's getting paid.
It's the coaching equivalent of working in the trenches and paying your dues.
"I don't think we're doing anything differently than the top programs do," said Catullo. "We're wrestling in the summer, going to University Nationals. Our schedule is getting better, we're building relationships with the alumni and doing more marketing of our program."
"The biggest difference is the numbers of kids we have in our room compared to a Cornell or a Penn," said Catullo.
It's that crucial developmental depth that F&M doesn't have.
As Schuyler's athletes look around their contemporaries on the athletic fields at F&M, they see accolades, conference championships, and in the case of last year's women's lacrosse team – a NCAA Division III national championship.
"It's a little frustrating at times seeing teams win their conference championships, but they know they're at a different level," said Schuyler. "(Our kids) are not talking about the Centennial, they're talking about the EIWA. The second-biggest qualifier in terms of numbers that qualify compared to the Big Ten."
"… so there is a source of pride," he said.
"I always wondered what it would be like if we were Division III," said Herbert. "We do wrestle some Division III opponents and do pretty well against them."
But even though F&M's wrestling identity might never come up in conversation regarding who will win the NCAA title or who's contending for individual championships – the tiny student body at F&M knows their identity.
"A lot of the non-athletes on campus do know that we're Division I," said Herbert. "They always ask, 'You're Division I right?'"
It might be fitting for Schuyler that the 104th edition of the EIWA Championships kicking off Saturday morning at F&M due to the fact he realistically has his best shot at a qualifier in recent memory.
"We're excited about Justin this year just in terms of getting there and finding a way to place," said Schuyler. "We're hoping these next couple years to have these wrestlers that are with us now achieve some neat things at the NCAA tournament."
Herbert relishes the chance to wrestle for a berth at the Division I championships at Mayser, but knows he'll still have to beat more than his share of tough wrestlers to make it. Guys like Steve Anceravage of Cornell, Alex Caruso of Lehigh and Matt Stolpinski of Navy, who gave Herbert one of this two losses this season back at the Navy Classic in November.
"Making it to the finals would be awesome," Herbert said of his goal coming into this weekend. "That would involve either beating Anceravage or Stolpinski, both returning EIWA champs."
"I'm going to have to have a good day."
Ad blocker interference detected!
Wikia is a free-to-use site that makes money from advertising. We have a modified experience for viewers using ad blockers

Wikia is not accessible if you've made further modifications. Remove the custom ad blocker rule(s) and the page will load as expected.