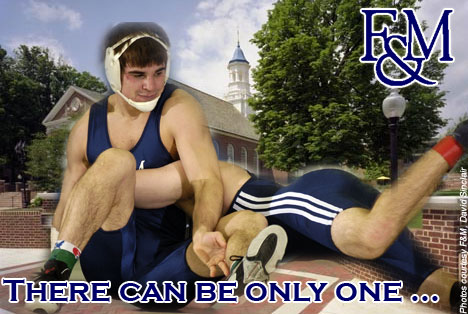 Johns Hopkins University thrives in it. Colorado College does the same. Franklin & Marshall, well, they've had struggles with it.
That "it" is Division I athletics.
Competing up a level is nothing new in wrestling. For years, the NAIA, Division III and Division II champions were invited to the Division I wrestling championships, but since that scenario doesn't exist any longer, there are just a handful of schools that wrestle up from their all-sports classification.
In wrestling, eight schools wrestle up to Division I and six of those are all-sports members of the Division II Pennsylvania State Athletic Conference: Bloomsburg, Edinboro, Clarion, Lock Haven, Millersville and East Stroudsburg.
Cal State-Bakersfield, which is in its second transitional year of moving its entire athletic department to Division I, has been wrestling as a Division I member since 1988. There have been others as well, but there's the anomaly, the exception, the peculiarity of one school in particular.
The anomaly is Franklin & Marshall College.
A small liberal arts college nestled in historic Lancaster, Pa., F&M is the unique entity in Division I wrestling. It's a school with under 2,000 undergraduates, no graduate programs and no athletic scholarships. It's also Division III everywhere else athletically.
F&M, despite its recent struggles on the grand landscape of college wrestling, is one of the oldest programs in the country and isn't without its share of wrestling tradition.
Charlie Mayser, for whom the gym which will host the 2008 EIWA Championships is named, started the wrestling program in Lancaster in 1923. Diplomat wrestlers have claimed individual All-American honors 15 times and the school has twice placed in the Top 10.
The 1939 NCAA wrestling championships hosted by Franklin & Marshall ended with the Diplomats tied with Minnesota, Michigan and Indiana for fourth place. Frank Burgess was the highest place-winner, finishing second to Joe McDaniel of Oklahoma A&M (now Oklahoma State).
Two years later, at the 1941 NCAA wrestling championships hosted by Lehigh, F&M finished tied for tenth with Iowa State Teachers College (now Northern Iowa) and Iowa.
Pete Schuyler, an NCAA All-American at Lehigh in 1983, is in his ninth year at the helm in Lancaster and admits he has some challenges.
"It's been a struggle," said Schuyler. "Each year, we're looking for that guy to get to nationals. Once you get over that hump, it puts you in a different ballpark."
That "hump" Schuyler speaks of is getting wrestlers to the NCAA championships.
The last time a Diplomat wrestler took to the mats at the NCAA Division I championships was in 1998 at Cleveland State when 150-pounder Brendan James qualified after finishing second in the EIWA to Lehigh's Chris Ayres, currently the head wrestling coach at Princeton.
It was the year before Schuyler took over after spending eleven years at the U.S. Naval Academy as an assistant coach.
Even while the low-key coach looks for his first NCAA qualifier at F&M, he did coach James Madison's first All-American, Brian Kurlander in 1987, as the head coach of the Dukes.
With 11 All-Americans in its history, you'd have to go back to Craig Blackman in 1981 at 190 pounds to find the last one. In the last 20 years, F&M has only qualified six wrestlers to the Division I tournament, one of which is current Harvard head coach Jay Weiss.
Weiss qualified at 167 pounds when the tournament was held in College Park, Md., in 1990.
But there are some positive vibes flowing through the room this year and Schuyler not only points to the current team leader in wins, Justin Herbert, but his other two captains – heavyweight Nico Somers and 149-pounder Al Gianforti.
Herbert (24-2) spent six weeks ranked in the Top 20 of the InterMat/NWMA/NWCA Division I rankings and finished the season ranked in the top ten in falls across all weight classes in Division I.
Schuyler's hopeful of Herbert's chances in the post-season.
"He's a fantastic example for our guys in the program and a great ambassador for people outside of it," said Schuyler. "Not only is he having great success, he's doing it in all the right ways.
"He's probably one of the hardest workers, if not the hardest worker in our room, an excellent student, and a great leader in every way," said Schuyler.
Herbert, only a junior, has some added pressure on his shoulders this season.
"Coach Schuyler's really looking for an NCAA qualifier," said Herbert. "I'm just trying to go out and wrestle and try not to think about it."
"Maybe it's motivation when I work out," he said.
"From a recruiting standpoint, when our recruits look at schools, they ask themselves, 'If I go here, what's going to happen to me'," said Schuyler. "A guy like (Herbert) does wonders and to have him back again, along with our other two captains … we hope that class will help us move up to the next notch."
Herbert's ranking alone has drawn some modest talk. A story in the Scranton Times-Tribune pointed to his stellar record and his now-school record number of falls.
"I didn't even know I was ranked; someone told me," said Herbert of his initial ranking in the InterMat/NWMA/NWCA Division I rankings. "It was pretty exciting and it felt like my work was starting to pay off."
"I never thought about it at the beginning, but it was a goal," said Herbert. "I didn't think I'd be able to get noticed."
Part Two: PLAYING UP
Ad blocker interference detected!
Wikia is a free-to-use site that makes money from advertising. We have a modified experience for viewers using ad blockers

Wikia is not accessible if you've made further modifications. Remove the custom ad blocker rule(s) and the page will load as expected.