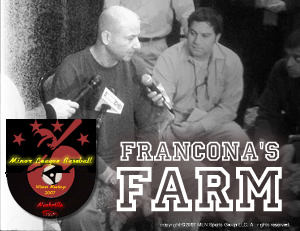 I have to say that I don't care for too many modern major league managers. Very few greats amongst the "greats" that the major league pubs tap. Terry Francona is really the exception to the rule. I'm not a Boston fan. That would be my oldest son, who has never set foot in Beantown yet proudly sports all things Boston.  I met Francona for the first time personally at the Winter Meetings in Nashville. He is very old school of the more enthusiastic, easy going Scioscia/Lasorda mold than the mushroom managerial style of a Phil Garner, the ego polishing Joe Torre, or the captain Ahabish Tony LaRussa.  You can see how the guy wins championships. He has an enthusiasm for the game and his players. Most impressive to me was how he gave the minor leaguers and his newbies their props for their contributions to the World Series win.
Maureen Mullen, one of the best sports writers on the planet, did a nice feature on him this month in SZ. You should check it out, unless your one of the "we only read here" posse, in which case you should scroll up and forget that you read this part.
Ad blocker interference detected!
Wikia is a free-to-use site that makes money from advertising. We have a modified experience for viewers using ad blockers

Wikia is not accessible if you've made further modifications. Remove the custom ad blocker rule(s) and the page will load as expected.