Thursday, October 16
I have a good source informing me Joe The Plumber wrestled collegiately at Plainfield Teachers College. Allegedly, Joe is the son of some guy who went by the nickname "The Celestial Comet."
Some of you might not get it.
Gas : $2.69
Weather : 52, but it was chilly this mo-nin'
A ranking oddity
This is strange. For the first time in three years, I'm not getting any flack for the InterMat rankings. Whew, what a relief. Rankings are a tough pill to take, especially when you're thrown right into the fire. Jeff Breese, my successor at InterMat, is going to find this out pretty quickly. My advice - don't take it personal and don't be afraid to tell some of these folks they're too one-sided to look at anything objectively.
Some people like to rant and complain. Some should spend more time actually coaching than complaining. That's not saying everyone, or even most everyone, just some folks like to use only one half of an argument. It's the same when dealing with some overzealous high school parent who wants their son ranked. Great, tell me all about the wins, but how can you, like clockwork, not mention losses.
Of course, no longer being the rankings coordinator, I don't have the luxury of making a case for my own opinions to the voting panel of the National Wrestling Media Association. Now, I have to sit and wait for the rankings each week, just like the rest of the free world.
Obviously, I'm still holding a lucrative <insert sarcasm> role as the Vice President of the NWMA, so I still get a "vote." Woo hoo! The team rankings are still on the coaches.
Numbers and Pirates
About two years ago, a Florida resident e-mailed me some interesting facts and figures he thought would be good for the InterMat web site. I looked them over, and agreed, these would be interesting to generate discussion. They absolutely did.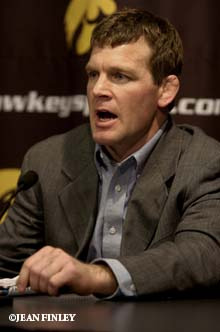 That Florida resident, Britt Malinsky, better known as SetonHallPirate on the wrestling message boards, loves to plug in numbers, calculate tournament points and projections and figuring out things beneficial to the sport. His efforts are appreciated. But when the rankings came out this year, holy crap, everything seemed to favor a school in Iowa - but not the defending national champion Hawkeyes. Iowa State seemed to barely edge out the University of Iowa when AWN's rankings were put into a tournament format, same with the Wrestling Report and InterMat.
When the InterMat/NWCA Coaches Poll comes out, there should be little argument about the Iowa's projected ranking as the #1 team in the land. Team and Dual wise, they won the National Duals and the NCAA Championship last season and return the core of the team. They, without question, should be #1. While rational minds can think one way, numbers can always tell you something different. Even Tom Brands (pictured) got wind of something saying Iowa wasn't #1 on a video on Flowrestling. There hasn't been a single "official" ranking with that, but it's already bulletin board material for the spirited Hawkeye head coach. That's the last thing anyone needs, to fire up the juggernaut in Iowa City even more.

In case you missed it
What is somewhat odd, but not altogether unexplainable, there was a wrestling world championship held this year. Normally, the Olympics serve that capacity every four years, but since the women only have four of their seven recognized weights contested during the Olympiad, FILA's grand wisdom said let's do the worlds.
It's actually something FILA did I don't mind. Only one U.S. Olympian, Clarissa Chun, chose to compete at the Trials and earn a chance to wrestle at the World Championships in Tokyo last week.
The net result? Chun became only the fifth American woman to win a world championship. The 27-year-old Hawaii native won the World title at 48 kg.
Also of note were two teenagers making their debut on the senior-level world stage - 17-year-olds Tatiana Padilla of California and Helen Maroulis of Maryland. Padilla earned a bronze medal, while Maroulis lost to eventual champion Hitomi Sakamoto of Japan at 51kg.
The U.S. finished fourth in the team race behind Japan, Canada and Russia.
Mark your calendars


Wrestling 411's radio show kicks off November 11 at 7 p.m. Central live from the studios of KAUG in Minneapolis. Listen in at
www.wrestling411.tv
.
Four Points is a regular blog by BryantWrestling.com.
Ad blocker interference detected!
Wikia is a free-to-use site that makes money from advertising. We have a modified experience for viewers using ad blockers

Wikia is not accessible if you've made further modifications. Remove the custom ad blocker rule(s) and the page will load as expected.