The Formula One website is counting down the time until the start of the 2008 Formula One season. After a three-way battle for the title involving Kimi Raikkonen, Lewis Hamilton and Fernando Alonso in the final race in Interlagos in Brazil last season. Raikkonen was victorious on that occasion.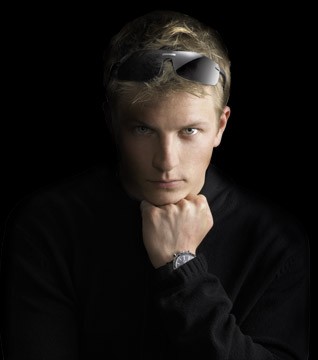 The new season sees new races added to the calendar. Formula One returns to its traditions in that the two new circuits added to the calendar are street circuits. That said, Singapore is set to become the first ever night race in Formula One history, but only if the FIA can be convinced about the safety. The reason for the switch is to help European fans watch the races live. Many races in the Far East and Australia have moved their start times to aid European viewers. The season opens at 3:30pm in Australia, the latest F1 start time for many years (but formerly the usual start time for Grands Prix), but even that is 5:30am in the UK, 6:30am in Europe. The season extends to 18 races. There are other changes:
Click here to see the full schedule.
There have been changes to the teams involved in 2008:
To see the full team line-up, click here.
There have been numerous pre-season tests, mainly at Catalunya in Spain, and also some in Sakhir, in Bahrain. Lewis Hamilton was racially abused in Spain, a result that may see them lose there two Grands Prix should there be a repeat.
On the track at these tests, there have been huge improvements from Red Bull and Toro Rosso (the Red Bull "B" team in many respects). Williams have also done well. David Coulthard and Mark Webber have been quick to praise Red Bull. Honda drivers, Jenson Button and Rubens Barrichello, have also noticed an improved performance. McLaren have been quick, but Ferrari have remained absent from public tests, staying at their state of the art facility in Marinello for testing. BMW Sauber appear to have been overtaken by Red Bull judging by recent testing in Spain. Minnows Super Aguri and Force India are yet to launch their 2008 cars, but they are unlikely to be much improvement on the performance in 2007. Ferrari briefly attended public testing in Bahrain, but with only Toyota as competition little was gained in terms of comparing their full pace. Renault have yet to set the pace in their testing, so Alonso could find a difficult season ahead of him.
The most interesting feature on a 2008 car is the extended rim shields by McLaren. They direct airflow above the brakes which helps with cooling and stability. Other teams run less complicated rims, but McLaren's system has been said to be quicker.
Who will win in 2008? It's very difficult to see anyone other than Ferrari winning the Championship this season. They have team stability, and I think their rivals will be weaker. I believe McLaren and Hamilton benefited in 2007 from Alonso's testing ability and sharing the set up. I think Renault are too weak on current evidence to lead him to another title. Who else can challenge the red cars? Their closest rivals, Renault and McLaren excepting, look like being Honda or Red Bull, which would throw Brits David Coulthard and Jenson Button into the mix. Honda had a dire 2007, but have Ross Brawn, a former technical director with Ferrari on their side. I can see Raikkonen winning a second championship, but there is still 28 days between now and Melbourne. There is plenty of time for change.
Ad blocker interference detected!
Wikia is a free-to-use site that makes money from advertising. We have a modified experience for viewers using ad blockers

Wikia is not accessible if you've made further modifications. Remove the custom ad blocker rule(s) and the page will load as expected.