The ranking of the Almighty Mullet seems to have been a big hit around here. But what about the 'fro? Seriously, how can an ugly ass of a haircut such as the mullet possibly compete with the more dignified afro? So in honor of Dan Lewis' exceptional "Top 11 Mullets", I proudly present the best of the best (worst?) afros as sported in the wide world of sports.
Contrary to the photographic evidence, Joakim Noah's mom is one hot MILF. Evidently, her son did not inherit either her positive attributes towards physical appearance nor sense of style.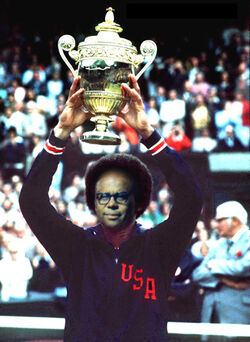 Arthur had it all; a great tennis game, grace, dignity, sense of civic pride and a tremendously well groomed afro. Today's modern athlete should take notice and emulate.
#8:World B. Free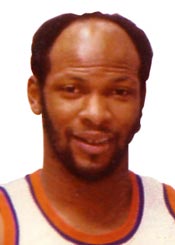 Quite possibly the most grotesque afro in the history of mankind. However, he deserves full props for bravery of attempting to sprout a Chia Pet gone horribly awry.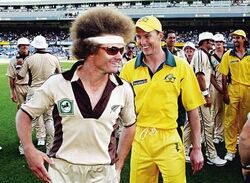 The pride and joy of the Land of the Qiwis, this guy might be the first and last cricket player ever mentioned by a regular ArmchairGM user without the initials "A.H.".
#6:Irwin 'Fletch' Fletcher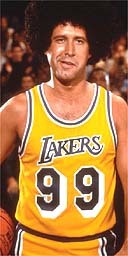 "Playing for the Lakers....Irwin Fletcher....He's 6'3"...6'9" with the Afro"
"Fear the 'Fro" was an absolute bust for the Chicago Bulls. LeBron and the Cavaliers better hope that Big Ben gets his act together and in a hurry.
No doubt, Keegan was probably a big hit in England on the soccer (football) field and in the pubs back in the 70s. One only guesses that his off the field shtick probably also included an open shirt and a large medallion. Mr. Posh Spice approvingly nods his head.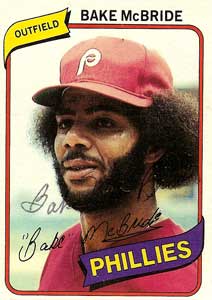 This guy is gonna sue Will Ferrell and the producers of Talladega Nights: The Ballad of Ricky Bobby. McBride was the first and only "Shake n' Bake". Suck on that Cal Naughton, Jr.!
Memo to Robert Kraft: Straight cash homey!
This dude's playing weight was a buck sixty-five and odds are that half of it was accounted by the ferocious 'fro. Gamble not only possessed the best of the best of afros but may in fact have been the greatest athlete ever sporting one.
Ad blocker interference detected!
Wikia is a free-to-use site that makes money from advertising. We have a modified experience for viewers using ad blockers

Wikia is not accessible if you've made further modifications. Remove the custom ad blocker rule(s) and the page will load as expected.