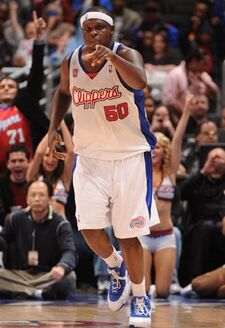 It's not uncommon for the Los Angeles Clippers, who have had just two winning seasons after twenty-five years in Los Angeles, to make questionable executive decisions. After all, this is the same organization that once took Michael Olowokandi number one overall in the 1998 NBA Draft ahead of future all-stars Vince Carter, Dirk Nowitzki, and Paul Pierce. So when, Donald Sterling's rag-tag bunch does make a few smart decisions, it's important for all of us bloggers and NBA fans to take note.
So far this offseason, in the midst of the draft and free agency, the Clippers have seemingly made all the right moves by selecting Oklahoma power forward Blake Griffin with the number one overall pick and by trading malcontent Zach Randolph to the Memphis Grizzlies.
While it may not seem like much in drafting Blake Griffin with the top pick, it's an important step for the Clippers simply because they didn't "screw anything up." They didn't try to get too cute, taking a gamble on a guy like Ricky Rubio or trading down for multiple picks. Instead, they simply selected the consensus top player in the entire draft. Simply by that alone they deserve some credit.
But what makes the front office look real savvy is Wednesday's trade of Zach Randolph to Memphis for Quentin Richardson. While the acquisition of Richardson is hardly anything to get excited about, it's the departure of Randolph that allows the Clippers to build a better foundation for the future.
Randolph, a power forward known for his scoring abilities, plays the same position as newcomer Blake Griffin, and if he had still been on the roster at the start of the upcoming season, he would likely be blocking Griffin from getting on the floor. Therefore, moving Randolph clears the way for Griffin to earn more minutes and play alongside Marcus Camby, Chris Kaman, and second year prospect DeAndre Jordan.
But the trade wasn't entirely about clearing minutes for Griffin. It also allows the Clippers to get rid of a malcontent in Randolph. Randolph's selfishness, disinterest in playing defense, and poor off the court character were no secret to anyone inside NBA circles. Yet, GM/coach Mike Dunleavy took a gamble on Randolph, a solid frontcourt scorer, after the Clippers lost Elton Brand to Philadelphia.
While Randolph can score, he possessed several problems for the Clips not only basketball-wise - he never played defense and was well-known as a lazy player - but also in terms of his salary. After the completion of the 2008-2009 season, Randolph was stilled owed $33.5 million over the next two seasons and it made it fairly difficult for L.A. to seriously pursue any of the top-flight free agents.
Now, in the summer of of 2010, they will have significant cap room, as the contracts for Marcus Camby, Ricky Davis, and Quentin Richardson, will all come off the books, creating a well over $20 million in additional salary cap. Even the frugal Donald Sterling might be tempted to spend some serious cash on some of the NBA's top free agents next summer - LeBron James, Dwyane Wade, Chris Bosh, Michael Redd, Amare Stoudamire, Yao Ming, etc.
Generally, the NBA's salary cap structure is unforgiving of teams who make poor decisions, taking on big contracts like the Clippers did with Zach Randolph last season. But for once, the Clippers might looked real smart by finding a willing sucker for Zach Randolph just a week after Blake Griffin arrived in Los Angeles. For once, it seems as if the Clippers are headed in the right direction.
Ad blocker interference detected!
Wikia is a free-to-use site that makes money from advertising. We have a modified experience for viewers using ad blockers

Wikia is not accessible if you've made further modifications. Remove the custom ad blocker rule(s) and the page will load as expected.