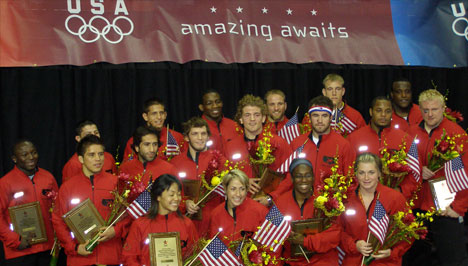 The 2008 United States Men's Freestyle & Greco-Roman teams and Women's Freestyle team.
In 2004, Daniel Cormier took fourth in the Olympics, losing overtime matches in the semifinals and then again in the bronze medal match.
On Sunday at the Thomas & Mack Center in Las Vegas, the 2007 World Bronze Medalist moved closer to his goal of accomplishing Olympic Glory.
Cormier topped Damion Hahn in two matches to earn the right to represent the United States at the 2008 Olympics in Beijing in August.
One of six Olympians crowned on the evening, Cormier looked polished and slick in a nearly flawless victory.
"My coaches have really made me spend time in the areas I need to get better at. I don't give up points anymore, I'm better defensively. Offensively, I've been focusing more on my attacks," said Cormier.
Cormier was dominant in the first match, but Hahn slowed the Oklahoma State graduate in the second.
"The last match, I didn't get (my shots) off as much as I wanted to, but the first match I did. I put up a lot of points, but the second match I didn't wrestle my best, but I got it done," he said. "You kind of have to play it safe. Damion did wrestle a lot better in that match."
Regarded as the next great American upper weight, Cormier's struggles at the world level are fresh in his mind.
"I have to do more internationally," he said. "I've done well in some competitions, but on the world level, I need to do more just to be even mentioned. We're talking about Melvin Douglas, who's a world champion. Chris Campbell's a multiple world medalist. I'm not even worried to be listed among those guys yet."
"If I can get a gold medal, than maybe I can be whispered in the same sentence with those guys, but just don't say it too loud," he said.
And what's it going to take?
"I'm confident," said Cormier. I'm figure if I go out and wrestle like I'm capable, that's pretty much what's going to happen. I believe in myself and it's been leading to victory."
"I don't want to feel like I did in 2004, losing two overtime matches, one in the semis and one in the semis and one in the bronze medal match. I'm going to do everything possible to go over there prepared. If I do that, I'll be ok."
Greco-Roman stalwart Dremiel Byers has accomplished many things internationally during his illustrious career within the Army's World Class Athlete Program.
A 2002 World Champion and 2007 World bronze medalist, Byers' textbook five-point suplay in the third match over teammate and training partner Timothy Taylor sent the Army Staff Sgt. Packing for a trip to Beijing.
"I had my eyes clothes, I didn't even know," said Byers.
No longer with Matt Ghaffari and Rulon Gardner standing in his way, Byers has been preparing for this moment for the last four years.
"Four years ago, I had to beat Rulon and I showed up in a way I'd never shown up before … in shape," said Byers. "I felt like there was nothing he could do, I tried to end it quick because he didn't get tired and probably still doesn't. Tim's pretty good at being a wall when he wants to. I train with Taylor every day; I don't have any tricks with him."
Taylor, who owns a previous win over Byers, gave the past World Champ fits.
"He's my brother from another mother … we live that every day in our unit," said Byers.
The lineage of Greco heavyweights in the U.S. has been a proud one and Byers is honored to be part of it.
"We have been very successful in the weight class in the U.S. and I'm proud to be a part of that," he said. "You know Matt Ghaffari, Rulon Gardner, Billy Pierce and a few other guys who've won gold and stuff, Jeff Blatnick, but I've come from that. This is something we pass on."
Two-time NCAA Champion Ben Askren fulfilled his bold prediction made in the media since winning the U.S. Nationals.
Askren topped Tyrone Lewis in two matches to win the berth at 74kg and it wasn't his folkstyle funk which propelled him to Beijing.
"This is something I've been working towards for a whole year. I went over to Russia and learned some things there. I put everything in and put it together," said Askren.
Since completing his college career, Askren's been a student of the sport, studying video and technique from the Russians and even predicting himself to reach the finals in Beijing against Russia's Bouvasia Saitiev.
"I don't roll anymore, but you know, funk is fun but I can't roll and can't be successful with it and at the end of the day, winning is more important than having fun," said Askren.
And what about Askren's trademark "assassin" – a pinning combination based around a tight front headlock series?
"I didn't need it this weekend, but it came out at the Open many times," he said. "Hopefully I can use it in the Olympics and assassinate some foreigners – not literally of course."
Of the six finals' series, four went to a third match. Only Askren and Cormier won two in a row.
As Steve Mocco walked off the mat after defeating Tommy Rowlands in an epic, but lengthy, three-match series, older brother Joe embraced younger sisters Katie and Colleen and screamed: "We're all going to Beijing!"
While not the cleanest and most technical of bouts, Mocco and Rowlands pushed, pulled, poked and prodded before Mocco emerged as the winner.
"It's hard when you come so close to something and you just fall short," said Mocco. "Today, I wrestled well and the chips fell where they did. Coming so close so many times makes it more meaningful."
"I knew it would be a dog fight, I knew it would take everything I had to win," he said. "We do have a big rivalry, we both go back and forth and he's a tough competitor."
"I know I can beat him because I've beaten him before, but I know if I didn't wrestle well, he could beat me," said Mocco.
The Greco-Roman final went the extreme distance at 96kg, where 2004 Olympian and past world medalist Justin Ruiz was taken to the wire by Californian Adam Wheeler. Wheeler won the first match, the Ruiz forced a third as the first two matches were relatively uneventful.
In the third period of the third match, Wheeler locked first and scored the pushout to take a 1-0 lead going into the third. Ruiz needed to score from the top to make the team and worked on a gutwrench and came up just short as Wheeler took the third 2-0. Wheeler earned his first Olympic berth and was met with a rousing ovation from the crowd at the Thomas & Mack.
"I wasn't going to quit no matter what," said Wheeler, defending the crucial lock from Ruiz. "It's even more nervous when you win the clinch than I thought it would be. I didn't know what was going to happen; I just knew I couldn't stop moving for 30 seconds."
Mo Lawal topped Andy Hrovat in two periods. A one-point takedown in the first period, coupled with a monster blast double in the second gave the Texan the advantage, but a never stop, smart style of wrestling enabled Hrovat to neutralize Lawal's strengths and make his first Olympic team, winning the last two matches.
Hrovat, who pinned Lawal in the 2006 World Team Trials in Sioux City, has to take a different approach when facing the former Central Oklahoma and Oklahoma State All-American.
"You can't prepare for that," said Hrovat. "I don't have any training partners like him. It was a boring match, we were both trying to counter each other and if things just opened up, I knew I could hang with him."
Adjustments were made following the last time the two met in Las Vegas.
"The only thing I thought was I knew it would be a long road ahead," said Hrovat. "At the Open, I let him win that match and I made the mistake that match. My punishment from that was having to go to the mini tournament from here."
Ad blocker interference detected!
Wikia is a free-to-use site that makes money from advertising. We have a modified experience for viewers using ad blockers

Wikia is not accessible if you've made further modifications. Remove the custom ad blocker rule(s) and the page will load as expected.