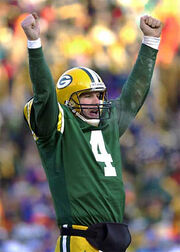 It looks like someone at Packers.com had a right to jump the gun mucking up the headline.
Brett Favre after 17 wonderful years at Green Bay, has decided to retire according to ESPN. There is only one doubt and that is ESPN is the king of jumping the gun and getting any rumor true.
If this is the end of the line, Favre will finish his career sadly, knowing his last pass ever as a Green Bay Packers QB, would be Corey Webster's interception at Lambeau Field and the Giants win as they marched to the Super Bowl Title.
Favre may not go down as the greatest QB of all time, but certainly he'll be a Packers great, a hall of fame player, and someone who would play no matter what the circumstance was. He was a warrior from the time he replaced Don Majikowski to the NFC Championship Game of 2008. Imagine trying to start, that's right, start every single game from there on out. That included several injuries, the passing for his dad, in which the next night, on Monday Night Football, threw for 399 yards and 4 touchdowns in a famous and emotional win over the Oakland Raiders.
Notable Statistics
9 time Pro Bowl selection...he declined to go this past season.
7 time All-Pro selection.
3 consecutive MVP awards for the NFL from 1995-97.
Super Bowl XXXI Champion.
Sportsman of the Year for SI's 2007 edition.
Most wins by a starting QB (160).
Most touchdown passes thrown.
Most passing yards of all time.
Most interceptions of all time.
Most career pass completions.
Ditto with pass attempts.
Most games with 3 or more touchdown passes thrown.
Take out that interception part and you've got yourself a first ballot hall of fame player in Brett Favre.
So now there won't be any news today, I won't know who will win Texas and Ohio, or if Seattle got someone in free agency. Instead, Favre will dominate the headlines. That's how big of a star he is. He went from a troubled QB drafted by the Atlanta Falcons, to being on a storied franchise, brought them a Super Bowl ring, and the greatest thrill ride Green Bay has ever seen. Thank you Mr. Favre for being a wonderful NFL player, Green Bay, and all of us, even Bears fans, and Raiders fans will miss you. Isn't that right John Madden? You'll always be remembered in my book for playing with the heart of a champion.
As for the future of the Packers. Aaron Rodgers, don't screw it up!!
Ad blocker interference detected!
Wikia is a free-to-use site that makes money from advertising. We have a modified experience for viewers using ad blockers

Wikia is not accessible if you've made further modifications. Remove the custom ad blocker rule(s) and the page will load as expected.