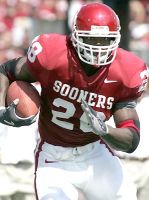 The No. 2 pick in most fantasy drafts (not mine, where a guy unfortunately took Tom Brady) was Minnesota Vikings star RB Adrian Peterson.
After a sensational rookie season, which saw the runner out of Oklahoma eclipse the 200-yard plateau two times—one being an NFL single game record 296 yards vs. the San Diego Chargers—there was a dilemma amongst many fantasy gurus over who would be the top pick: Tomlinson or Peterson.
Well, Tomlinson won 99 out of 100 times, but as we saw, that decision turned out to be 100 percent incorrect.
2008 Recap
Expectations for AD (All-Day) coming into the 2008 season were through the roof.
2,000 yards was mentioned on more than a few occasions by media experts/fantasy gurus who were predicting the sophomore's projected yardage total.
And while we thought he'd have a stellar season at the very least, we were cautious of those lofty expectations for one reason: TJ, which later became GF. What do those initials stand for? Tavaris Jackson and Gus Frerotte.
When you have QBs like Jackson and Frerotte, there's a good chance you're going to see eight and nine-man fronts.
Why? Because there's not a defense in the league that is scared of their ability to beat them through the air. And that is what happened. Defenses consistently loaded the box to stop the run as they were only focused on stopping number 28.
But thanks to a rare combination of speed, power, and elusiveness, Peterson still managed to lead the NFL in rushing with 1,760 yards and 10 TDs. While the numbers are solid, they could have been much better.
Peterson developed a case of fumble-itus—otherwise known as Tiki Barber syndrome—late in the season.
For whatever reason, he put the ball on the ground five times, often disrupting potential scoring drives. And usually after the fumble, even if the Vikings managed to recover it, they'd put in the more sure-handed RB Chester Taylor, which directly affected Peterson's scoring opportunities.
2009 Outlook
The potential for a 2,000 yard, 15 TD season is very real. Aside from the possible loss of C Matt Birk, the offensive line should return intact and possibly even see upgrades via the NFL draft or free agency.
On the outside, the Vikings now possess some threats (WRs Berrian, Rice, Wade and TE Schiancoe) to take pressure off of the running game. But the true wild card is who lines up at the QB position.
We know it will not be Tavaris Jackson.
After his anemic effort in the playoff game vs. the Eagles, where he looked like a deer caught in the headlights, head coach Brad Childress knows that his job security is directly tied to how his QB plays, so he can not afford to bet the ranch on Jackson at this point.
And Frerotte was nothing more than a fill-in—so keep your eyes on free agency to see which QB they can attract in '09.
If they are able to land someone like McNabb, Garcia, or anyone that is a competent NFL QB—watch out.
Defenses will then have to play more honestly (only keep seven in the box), and once Peterson hits the hole and is into the secondary, he's gone—there isn't a safety or CB in the league that can catch him in the open field.
Ad blocker interference detected!
Wikia is a free-to-use site that makes money from advertising. We have a modified experience for viewers using ad blockers

Wikia is not accessible if you've made further modifications. Remove the custom ad blocker rule(s) and the page will load as expected.