As originally published at Nice Little Sundays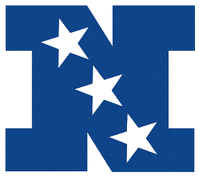 [1]
Most often running backs are thought to be the key to a fantasy teams success. Whether you believe this to be an aged theory in fantasy, or you believe the scarcity of top tier running backs does in fact make them the key, running backs remain the focus of most fantasy drafts.
As we enter the off season we'll take our initial look forward to the team by team running back situation in 2008. In most cases fantasy leagues don't force keeper decisions until after the summer, but we'll take a look a every teams running back situation as it stands now going into the off season. The analysis below is based on what we know today. Obviously, following an off season of free agent signings and a draft, the analysis will change.
We did the AFC last week... this week, the NFC.
NFC East
Dallas Cowboys - This is a situation to get excited about. Julius Jones may not be back next year and we may get a chance to see what Marion Barber can do if he is the man (i.e. getting work each and every series). There are a couple of questions that will need answered. One, if Jones does go elsewhere how will Barber handle carrying the load and not getting every 2nd or 3rd series off. Second, if Jones signs elsewhere will the Cowboys bring someone in to share the load and stay with a RBBC (a trade up for Jerry Jones alleged crush McFadden?). Hard to want to change something that is working so well, but it is tempting to see what Barber can do as the starter. Final Analysis: Marion Barber, Top 10 RB entering '08 - Julius Jones, If he stays in Dallas you already know what you'll get and if he doesn't he'll likely be a part of another committee.
New York Giants - The Giants went from worrying about who would replace Tiki Barber to seemingly having a stable full of productive backs. Final Analysis: Brandon Jacobs, He's got the touches when healthy and has done well. If he stays healthy look for Jacobs to be a solid #2 fantasy back putting up regular #1 numbers - Derrick Ward, Ward was solid when the starter, but there seems to be too much competition for the 4th year player to be more than a handcuff next season - Ahmad Bradshaw, The 21 year old rookie has looked good to even great at times this year and has potential. At 5'9, 198 he is both quick and a tough runner and could be the primary partner with Jacobs next year - Rueben Droughns, Looks to be the odd man out with Ward and Bradshaw's development
Philadelphia Eagles - As long as Brian Westbrook is healthy this is easy to talk about. He has enough injuries that you at least have to handcuff him as one of the top 5 fantasy backs. Final Analysis: Brian Westbrook, Top 5 fantasy back again next year, but when do the touches and wear start to break him down - Correll Buckhalter, The handcuff, but not someone to own otherwise - Tony Hunt, Could be the goal line back of the future, or at least the backup when Buckhalter sustains his annual season ending injury.
Washington Redskins - For such a hotly contested topic going into this season it appears pretty clear now. They have a #1, #2 and #3 back in a clear order. Final Analysis: Clinton Portis, A top 10 fantasy back again this past year and again next year - Ladell Betts, From a supposed RBBC to only getting backup carries and now only a handcuff - Rock Cartright, 3rd string and no fantasy value outside of his one big game per year
NFC North
Chicago Bears - What a mess the Bears have. After drafting Cedric Benson in the first round a few years back (4th overall) the Bears had to give him a chance as the man... and he failed. Making things worse Thomas Jones has been the better back so far and he's now with the Jets. Benson should have competition brought in next season (more than the bad Adrian Peterson), but it's anybody's guess who. Final Analysis - Cedric Benson, At this point a flex who could lose his job - Adrian Peterson, Crappy handcuff.
Detriot Lions - The Lions are having a hard time with their feature back. Kevin Jones has been their guy, but he suffered a Linsfranc last year and a torn ACL this year. He is supposed to be back in time for next season, but that is no guarantee. TJ Duckett played well the end of the season, but if he was a feature back he wouldn't be on his 3rd team. If given the opportunity the Lions may once again make a move for more depth. One positive may be the new offensive coordinator making more of a commitment to the run each week, not every 3rd week. Final Analysis: Kevin Jones, Has flashes of #1 play, but is far too inconsistent to be a weekly play in your fantasy backfield. Look for Jones to be back, but in part of more of a committee than years past meaning he'll be a #2 back - TJ Duckett, At best a handcuff - Tatum Bell, Likely to relocate again unless they keep him for depth out of fear that Jones won't be back healthy to start the season, but no matter where he goes you should have learned your lesson - Aveion Cason, Not worth owning in any situation - Brian Calhoun, The Lions are said to be high on Calhoun, but injuries have kept him from contributing. Could be a sleeper candidate next season if Jones doesn't make it back.
Green Bay Packers - They may have finally solved their running back need. Ryan Grant proved to be a great pickup from the Giants and once given the starting job he played like a #1 back. Final Analysis: Ryan Grant, Played like a #1 back and will go into next season as a low #1, high #2 fantasy back, but is a candidate in our book to disappoint after setting the bar high this year - Brandon Jackson, Got the starting job out of training camp, but injuries and poor play lost him the job and he didn't look good all year. He's likely Grant's '08 fantasy handcuff - Vernand Morency, Just like every year he's an injury handcuff in deep leagues only
Minnesota Vikings - In most any situation where Adrian Peterson is on the team there would be no other back to talk about, but Chester Taylor proved valuable when Peterson went down, and remained worth holding even when Peterson was healthy and they split carries. Look for Peterson to get an even bigger share of the carries next year, but Taylor should continue to get his so the Vikings can protect their franchises key player. Final Analysis: Adrian Peterson, Our #2 running back going into next season behind only LT - Chester Taylor, At worst probably the leagues best handcuff, at best a weekly start as a #2 back (or #1 if All Day gets injured at any point)
NFC South
Atlanta Falcons - Screw the Falcons. Warrick Dunn won't retire, the Falcons won't bench him and Jerious Norwood doesn't get enough carries to prove any of us right (or wrong depending on where you stand). Logic would say that the Falcons would eventually get Norwood the touches based on what he does with the ball, but maybe they think he has the success he has because he's not asked to carry the full load. Maybe the next coach will prove Norwood to be the man and hand him the keys, but the organization is so screwed up I doubt it. Final Analysis: Jerious Norwood, We'll guess he finally starts, but I wouldn't bet on it. If he does who knows if he is the 5+ YPC monster or just a swift 3rd down back - Warrick Dunn, He's past his prime in fantasy and not worth owning.
Carolina Panthers - See above. Replace Jerious Norwood with DeAngelo Williams. Insert DeShaun Foster as the veteran who won't lose the job, but doesn't do enough as the starter to use in fantasy.
New Orleans Saints - By now we all expected Reggie Bush to be a fantasy monster, but it hasn't happened. Duece will be back next year and get carries, Bush will have to get his, and Aaron Stecker and Pierre Thomas were about as effective as Bush (not really, but you get my point). Final Analysis: Reggie Bush, Kim Kardashian's homeboy is disappointing us all, but he has been a decent fantasy play in PPR leagues. For us he's a #2 back until further notice - Duece McAllister, He'll be back, but he'll be tough to use in fantasy as more than a flex - Stecker/Thomas, Don't buy into them having fantasy relevance unless the other 2 backs are down.
Tampa Bay Buccaneers - Most would say Earnest Graham has earned the job, but to keep him happy the Buc's are going to have to restructure and pay him more. Cadillac will be back, so figure on some type of time split. Would Cadillac return to rookie form in a RBBC and a focus on 3rd duty, possibly keeping him healthy? Final Analysis: Earnest Graham, He was good this year, but we'll have him as a #2 fantasy back and with Cadillac coming back he could drop to a #3 - Cadillac Williams, Probably the same boat as Graham with a #2 on the high side and a flex on the low side
NFC West
Arizona Cardinals - It isn't guaranteed that Edge will still be there, although he probably will be. There is talk of Arizona bringing in a speed back and if they do it will cut into Edge's touches. Frankly, with his lack of goal line success he isn't going to be a #1 again. Final Analysis: Edgerrin James, James had a fine fantasy year, but he's now a #2 back working his way down - JJ Arrington, Marcel Shipp - Neither have fantasy value going into next year
St. Louis Rams - Steven Jackson, Steven Jackson, Steven Jackson. Final Analysis: Steven Jackson, Top 5 fantasy back - Brian Leonard, Handcuff.
San Francisco 49ers - Pretty clear here as well. Frank Gore is the sole back with value. Frank Gore, #1 fantasy back - Michael Robinson, Probable, but not guaranteed handcuff.
Seattle Seahawks - We're staring at a RBBC next season and a new back may enter the picture. Shaun Alexander didn't show any signs of being a #1 back after the first few weeks, but does anyone think Maurice Morris or Leonard Weaver can be the man either? Shaun Alexander, Sadly he has fallen to a flex only - Maurice Morris, Handcuff to a flex player?
Ad blocker interference detected!
Wikia is a free-to-use site that makes money from advertising. We have a modified experience for viewers using ad blockers

Wikia is not accessible if you've made further modifications. Remove the custom ad blocker rule(s) and the page will load as expected.