We have a special treat for you folks today. We have an exclusive question and answer session with current
LPGA
player,
Paula Creamer
. Born in California and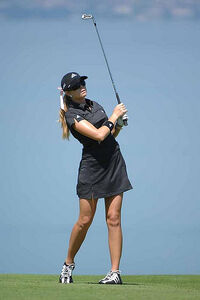 residing in Florida, Creamer has been playing golf since she was 10 years old. Creamer turned pro in 2005 and has nine professional wins.
A couple of weeks ago, Creamer won the Jamie Farr Owens Corning Classic in Ohio, her third win of the season. Creamer also has 10 top-10 finishes, including two of them coming at the Women's U.S. Open (6th) and McDonald's LPGA Championship (10th).
This week, Creamer will be participating at the Evian Masters in France. The week after is the Women's British Open at the Sunningdale Golf Club in Berkshire, England.
First off, congratulations on the win at the Jamie Farr Owens Corning Classic. You shot an 11-under 60 for that first round, just missing out on tying Annika Sorenstam's single round record of 59. What was your initial reaction to shooting a 60, first off? How nice would it have been to at least tie that mark? And how much would you say the 60 in the first round helped you?
Thanks!!! Shooting 60 was a thrill!! Tee to green, I've been hitting the ball very well all year, but it was nice to finally see more of the putts go in. That was really the difference between shooting 4 or 5 under par and shooting a 11-under. My 11 birdies were all one putts. Sure you want to shoot 59, but actually some of my golf balls are marked with '58', since I really want to go one better than the current record.
You have three wins on the tour and you're fourth (as of July 21) in the Women's World Golf Rankings. What do you credit your success to?
Work, hard work and more hard work on my game. Proper nutrition and fitness, too. Being 4th is nice, but getting to # 1 is my ultimate goal. I am constantly learning and getting better in many areas. I know I can do it, which is a great feeling!!!
What are your thoughts on Annika Sorenstam retiring? What do you feel like she's brought to the women's game?
Annika brought so much to women's professional golf, she will be greatly missed on Tour. I have enjoyed competing against her these past 3 1/2 years, since I always like to go up against the best in the game. I understand why Annika is stepping away from the game at this point in her life, as she wants to get married, start a family and concentrate on other golf-related ventures she's involved with. I certainly respect her for that and wish her nothing but the best!!
What are your thoughts on Lorena Ochoa? Could she be the next Annika?
Lorena has certainly proven that she's the legitimate #1 player right now. She's a nice person and I'm glad to call her my friend. I would say that Lorena is going to be the next Lorena!
You like to wear the color pink at all of your tournaments. What's the reasoning behind wearing pink?
Pink has always been my favorite color, even before I got into golf. It's just a great color. It's fashionable, yet it shows a fierce side, too. I don't wear pink every day, but I always have something on that is pink, even if it is a small ankle bracelet.
What does the future hold for you in the LPGA? Do you think you'll be around for a long time?
The LPGA is in a good place right now. Hopefully we can add a significant number of tournaments in the US to go with the international growth. The membership is made up of a diverse group from all over the world. It is great that many have left their home tours to come play in the US. As for my longevity, I hope to be around for a long time to come. I'm not even 22 yet, so I have lots of time yet to decide when to step away!!
Ad blocker interference detected!
Wikia is a free-to-use site that makes money from advertising. We have a modified experience for viewers using ad blockers

Wikia is not accessible if you've made further modifications. Remove the custom ad blocker rule(s) and the page will load as expected.