Through the eyes of The Falcon...
A short tour of Major League Baseball's Spring Training in the Grapefruit League... the journey continues today.  Did you miss Day 1 or want to read it again? Just go back and relive that gorgeous spring day in Florida.
Think of the most amazing summer day. The sun pouring down in seventy seven degree heat.  Cumulus clouds sporadically painted across the most blue of skies.  A slight breeze every now and again just to keep everything just cool enough.  The smell of sunscreen gets slightly over powered by the fresh cut grass as the doors to the car open up.  (Yes, grass parking... again! And there was still regular parking left! Oh well.)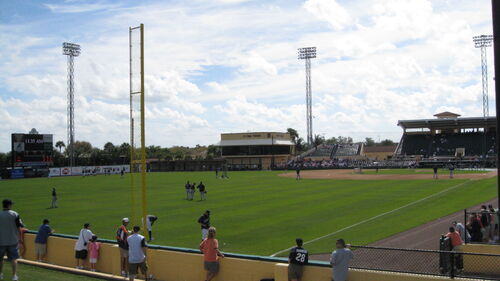 Welcome to
Joker Merchant Stadium
, home of the
Lakeland Flying Tigers
, class A affiliation of the Detroit Tigers.  The stadium is almost one of the most magnificent minor league parks. The flora surrounding the front of the park adds an extra dimension to the whole experience.  The colors, the weather, the entire atmosphere screams out "Welcome to Florida baseball."
On this magnificent sun-filled afternoon the Tampa Bay Rays are in Lakeland to take on the Detroit Tigers in the recently renovated stadium (2003).  The Rays are undefeated shortly into this spring, but today they will face what is projected to be the most formidable offense in baseball.  Detroit will look to demonstrate how much talent they actually have by sending their entire starting offense onto the field in this, one of their many, spring home games.
The Rays are in the middle of batting practice just beyond the gates.  From the third base side of the dug-out, the first player that becomes recognizable is the young prospect
Evan Longoria
.  He is working on taking ground balls at third base with coach Tom Foley.
Looking beyond the youngster, there are players in the outfield shagging baseballs, players and coaches standing behind the back stop chatting, and over a second base Jason Bartlett and Akinori Iwamura are working on turning their double plays.  Chemistry needs time to develop, but when there are players running around with each other and having fun, it just makes it all that much easier.
And yes... FUN.  Baseball is a game. Games are meant to be fun. And the Rays looked like they were having a damn good time out on the field.  For once, there is a positive energy, a winning type atmosphere (even though it is only spring training, winning is winning).  It can be seen through the eyes of these players, felt streaming through the air, it is obvious that this is more than just a group of guys, they are a team.
The game is about to begin.  Off to the left field line bleachers.  Only a few rows up from the field, the seating is amazing; just high enough to see the entire field but still close enough to recognize every player's face as they pass.  Grab another dog because it's time for a baseball clinic of one thing, offense.  Both teams decided to bring the lumber to the yard. "Forget the gloves, let's just hit," that is exactly what happened...
Starting Line-ups:

| | Rays | | Tigers |
| --- | --- | --- | --- |
| 4 | A Iwamura | 8 | C Granderson |
| 7 | C Crawford | 4 | P Polanco |
| 3 | C Pena | 10 | G Sheffield |
| 8 | BJ Upton | 3 | C Guillen |
| 10 | J Gomes | 5 | M Cabrera |
| 5 | W Aybar | 7 | T Perez |
| 6 | J Bartlett | 6 | E Renteria |
| 2 | D Navarro | 2 | I Rodriguez |
| 9 | J Ruggiano | 9 | M Joyce |
Like the first day of this escapade, let's not get into the complete play by play or breaking down the box score. Just know that it was an incredibly active game, with plenty of offense, some great plays, and a pretty close game all throughout.  Skipping the stuff anyone can come up with, how about just jumping right into some observations and opinions.
Tigers Pitching
Jeremy Bonderman
started for the Tigers.  He was the only pitcher on either side to not to get ripped.  He came in and faced ten Rays over the course of three innings.  He set two down on strikes, allowed only two hits; a single for Pena in the fist and a double for Bartlett in the second.  He dominated the mound; working quickly and effectively throughout.  He utilized a well known, yet under-used concept... "Getting ahead in the count."  Just about everyone was down in the count 0-1 before they realized that they were even batting.
Vasquez and Lopez both got ripped.  Simple as that. Just look at the box score because it does not lie here; combined they allowed seven earned runs in 2.1 innings pitched.  Jordan Tata had problems finding the strike-zone and threw the ball in the dirt often. Vasquez did the opposite, he found the zone but left the ball up.  Neither way was effective for these two on this day.

Rays Pitching
Matt Garza made his spring debut on the hill to start off this game.  He then went on to prove why they play spring training.  He got hit... hard and often.  Not just was his pitch count really high but he didn't even make it out of the second inning.  Two earned runs, one walk, four hits, and a little thank you to God that this was only spring training because it looked a lot worse than it sounds.  Matt was behind in every count (at least it seems that way).  Even after a rocky start he was impressive with the media/fans, "There is a lot of positive energy in the club house. I don't think this franchise has ever had [positive energy]. It's exciting."
Young pitching prospect Jacob McGee (ranked 15th by Baseball America) also took the hill in some relief duties.  The only relief was that he got out of there without giving up any runs (he can thank Chris Mason for that).  McGee stopped the bleeding by getting the final out in the fourth inning after Chad Orvella allowed four runners cross the dish.  Jake would not be able to finish out the fifth though. He loaded the bases and got two outs (some how) despite struggling with his command.  He walked a total of three and allowed one hit in one full inning of work.
Tigers Position Players
Curtis Granderson
showed that he is excited to be back on the field.  He ran around during the pre-game joking with teammates and talking to some Rays out in center field;
BJ Upton
,
Carl Crawford
,
Jason Bartlett
, and even
Akinori Iwamura
.  In Curtis' first at bat, he saw ten pitches, working the count full, fouling off many pitches, and then got on base.  Basically it was a perfect lead off at bat. He made some nice defensive plays to go along with reaching base three of four times to the dish.
Ryan Raburn got into the game to play some second base.  He was very active defensively.  When it came to the batting he was 0 for 1, but he did walk twice and score two runs.  He also made the pitchers he faced work.  He fouled off so many pitches it was getting ridiculous.  He made a very fine impression without even compiling a single hit.
Marcus Thames had a pinch-hit three run blast to left field.  It seemed to open up the game in the fourth inning for the Tigers at the time, but in the end all it really looks like it did was break down the levy and let the flood of runs come rolling in.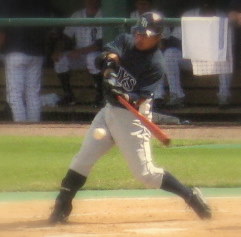 Rays Position Players
When watching
Akinori Iwamura
take batting practice, the entire stadium was blown away like they were standing in one of Florida's hurricanes.  It was one of the most impressive batting practices imaginable.  Aki knocked nine balls out of the park (five to right and four to left) displaying his power to all fields.  Yes,
POWER
! He average 35 home runs per year during the three years before coming to America at the beginning of last season.  Despite playing most of the season injured, he accumulated only seven home runs in 491 at bats last season.  This day, he shows that the power is still there.  Oh, and nine home runs is not the only thing. The rest of his hits were hard on a low line-drive, mostly all landing in gaps.  If he did this in a game, he'd be racking up the extra base hits like they were nothing. Damnfacking impressive.
Evan Longoria worked really hard before the game.  He worked on his fielding, hitting, and writing.  He is pretty quick with those autographs now.  When asked why he wasn't in the starting line-up he replied, "I'm not playing. I was supposed to, but I am getting the rest the day off." In batting practice, he worked on going the other way.  He struggled with some swings, opening up too son and pulling a slow grounder to shortstop.  Otherwise he looked really good; both with the fans and on the field.
BJ Upton appeared lost at the plate at times.  He did not reach base at all.  He stuck out looking one time but swung through numerous pitches in all three at bats.  Willy Aybar didn't look so strong either. He dropped an easy fly ball at third base and tried taking second base on a ball in the dirt. Pudge threw him out of course.  He did have two hits and two runs batted in, but his lack of experience was very obvious.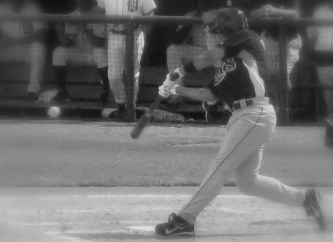 Andy Canniazro
isn't the biggest guy on the team. Heck, he might not even make the team. But he had a huge two run bomb to left field. It is necessary that this be added to the story.
Young catcher Hector Gimenez of the Rays steps back into the box.  The score is nine a side in the top of the ninth inning.  There are two men out, a runner on second base, and a full count.  It is crunch time.  If they don't score here, they might not be able to hold the Tigers off in the bottom half of the inning, Gimenez must come through.  Freddy Dolsi toes the rubber.  He lunges forward delivering the pitch on the out side corner of the plate. The swing... CRACK!  The balls sails on a line to the right center field gap. The run is going to score! This would break the tie. Hector hustles out of the box and rounds first.  The ball was hit so hard that even though it reached the wall center fielder Freddy Guzman was able to get it in quickly.  Gimenez slides and pops up just in time, adding to the drama with a slap of the hands.  Even in preseason, these guys want to win... I LOVE IT!
Final score: Tampa Bay over takes Detroit in a ten to nine run victory.
Now it is off to St. Petersburg, 'fore tomorrow is yet another glorious day of baseball...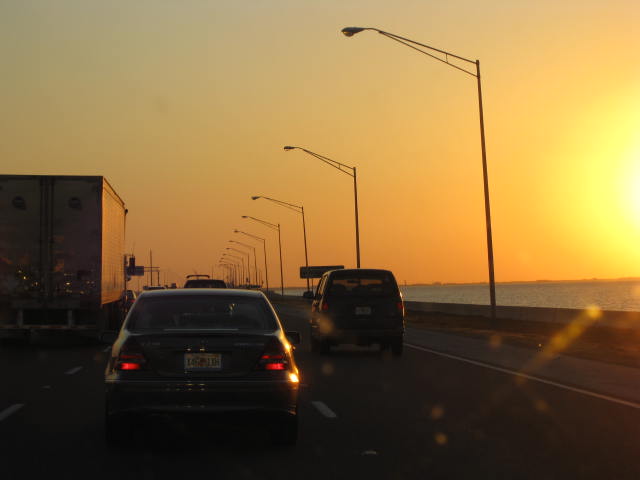 Ad blocker interference detected!
Wikia is a free-to-use site that makes money from advertising. We have a modified experience for viewers using ad blockers

Wikia is not accessible if you've made further modifications. Remove the custom ad blocker rule(s) and the page will load as expected.