Ever since New York Giants QB, Eli Manning was drafted number 1 overall in the 2004 NFL draft (by the San Diego Chargers, and was later traded to NY), he has had many analysts on his back, criticizing his every move.
But, I think he has silenced a few of those critics (for now anyway) after his 24-14 win over the NFC South's winner the Tampa Bay Buccaneers.  Eli, known for his inconsistency, was very poised, and consistent in NY's win Sunday.  Eli isn't as great a QB as his older brother Peyton, and is often criticized because of that, and to some, is even known as a draft bust.  In my eyes, Eli's career is just taking off, and has his first career playoff win under his belt.  It took his brother Peyton 6 years in the NFL to win his first playoff win (41-10 win over the Denver Broncos in 2003).  Eli recorded his first in just his 4th season.  Eli has been inconsistent, like critics say, but he has led NY to playoff apperances in '05, '06, and '07.  NY lost by 3 points in the NFC wild card game last year at Philadelphia, as he faced off with Philly's Jeff Garcia.  Manning and Garcia faced off again on Sunday, but this time, Eli went 20 for 27 for 185 passing yards, and 2 TD's.  He was sacked just once, and didn't even turn the ball over once.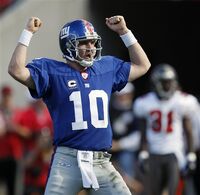 Eli's biggest problem is turnovers.  He threw 20 INT's during the regular season this year, and in his career, has a 77 to 64 TD/INT ratio, with a career 73.4 QB Rating.  Before this postseason, Eli hasn't performed all that bad in the playoffs, going 26 for 45 (57%), 274 Yards, 2 TD, 4 INT, 2 sacks.  Eli has been at the top of his game the past couple of weeks, and has alot of hope going into this Sunday's matchup against the Dallas Cowboys.  Eli lost by just 3 points to the undefeated New England Patriots week 17, and carried that over to Wild Card weekend.
With the number 6 seeded Washington Redskins losing, the Giants will be on the road for the rest of the postseason, if they manage to escape Dallas with an upset win.  New York's defense has helped him out alot, leading the NFL in sacks, which includes their 12 sack performance against Division-rival Philadelphia Eagles, with Pro Bowl DE Osi Umenyiora sacking Donovan McNabb a career-high 6 times.  Eli played just 9 games during his rookie season in '04, but hasn't missed a game since then.  Eli has yet to go to his first Pro Bowl, but I really think he can improve, and get a trip to Hawaii in the next few years.  New York's number 4 running game in the NFL, led by Brandon Jacobs, has helped Eli's passing game out alot as well.  It is really hard to predict whether or not Eli will improve in the next few years, especially with aging wideouts in Plaxico Burress, and Amani Toomer.
Does New York have a shot against Tony Romo, and the Dallas Cowboys???  Probably not, but I think Eli has silenced his critics for a couple of days at least.
Ad blocker interference detected!
Wikia is a free-to-use site that makes money from advertising. We have a modified experience for viewers using ad blockers

Wikia is not accessible if you've made further modifications. Remove the custom ad blocker rule(s) and the page will load as expected.