As originally posted on Nice Little Sundays
The youngest of the Gome's (as in Gomer, goof, son of Archie) has brought a championship to New York. In only his 4th year Eli has delivered a championship years earlier than his all-time great quarterback of an older brother.
So, over the course of roughly two months the youngest Manning has gone from questionable leader and decision maker who many thought would never turn into a championship quarterback, to the darling of the nations largest city. An up and down quarterback with career passer rating hovering around 70 turns into an efficient, clutch quarterback?
The question for us fantasy geeks is this: Which of the two Eli's from this past season is what we can expect in 2008. Do you believe that Eli has grown during the Giants unexpected playoff run and is now ready to remain among the elite 10 quarterbacks in the league, capable of minimizing his mistakes and putting up weekly fantasy stats. Or do you believe that the last 4 weeks were part luck, part karma getting back at the Patriots?
We'll make the case for both:
[1]
Eli, The Weekly Fantasy Starter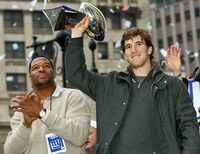 He sure made a compelling case during the playoffs. As a wild card, Eli led the Giants on the road for three straight wins before beating want many experts were trying to annoint the greatest team ever. Not to mention he did this without a stud #1 RB (although good corp), with a stud WR who was hurt the entire season, no above-average receivers besides Plax on the roster, and a starting tight end on injured reserve.
The biggest key to Eli's on field success was his lack of turnovers.
Which leads me to...
[2] Eli, The Same QB Who Happens to Have a Ring
I don't know how to put statistics behind this statement, but did anyone else think that 1/2 of Eli's final drive passes could have been (and should have been) picked off? Did Eli really grow during that drive, or was he throwing it up much as he always has and getting away with it. A ball caught against a helmet was the difference between 19-0 and the Giants winning their 3rd championship.
By the way, in regards to the picture I can't hate Eli for doing what we all did in college and doing it with some arm candy at his side. Well played, Gome, well played.
Conclusion:
The playoffs were obviously when everyone thought Eli was at his best, so the question is: Will you take a weekly 18-30, 214 yards, 1.5 TD's and no INT's (Eli's average stats during the playoff run)? I'd be happy to take that as my flex, but not as my number 1 weekly QB start. I'll continue to look at Eli as the same boom or bust fantasy quarterback, capable of 250 and 3 TD's, but equally as capable of 175 and 2 INT's. He may narrow his weekly performance range as his stock matures, but he probably just doesn't have the ability to be his brother in fantasy (not a fair comparison, but one Eli will always deal with).
That said, no matter what we say Eli will forever be a Super Bowl winning quarterback. Never again will he have to buy a drink in New York or prove anything to anyone. I'd guess he's probably more worried about what happens on the field than what happens to our fantasy rosters anyway.
Ad blocker interference detected!
Wikia is a free-to-use site that makes money from advertising. We have a modified experience for viewers using ad blockers

Wikia is not accessible if you've made further modifications. Remove the custom ad blocker rule(s) and the page will load as expected.