Article:El Tercer Oppertunity
Talk

0
Ad blocker interference detected!
Wikia is a free-to-use site that makes money from advertising. We have a modified experience for viewers using ad blockers

Wikia is not accessible if you've made further modifications. Remove the custom ad blocker rule(s) and the page will load as expected.
This is the third installment of this series here on ArmchairGM, involving the infamous number *762.  The other articles talk about players who may make the cut and players who will miss the mark for the reasons that they did not come into their own as a baseball hitter until years later than would have needed to do so in order to reach Barry Bonds' infamous mark.  The first of the two postings can be found here and the second found here.
For years on end, the greatest statistical number in professional sports history has been 755.  That was the mark of Mr. Consistency, Hank Aaron.  Through Aaron's illustrious career, he did many remarkable things, most notably was that he became (at the time) the only player in Major League Baseball history to pass the legendary Babe Ruth in the career home run category.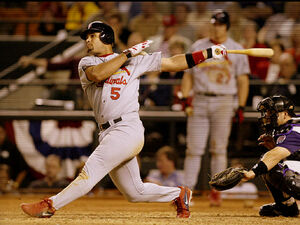 This past season, after thirty-three years of calling Hank Aaron the greatest home run king of all-time,
he was surpassed on the list
by
a man who most seemingly cheated the game of baseball
.  On August 7, 2007, Barry Bonds hit a long fly ball to right center field at
AT&T Park in San Francisco
... number *756.  That number has now climbed to *762, and that mark must now be passed by someone in baseball. 
Barry Bonds
cannot (
for the dignity of baseball
) be the all-time home run king. For the sake of baseball and sports numbers in general, this number must once again mean something, and the only way that will happen is if Bonds is surpassed on this list by a credible, publicly accepted figure.
Some players have a legitimate shot at the record, for others it is too early to tell, but one player is caught in the middle.  Does he have what it takes to pass Bonds?  Can he continue to put up staggering numbers year after year?
Albert Pujols may just have the sweetest swing in the game today.  It is almost for sure that he has the best batting eye, with the best plate discipline.  Pujols is a power hitter, with a high batting average, who doesn't strikeout.  Basically, he may just be the best hitter of this generation.  This case can be argued very favorably for Phat Albert.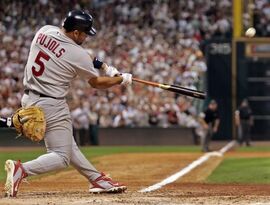 El Hombre
(as he is known by some of his teammates) is a proven hitter; he is a legitimate power threat.  But, he is only seven years into the league.  And although he has compiled a total of 282 home runs over that span, he is still
light-years behind
a guy
who has already surpassed this mark at a much younger age as well.  Pujols is 27 years old now.  When
Alex Rodriguez
was the same age, he had already accumulated 345 round trippers.  That is a difference of 63 home runs.  A significant difference when you think about it.  When
seven home runs may be the difference
in making or not making the Hall of Fame, the number 63 (even though
it can be overcome
during one amazing seasonal stretch)
seems
insurmountable.
Albert is some talent though.  In major league baseball history, only four player have had more home runs before they were 28 years old; Alex Rodriguez, Jimmie Fox, Eddie Mathews, and Ken Griffey Jr. (most to least respectively).  Some list, huh? And of the ten guys that top the list for most home runs before the age of 28, only Juan Gonzalez has less plate appearances (and something was a little fishy there).  Other than Gonzalez, the player with the next closest number of plate appearances to make this list still had over 300 more times up to the dish than Albert.
So, he is definitely on a pace for the record.  But it will likely belong to one of two other people by the time Pujols gets to the legendary mark.
So, what kind of numbers would he need to put up over the rest of his career in order to reach the 763 plateau?  Well, he is 481 home runs off the record going into the 2008 season.  He has (with-in the last week) turned 28 years old.  If he plays up until his 40th birthday, he would need 40 home runs each year.  But, the way athletes are conditioned today (and with Albert playing a less demanding first-base position with an option of switching over to to a DH in later years) it is not out of the question for Pujols to play through the age of 42.  This would mean he would have to hit 32 home runs per year.  This would also require his productivity to not slow down for years to come, while staying injury free for all those years.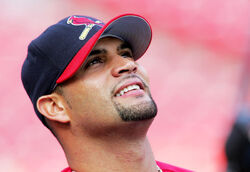 Considering his numbers
to this point, 32-40 home runs per year is a reachable number for this slugger.  Over his seven year career, Pujols' lowest single season total is 32 home runs and four of those seven years he has surpassed 40 dingers.  The fact that he has a good eye and plate discipline is evident by the fact that he has only once stuck out more than 70 times (rookie year), has surmounted over 590 at bats per year, and has more walks than strikeouts every year (discounting his rookie campaign). Oh, and he is a .332 career hitter.
Pujols may surpass Ruth and then Bonds one day on the all-time home run list.  Whether or not he will ever catch Alex Rodriguez is another question all together.  If it turns out that Junior's injuries were just too much for him to overcome and Alex Rodriguez gets derailed for some reason, it is good to know that there is someone who could catch the top spot.  And one of these three better to it because any other young talent is too young to determine whether 763 is even a possibility.  Destiny must lie in one of these three... for the sake of baseball history.
References:
[http://www.baseball-reference.com/p/pujolal01.shtml%3Cbr%3Ehttp://www.baseball-reference.com/p/pujolal01.shtml%3Cbr%3C/A%3E%3E%3CBR%3E%3CA%20href= http://www.baseball-reference.com/r/rodrial01.shtml
[http://www.baseball-reference.com/leaders/leaders_27_bat.shtml%3Cbr%3Ehttp://www.baseball-reference.com/leaders/leaders_27_bat.shtml%3Cbr%3C/A%3E%3E%3CBR%3E%3CA%20href= http://www.nytimes.com/2007/08/08/sports/baseball/08bonds.html
[http://sportsillustrated.cnn.com/2006/baseball/mlb/03/06/news.excerpt/index.html%3Cbr%3Ehttp://sportsillustrated.cnn.com/2006/baseball/mlb/03/06/news.excerpt/index.html%3Cbr%3C/A%3E%3E%3CBR%3E%3CA%20href= http://sportsillustrated.cnn.com/baseball/mlb/features/1999/aaron/aaron_story/
[http://mlb.mlb.com/mlb/news/mitchell/index.jsp%3Cbr%3Ehttp://mlb.mlb.com/mlb/news/mitchell/index.jsp%3Cbr%3C/A%3E%3E%3CBR%3E%3CA%20href= http://www.chrisoleary.com/projects/Baseball/Hitting/RethinkingHitting/Essays/BreakingDownAlbertPujolsSwing.html
[http://findarticles.com/p/articles/mi_m1208/is_25_227/ai_103799770%3Cbr%3Ehttp://findarticles.com/p/articles/mi_m1208/is_25_227/ai_103799770%3Cbr%3C/A%3E%3E%3CBR%3E%3CA%20href= http://www.baseball-fever.com/showthread.php?t=39932&page=4
[http://record.wustl.edu/news/page/normal/7563.html%3Cbr%3Ehttp://record.wustl.edu/news/page/normal/7563.html%3Cbr%3C/A%3E%3E%3CBR%3E%3CA%20href= http://www.baseball-reference.com/bullpen/Albert_Pujols
[http://sports.aol.com/fanhouse/2007/05/25/alex-rodriguez-will-be-next-to-break-the-home-run-record/%3Cbr%3Ehttp://sports.aol.com/fanhouse/2007/05/25/alex-rodriguez-will-be-next-to-break-the-home-run-record/%3Cbr%3C/A%3E%3E%3CBR%3E%3CA%20href= http://www.baseball-reference.com/leaders/HR_season.shtml
[http://cbs.sportsline.com/mlb/story/8173297%3Cbr%3Ehttp://cbs.sportsline.com/mlb/story/8173297%3Cbr%3C/A%3E%3E%3CBR%3E%3CA%20href= http://diamondhoggers.blogspot.com/2007/03/dh-steroid-witchhunt-albert-pujols.html
http://theburiedlead.com/2007/03/27/pujols-workout-regimen-spotlighted-in-magazine/