IT'S BACK!! First of all, I would like to say I'm really sorry for the month-long wait. I will do my best to finish the series wayyy before training camps start. Ok, here we go...
Will Rivers, and Tomlinson finally get over the hump?? Will Jay Cutler finally prove he is the NFL's future?? Will JaMarcus Russell prove he was worth the number 1 pick in the 2006 draft?? Can Herm Edwards take KC back to the playoffs??
These are just a few of the many questions surrounding one of the weakest divisions in Football. I will attempt to answer them in the edition of BBB15's Early NFL Previews as we wrap up the AFC coverage.
Key Additions: Darrell Jackson (WR), Boss Bailey (LB), Keary Colbert (WR), Dewayne Robertson (DT), Michael Pittman (RB), Marquand Manuel (FS), Niko Koutouvides (LB)
Key Losses: Javon Walker (WR), Ian Gold (LB), Travis Henry (RB)
Offense
The key on offense for Denver is will Jay Cutler prove to be an elite QB, and lead this team to a Division title? While they lost Pro Bowl wideout Javon Walker, who left for Division rival Oakland, the Broncos did pickup former Seahawks, and Niner D-Jack. I feel this greatly improves the Broncos through the air, giving Cutler a great target. Denver released Travis Henry, who ran for just 691 yards, and 4 TD's in 2007. Henry missed quite of few games due to injury, but will be missed in the backfield in 2008. Selvin Young is currently the front-runner in the position battle at RB, but newly acquired Michael Pittman, who carried the ball just 68 times with Tampa last year, is a close second. Denver signed 34-year old center, Casey Wiegmann this offseason to add experience to mentor the Broncos' young offensive line. Look for the run game to struggle in '08. But, Cutler, if protected, could have a break-through season with targets like Brandon Marshall, D-Jack, and Keary Colbert.
Better or Worse in 08??? I think that like I said above, Denver's running game won't get any better, in fact, worse. But, the passing game looks to be improving, especially with a fresh offensive line, and guys like the 6 foot 4 Marshall.
Defense
Don't expect Denver's front four to be much of a force just yet, but with young guys like rookie Jarvis Moss, and Tim Crowder on the squad, you can expect them to break through eventually. Twenty-five year old D.J. Williams leads a rather weak linebacking core, but Champ Bailey's younger brother, Boss Bailey looking to make a fresh start in Denver alongside Williams and 27-year old Niko Koutouvides. The former Seahawk, Koutouvides, has just 1 sack, and 112 career tackles in four seasons in Seattle. I don't think the combination of one young, successful LB, and two newcomers looking for a fresh start will end up having a positive impact in just one year. Hopefully the Broncos' experienced secondary will make up for the lack of talent at the linebacker position. Pro Bowlers Champ Bailey, and John Lynch lead a rather hefty secondary along with corner Dre' Bly, and the up-and-coming free safety Hazma Abdullah, whose stats have gotten better and better each year. I expect the Broncos' passing defense to leap because of their superb secondary, but don't expect big things from their linebackers, unfortunately.
Better or Worse in 08??? Well, considering the Broncos D was 19th in the league last year, I think they can make some strides, and squeeze into the top 15 this year. But, this could be the final year their solid secondary will be together. I expect this to be Lynch's final season in the NFL.
Don't be Surprised if...
Cutler is named to the AFC Pro Bowl team, and the Broncos get back to the playoffs.
Jarvis Moss, and Tim Crowder get significant playing time at D-End. I don't think this front four has proved they belong together.
Key Additions: Devard Darling (WR), Demorrio Williams (LB)
Key Losses: Jared Allen (DE), Eddie Kennison (WR)
Offense
As of right now, the Chiefs starting QB is Brodie Croyle, who is entering his third season. But I think that Croyle will fail to lead the team, and Damon Huard, who has a career 82.0 QB Rating, will take over halfway through the season. Larry Johnson will fail once again, and I think Kolby Smith will step in and get the job done, he averaged 3.6 YPC on 112 carries last year, which is more than Johnson averaged last year. LJ carried the ball 158 times for 559 yards (3.5 YPC). LJ was overrated to begin with, I never really thought of him as a top fantasy pick, not sure why (especially since he ran for 1700+ yards two straight seasons). Last year Kansas City's offense was 31st in the NFL in total offense, gaining an average of 276.8 total yards a game. If they want to improve this year their offensive line will have to be nearly flawless in protecting Croyle (or whomever may be under center). The Chiefs recievers may be the weakest in the League. Yes, second-year wideout Dwayne Bowe will make a big leap in his second season this year, but newcomer, and second-string WR Devard Darling has never been considered a great WR in his five years. But, of course they have Tony Gonzalez, a future HOF TE, who is a great blocker, and has great hands. There isn't a single DB out there that can stop Gonzalez from making a catch.
Better or Worse in 08??? I'm gonna say better, especially when you consider that they were 31st in total offense last year. Can't get much worse than that. Brodie Croyle has yet to fully develop as QB, and Dwayne Bowe could be a Pro Bowler this year. If Larry Johnson stays healthy this year he could be back up to a 1,000-yard rusher...Who knows??
Defense
The 24-year old DE, Tamba Hali has great potential, who sacked the QB 8 times in his rookie year in '06, and 7.5 last year. Hali leads the below-par defensive line, and is the only starter on the line who has the potential to make the Pro Bowl. The loss of Jared Allen is huge for this defensive line. The right defensive end, Turk McBride, is going into his second season in the League, and made just 14 total tackles, and 1 sack last year. The 23-year old needs to produce this year, because the interior lineman may not be able to hold the middle of the line very well. Defensive tackles Ron Edwards, and Alfonso Boone aren't exactly the Warren Sapp-like players. The upside is they have been healthy, and haven't missed much football the past few seasons. But, Boone has just 135 total tackles, and 11.5 sacks in seven NFL seasons (6 with Chicago), and he is getting up there in age, too (32). The LB position is definitely the Chiefs strength on defense, the 6 foot 3, 242 pound Derrick Johnson (OLB) is a monster. He made 94 total tackles, 4 sacks, 2 INT, 6 PD, and 3 forced fumbles last year. I expect him to just get better and better as he enters his fourth season. The Chiefs also have experience at the LB position, with 350year old Donnie Edwards, and the 29-year old Napolean Harris. The Chiefs even added depth this year by signing former Atlanta Falcon LB, Demorrio Williams to back up Edwards, and Napolean Harris will get the chance to mentor the 25-year old Nate Harris, who is entering just his second year. Patrick Surtain will have his hands full trying to keep this extremely young secondary under control. The secondary is full with a bunch 22-23 year olds who have zero experience, so the 32-year old Surtain and the Chiefs secondary will struggle this season.
Better or Worse in 08??? I am going to go with worse. When you consider the fact that the Chiefs secondary is extremely inexperienced, and Tamba Hali is the only solid defensive lineman...I just really don't see this team jumping from 13th in overall defense to inside the top ten. They will definitely not top their fifth best pass defense from last year.
Don't be Surprised if...
LJ gets hurt again, and struggles to top 1,000 yards on the ground for the second straight season.
Key Additions: Gibril Wilson (S), Javon Walker (WR), Drew Carter (WR), DeAngelo Hall (CB), Kalimba Edwards (DE), Greg Spires (DE), Edgerton Hartwell (LB), William Joseph (DT)
Key Losses: Dominic Rhodes (RB), Daunte Culpepper (QB), Josh McCown (QB), Warren Sapp (DT)
Offense
Second-year QB JaMarcus Russell will get his shot as the starter this year with a revamped offense. Al Davis has shown that he is ready to return to the playoffs by picking up some big-name guys this offseason. Although I'm not too sure he's paying them the right amount of money, perhaps a little too much, but they'll make an immediate impact nonetheless. Former Bronco wideout Javon Walker, the playmaker, gives Russell a great option in the passing game, and I expect him to continue to show up opposing secondaries. Russell also now has a solid third option (if Ronald Curry once again fails to impress), Keary Colbert came in from Carolina, and should put up decent numbers. But, Russell will need good protection the guards Robert Gallery, and Cooper Carlisle. Gallery has only missed a few games (six total in 3 seasons), and Cooper has only missed three games in three seasons. But, the success of Jamarcus will count on his protection, since he is young and inexperienced. He hasn't had a whole lot of time under center at the pro level, and it may take some time for him to get comfortable. But hopefully Oakland's strong backfield will take some pressure off Russell. Oakland went out and drafted RB Darren McFadden, the former Arkansas Razorback, and two-time Heisman Trophy runner-up. McFadden will accompany fantasy sleepers Justin Fargas, and Lamont Jordan in Oakland's crowded backfield. I really believe Fargas is an underrated back, and he has the potential to top 1,000 rushing yards again this year (he just barely broke a 1,000 in '07 with 1,009).
Better or Worse in 08??? I think they will improve, they were 25th in overall offense last year, and with Russell's targets, and his loaded backfield, how can they not get any better in 2008?!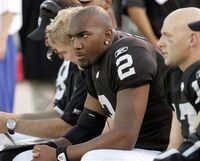 Defense
Oakland's defense went from thirty-second to twenty-second from 2006 to 2007, and I don't see why they won't jump up a little more this year. Yes, they may have lost their anchor on the line, Warren Sapp, who retired from the NFL. But they have a spectacular, and young secondary to accompany a youthful, and energetic LB corps. Once again, Davis is really itching for the playoffs, and went out and got himself a few playmakers in the secondary. Two former NFCers, DeAngelo Hall (CB), and Gibril Wilson (FS) from the Super Bowl Champion New York Giants. On the defensive line, the Raiders have three a couple unproven starters, but with Pro Bowl DE Derrick Burgess in the game, I feel the Raiders will do just fine (as long as the opposing team runs to the right side). Oakland has a highly underrated linebacking corps, names like Thomas Howard (96 tackles, 1 sack, 6 INT's, 11 PD in '07), Kirk Morrison (121 tackles, 1 sack, 4 INT's, 10 PD in '07), and Robert Thomas (62 tackles, 2 FF in 14 games in '07) is nothing to sneeze at. All three of their starting LB's, and even the second-string MLB Edgerton Hartwell, are very good at defending the pass, and it has certainly shown. Last year the Raiders were 8th in the NFL in passing defense, allowing just 195.8 passing yards a game.
Better or Worse in 08??? Well, without Sapp the Raiders' run defense will struggle, like last year. But, the Raiders pass defense could prove to be better than their 8th last season. With Burgess destroying opposing offensive tackles, and the LB's, led by 26-year old Morrison lurking the defensive backfield with Michael Huff, Nnamdi Asomugha, Gibril Wilson, and DeAngelo Hall...I think the Raiders defense will be just fine, as long as the opposition doesn't run the ball 30+ times a game.
Don't be Surprised if...
McFadden doesn't get many carries, and ends up returning some punts, and kicks instead. I think the Raiders have the running back position locked up pretty good.
Oakland's D leads the AFC in interceptions (though it'll be a close-call with Division rival San Diego).
Key Additions: N/A
Key Losses: Michael Turner (RB)
Offense
The Chargers 2008 success rests solely on the arm of Phillip Rivers, and the legs of Ladainian Tomlinson. I think its a given that the Chargers offensive line will do a great job. You've got some of the best blockers on San Diego's line (et al Kris Dielman, Marcus McNeill, and center Nick Hardwick). As long as they stay healthy, the line will do just fine. The passing game is what worries me. Rivers isn't exactly a Peyton Manning or a Tom Brady (or even a David Garrard, or a Tony Romo for that matter). And, don't even get me started on the receivers. Other than the tight end, Antonio Gates, if Chris Chambers is your number one wide receiver, then you've got issues. Despite losing Michael Turner from your backfield, the running game is in no trouble. LT is the best RB in the game, and if he goes down with an injury, the speedster return man Darren Sproles will do just fine behind this line. So, maybe I should've just said that San Diego's success will depend on what Rivers brings to the table.
Better or Worse in 08??? The Chargers made it to the AFC Championship game against New England this year...I don't see this team with the way they play, to make it over the hump. So, sorry but they will not get any better than their great 2007 season.
Defense
San Diego's front line is the best in the AFC West. Igor Olshansky, Shaun Phillips, Luis Castillo, and Jamal Williams were San Diego's starting front four last year too, and they led helped San Diego's defense sack the QB 42 times last year (good enough for fifth in the NFL). They put pressure on the opposing QB nearly every down, forcing 30 interceptions, which was eight more than the team with the second most ( Indianapolis, and Tennessee with 22). Hard-hitting Pro Bowl LBer Shawne Merriman is the leader of the team, and got to the QB 12.5 times last year, but didn't pick off a single pass. But it's ok, teammates Stephen Cooper (OLB), and emerging Matt Wilhelm (MLB) picked off five passes between them. I expect the 27-year old Wilhelm to have a breakthrough season this year. Veteran CB Quentin Jammer's production has gradually gone down, but young guns Antonio Cromartie--the NFL's INT leader last year--and safeties Clinton Hart, and Eric Weddle stepped up their game during the 2007-08 playoffs. Hart picked off 5 passes, and recorded nine put downs, while Weddle added another INT, and six put downs. Look for their production to sky-rocket as well, as a result of more playing time.
Better or Worse in 08??? San Diego was 14th in total defense last year, and I really believe they will crack the top 10. These guys are still young, and will continue to improve each year. It's amazing that the Chargers pretty much have the same team as the 2007 season (which reached the AFC Championship game in New England).
Don't be Surprised if...
Rivers' knee gives him more troubles this season. Billy Volek may have to step in for a few games this year.
Cromartie leads the NFL in interceptions again this season...dude's a beast!!
The AFC Previews are officially in the books. Next up: NFC!
Ad blocker interference detected!
Wikia is a free-to-use site that makes money from advertising. We have a modified experience for viewers using ad blockers

Wikia is not accessible if you've made further modifications. Remove the custom ad blocker rule(s) and the page will load as expected.