Are the Colts still the team to beat down South?? Or will David Garrard, and his Jacksonville Jaguars dethrone Eli's older brother?? And, don't count out the revamped Tennessee Titans, led by VY. Will Houston finally contend for a playoff spot??? All these questions and more are answered by BBB15, in his third edition of Early NFL Previews.
Others in the series:
AFC North: http://www.armchairgm.com/index.php?title=Article:Early_AFC_North_Preview_(5/20/08)
AFC East: http://www.armchairgm.com/index.php?title=Article:Early_AFC_East_Preview_(5/24/08)
Key Additions: Chris Brown (RB), Quinn Gray (QB), Tim Carter (WR),
Key Losses: Shawn Barber (LB; Released), Mike Flanagan (C; Released), Jeb Putzier (TE; Released)
Offense
Houston showed that they don't have a whole lot of confidence in QB Matt Schaub after signing former Jaguar backup, Quinn Gray over the offseason. And, I think Schaub needs to have a solid season to keep his job secure. But, he may have a little trouble, his Pro-Bowl wideout Andre Johnson is having knee troubles, and may not be much of a factor come September. In 2007, Houston's rushing offense was 22nd in the NFL, rushing for an average 99.1 yards on the ground. Veteran RB Ahman Green was placed on the IR on December 8th of 2007, and may be out of the picture for this season, as well. Houston drafted Steve Slaton out of WVU, and signed Chris Brown from Tennessee to help fill Green's void. The key for the offensive lineman this year?? PROTECT the QB, and stay healthy. Both goals need to be met in order for Schaub to have a shot at leading this offense into the playoffs this year.
Better or Worse in 08??? This franchise looked to be taking the steps to become a contender just one short year ago. But, devastating injuries on the line, and to their star WR, and RB have put all that on hold. Schaub looked like he was able to turn this young franchise around, but that won't be happening this year. Sorry, Houston.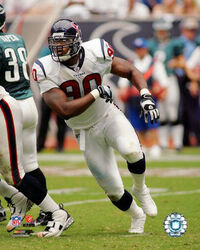 Defense
On defense, Houston has numerous stars on the rise, two of which are on the Line. I think the right side of the Texans' defensive line could prove to be one of the strongest in the NFL. Last year, DE Mario Williams, and DT Amobi Okoye combined for 19.5 sacks, and 3 forced fumbles. Anyone else feeling a Pro Bowl appearance from both of these youngsters?? DeMeco Ryans, the third year LB, has a bright future in Houston, too. Ryans is a tackling machine, recording 127 total tackles last year while sacking the QB twice. So, even though he's not a sacking LB, he can still play the position well, and opposing offenses need to know where he is at all times. In the secondary Dunta Robinson needs to stay healthy, as he missed seven games last year. If Robinson is healthy, the Texans passing defense will vastly improve.
Better or Worse in 08??? Better. With playmakers like Williams, Ryans, and Robinson, how can this defense not get better? This team is stacked with young talent, and I feel they will get better and better with time.
Don't be Surprised if...
Houston has 3-4 Pro Bowlers this year (ALL on defense).
Schaub's passing stats drop IF Johnson misses a significant amount of playing time.
Key Additions: Dominic Rhodes (RB)
Key Losses: None
Offense
Peyton Manning, as usual, will lead this offense to win after win no matter who he's got in the backfield, or lined up on the line with him. Though veteran wideout Marvin Harrison may not be at training camp, depending on what happens in the case he is currently involved in. But, his absence may not leave a huge hole on offense. Pro Bowl WR Reggie Wayne became Manning's favorite target after Harrison missed over half of the 2007 season. Indy's running game is a threat too, though. Joseph Addai led the Colts with over 1,000 rushing yards last year, and the Colts got Rhodes back from Oakland. Manning is an intelligent QB, and will hit the open guys no matter how well the O-Line protects him, so I won't even waste my time breaking down the line. But it would be nice if they stayed healthy, like last year.
Better or Worse in 08??? Well, the competition in the South is getting stiffer, especially with the emerging Jags in the mix. So I'm gonna say they'll do about the same. Everyone will expect Manning to lead the Colts to a Division title just like old times, though.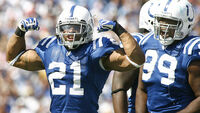 Defense
This defense is the same as last year's, who were second in the NFL in passing defense, and 15th in rushing D, so I don't expect them to have any problems through the air. Especially if they sign Jason Taylor, the Dolphin's DE, who is unhappy with his situation in Miami. That would be a good fit on the end if Dwight Freeney has more foot troubles. Bob Sanders still leads Indy's young, and dominant secondary. Both of the Colts' CB are 24-years old, and are just now starting to shine. Free Safety Antoine Bethea led Indianapolis in INT's with 4 last year, and at age 23, may just be getting warmed up. I really think that if Freeney, and Robert Mathis can get to the QB fast, and often, this secondary is capable of big things.
Better or Worse in 08??? Probably about the same, like their offense. Every year the Colts are at the top of their Division with a great offense, and solid D. With no real big losses on either side of the ball, this team will once again be atop the AFC South. This team may have one of, if not, the most dangerous secondaries in the NFL right now.
Don't be surprised if...
Indy's passing defense becomes the best in the NFL, topping Tampa's passing D.
Jason Taylor becomes a Colt. The chance isn't really that high, but I have heard that Head Coach Tony Dungy is, in fact, interested. I just think that would be the move to get Indy's D over the hump.
Key Additions: Jerry Porter (WR), Cleo Lemon (QB), Troy Williamson (WR), Pierson Prioleau (S)
Key Losses: Marcus Stroud (DT), Lamont Thompson (S; Released), Ernest Wilford (WR)
Offense
Well, the Jags obviously have alot of confidence in signal-caller David Garrard, as he signed a contract extension this offseason, as did Head Coach Jack Del Rio. The Jags organization is very optimistic in this coming year, and they think they have a good shot at a Division Title. And, with a running game like they have, why wouldn't they be confident? Fred Taylor may be getting up there in age, but he's still got it, as he earned his first career Pro Bowl appearance last year (filled in for the injured Willie Parker). Jacksonville lost WR Ernest Wilford over the offseason, but signed not one, but TWO wideouts to replace him, that would be former Viking Troy Williamson, and former Raider Jerry Porter. Both players have underachieved in their careers so far, but that could all change with the mobile Garrad under center. As for the running game in Jacksonville, Taylor may be the every day back, while the 23-year old Maurice Jones-Drew is the third-down back. I like the way the offensive line is looking, especially when you consider the fact that it is pretty much the same as last year, which allowed Jacksonville RB's to run for 149.4 yards per game.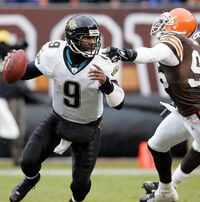 Better or Worse in 08??? Better. Garrard is just emerging as an elite QB, and I expect him to carry his offense, which has fresh legs at the WR position, to at least a Wild Card spot in the AFC Playoffs.
Defense
This once proud Defense is now looking a sorry sight. Defensive Tackle Marcus Stroud left for Buffalo, and Jacksonville's LB core, led by 31-year old Mike Peterson, doesn't really have a big-time player like many teams have. Peterson's numbers, and production have gone down since his 2004-2005 days, and Clint Ingram, and Daryl Smith just haven't performed up to their ability (although they don't miss much Football). The key will be in the secondary. Rashean Mathis, and Brian Williams will have to play their best Football for the Jags to improve in 2008.
Better or Worse in 08??? Worse. Mathis, and Williams won't be able to carry this rather weak D-Line, and LB core. It's a good thing the Jags Offense is on the rise, isn't it??
Don't be Surprised if...
Garrard, Taylor, and Jones-Drew are all Pro Bowlers at the end of the season.
Jacksonville's D-Line experiences health problems come week ten or eleven.
Key Additions: Mike Williams (WR), Alge Crumpler (TE), Jake Scott (G), Jevon Kearse (DE), Justin McCareins (WR)
Key Losses: Chris Brown (RB)
Offense
Vince Young and his Tennessee offense is revamped, and ready to roll. Over the offseason, Tennessee decided to add some depth to VY's offense by signing the once dominant TE Alge Crumpler, who hasn't had a decent season since the Michael Vick era in Atlanta, but may be Young's favorite target in Tennessee. The Titans also brought back McCareins, and finally gave draft bust Mike Williams a job. Tennessee's offensive line, led by veteran center Kevin Mawae, was upgraded too, with the signing of former Colts Guard, Jake Scott. Scott hasn't missed a game since 2004. LenDale White still leads a powerful Tennessee running game, as he ran for 1,110 yards, and 7 TD's in his second season. Tennessee drafted East Carolina RB Chris Johnson this year to add depth at the position.
Better or Worse in 08??? Better. Giving Vince all those weapons is flat-out dangerous. The Titans organization is looking to get over the hump, and showed just how much they want it by having their biggest offseason in quite some time. White should breakthrough for 1200+ yards in 08, and maybe VY will throw more TD's than interceptions this year.
Defense
Tennessee's defense was ranked number five in total defense last year, which surprised many people. I don't think that was just a fluke. Tennessee brought Jevon Kearse back to Tennessee this offseason to accompany Pro Bowlers Kyle Vanden Bosch, and Albert Haynesworth on the line. That may be one of the most dangerous defensive lines in the NFL right now. Just imagine being an NFL QB with all three of those guys trying to knock your head off every single down. The rest of their defense is nothing to sneeze at either. Keith Bulluck leads the veteran LB's, as he picked off 5 passes last season at that position. The secondary was good enough for 10th in the NFL in passing defense, and all 4 starters combined for 9 INT's, and three of the four are under the age of 30.
Better or Worse in 08??? This defense looks pretty dangerous to me, especially that defensive line. I think they will improve with the reunion of "The Freak" on the Line. Tennessee may contend for the second Wild Card spot, but they'll have to beat out Jacksonville for the second position in the AFC South.
Don't be Surprised if...
The Freak returns to his hey-days in Tennessee, and has a solid 2008 campaign.
VY throws more TD's than INT's....FINALLY!
Hope you enjoyed the third edition in the series. Please come back for my next edition: "Early AFC West Preview"
Ad blocker interference detected!
Wikia is a free-to-use site that makes money from advertising. We have a modified experience for viewers using ad blockers

Wikia is not accessible if you've made further modifications. Remove the custom ad blocker rule(s) and the page will load as expected.