I am soooo eager for the NFL season to start (and it's only May!). So, I decided to put together a very early NFL season preview. It will be an 8-part series (seperated by division), and will be posted every few days...or whenever I get around to it. First up, my personal favorite, the AFC North. Note: I have not yet done my playoff picks, since there is still 3 months till the preseason starts, so the teams are not in order of projected finish, instead, alphabetical order.
So, without further ado, I present to you...My (early) AFC North preview for the year 2008!
Key Additions: Fabian Washington (CB), Brendon Ayanbadejo (LB)
Key Losses: Steve McNair (QB)
Offense
Baltimore drafted a smart QB in Joe Flacco (Univ. of Deleware) in this year's draft, and still has a decent running game, led by Willis McGahee, who ran for 1200 yards last year. Ray Rice, drafted out of Rutgers this year, could make for a pretty good third down back, giving McGahee a rest every once in a little while. I expect Yamon Figurs to get some more playing time this year, since he has one year under his belt, and Derrick Mason doesn't have much more gas in the tank. The biggest problem: The offensive line. Veteran Tackle, Jonathan Ogden (33 years old), has missed alot of football in the past few seasons, and seems to be on the downturn. Odgen is the anchor of the offensive line, but it seems as though Baltimore already has a replacement, 2nd string tackle, Jared Gaither out of UMD. Gaither has a bigger body (6 foot 9, 350 pounds, which is just 5 pounds bigger than Odgen), and is 11 years younger.
Better or worse in 08??? Well, I really don't see them getting any worse, but they won't be significantly better, either. Flacco should earn the starting job sometime during the regular season, and I don't think he can lead such a weak offense to a Division title, just yet.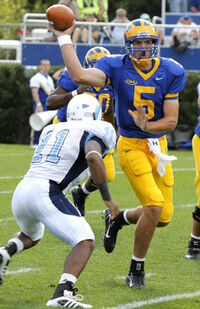 Defense
Ray Ray isn't Iron man, and will eventually retire, and I think this may be his last season. Lewis, the anchor of the Ravens' D, which struggled with injuries, and character problems last year, didn't look like the Ravens of old. But, I think the Ravens' secondary will have some success this year with Ed Reed roaming the defensive backfield alongside young SS, Dawan Landry.
Better or worse in 08??? I think, that despite Lewis on the downturn, I think Baltimore's D will do better. They have many young talented players waiting for their turn to play. That group includes CB Derrick Martin, LB Prescott Burgess, LB Antwan Barnes.
Don't be Surprised if...
Joe Flacco becomes the starter by midseason, if not, before Opening Weekend.
Willis McGahee misses a good amount of time because of injury. I don't think this guy has much more left, despite being only 26. His O-line will not be healthy enough to protect him for very long. Sorry, Willis.
Key Additions: Antwan Odom (DE), Ben Utecht (TE), Doug Gabriel (WR)
Key Losses: Chris Henry (WR; released), Odell Thurman (LB; released)
Offense
The Bengals offense is in trouble. Carson Palmer can no longer trust Chad Johnson, who has been demanded a trade all offseason, causing many distractions. Rudi Johnson had an off-year in 2007, playing in just 11 games, and rushing for 497 yards (2.9 YPC), and 3 TD's. Cincy doesn't have much depth behind Johnson, either. Second-string RB, Kenny Watson could be seeing more playing time than Johnson, and DeDe Dorsey, the 4th string back, may see his 21 carries from last year shoot up as well. Last year's top draft pick, Kenny Irons, missed the entire season due to a devastating knee injury, and probably won't produce many yards on the ground this year. I think Watson, and Dorsey will be a nice RB duo, if, and only if, they get good production out of their aging line.
Better or worse in 08??? Worse. unfortunately, I don't think that Chad Johnson is helping his team AT ALL. He needs to put this whole thing behind him, and think about the team, and not just him. Johnson's status is clearly hurting the team's chemistry (along with all those arrests).
Defense
Cincy's D was a total mess last year. The LB position is possibly the weakest of them all, and were hit with devastating injuries (...and arrests) last year. Antwan Odom, the Bengals newly acquired LB from Tennessee, and Rookie LB Keith Rivers (USC), will have to make an immediate impact at the position. Odell Thurman, who hasn't played much since his rookie season in 2005, was recently released by Cincy. The Bengals secondary may be their biggest strength on D, which is led by 2nd year CB, Leon Hall, who intercepted 5 passes, and deflected 12 passes with 69 total tackles in his rookie year. Three-year Corner, Johnathan Joseph is a nice complement to Hall, who picked off 4 passes last year (15 PD). Joseph just has to stay out of trouble. Expect 6 foot 3, 265 pound DE, Robert Geathers, to get to the QB often this year, leading the Bengals D-Line.
Better or worse in 08??? Better. I don't think Cincy's defense can get any worse than it was last year. They added some decent LB's, and will hopefully stay healthy for all 16 regular season games...and, who knows? Maybe they'll pull a miracle, and go to the playoffs. I only expect CB's Leon Hall, and Johnathan Joseph to get better each year.
Don't be Surprised if...
DeDe Dorsey ends up getting most of Cincy's playing time in the Backfield
Key Additions: Shaun Rogers (DT), Corey Williams (DT)
Key Losses:
Offense
Cleveland made a big move by agreeing on a long-term contract with Pro Bowl QB, Derek Anderson, this offseason. So, I don't see Brady Quinn getting much playing time this year. Cleveland's offense looks to improve even more this coming season. Running back, Jamal Lewis could have a big season, and Kellen Winslow, and Pro Bowl WR Braylon Edwards is all that Anderson needs to go for 30+ TD passes, and go to the playoffs.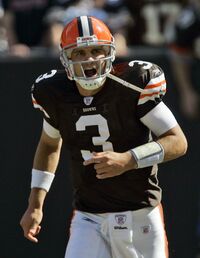 Better or Worse in 08??? Better. Derek Anderson really proved to NFL fans that he can get the job done. Especially with targets like Edwards, Winslow, and Lewis.
Defense
The defense is Cleveland's biggest weakness. This team was 30th in the NFL in overall defense just last season, and if they want to make a legit run in the playoffs, they desperately need help on the defensive side of the ball. Cleveland LB Willie McGinest feels the Browns young defense is ready to show the world what they're made of. The Browns did make one move on defense this offseason, they signed 6 foot 4, 340 pound Defensive Tackle, Shaun Rogers from the Detroit Lions. This move surely adds size to the D-Line, and I feel he can really help this team. The Browns have McGinest at LB, along with young, and promising OLB Kamerion Wimbley, who is entering his 3rd NFL season, and has already recorded 16 sacks as a Brown, including 11 in his rookie season in '06. The Browns may have the youngest secondary in the NFL (22, 22, 23, 26), and I feel that they are capable of stopping the likes of Ben Roethlisberger (unfortunately), and Carson Palmer, the two top QB's in the AFC North.
Better or Worse in 08??? Better. I can see this team winning the Division with 11-12 wins, and making a legit run in the playoffs, IF, and only IF, the defense stays healthy.
Don't be surprised if...
Anderson, Braylon, Kellen, and Jamal all make the AFC Pro Bowl roster this year.
Cleveland wins the AFC North, and survives the first round of the playoffs.
Key Additions: Justin Hartwig (C)
Key Losses: Alan Faneca (G)
Offense
Ben Roethlisberger is armed, and ready. Coach Mike Tomlin drafted Rashard Mendenhall to aid Willie Parker, and finally found a replacement for Plax in 6 foot 4 WR, Limas Sweed, out of the University of Texas. If Big Ben gets protected better than last year, he could throw 25-30 TD passes, and Fast Willie, and Rashard could become the most dangerous RB duo in the NFL. Look out Baltimore, Cincy, and Cleveland, Pittsburgh's on a mission for number 6!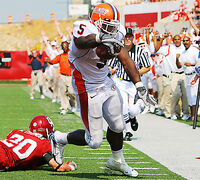 Better or worse in 08??? Better. Tomlin drafted 2 great weapons in the draft, and if the Line stays healthy Big Ben could have a big season.
Defense
Pittsburgh's usual scary D isn't looking as scary as they usually do. Aaron Smith, and Casey Hampton have had trouble staying healthy the last year or two, as well as the secondary. I am praying that Troy Polamalu will be able to play all 16 games this year. As usual, though, the LB core is their biggest strength. James Harrison was beasting last year, recording 98 total tackles, 8.5 sacks, 7 FF, and an INT. The two inside LB's Larry Foote, and James Farrior combined for 9.5 sacks, 5 FF, and 2 INT in 2007, and are hungry for more.
Better or worse in 08??? Worse. Well, I don't think they'll do any better. Pitt's secondary has had some issues, especially the leader, Troy Polamalu, who missed 5 games in 2007, and didn't pick a single pass off. Pitt's D-Line has had injuries, as well.
Don't be surprised if...
Limas Sweed becomes Big Ben's go-to guy. Roethlisberger loves big wideouts, and could easily win him over.
Rashard Mendenhall becomes Pitt's 3rd down back, but Parker still breaks 1200 rushing yards on the season.
AFC East coming soon!!!
Ad blocker interference detected!
Wikia is a free-to-use site that makes money from advertising. We have a modified experience for viewers using ad blockers

Wikia is not accessible if you've made further modifications. Remove the custom ad blocker rule(s) and the page will load as expected.