A few days ago I started my Early Preview Article series with the AFC North, and I now present to you part two of eight, the Early AFC East Preview, which may not even be close.
Will the Brady-Moss combo have another great season??? Will Pennington finally shut the haters up??? Will Buffalo find the QB their looking for in Trent Edwards??? And, what about Miami??? Find out what BBB15 thinks about all this in his Early AFC East Preview...
Key Additions: Marcus Stroud (DT), Courtney Anderson (TE), Kawika Mitchell (LB)
Key Losses: Larry Tripplett (DT; released), Kiwaukee Thomas (CB; released)
Offense
With a year under the young backfield's belt, I believe Marshawn Lynch will breakout for a 1200+ yards, taking the pressure off the QB. Speaking of the QB, the Bills seem to be having a situation. Second-year QB, Trent Edwards is expected to be the opening day starter, taking over for the benched J.P. Losman, who has a career completion % of 59.1. But, in Edwards' rookie season last year he threw just 7 TD's, and 8 INT's with a of 56.1 COMP %. So, it really wouldn't take much for him to improve this year. But, having Lynch in the backfield could limit his pass attempts.
Better or Worse in 08??? I would expect this Bills running game to improve, maybe jump a few spots in rushing offense. But, as a team, I really don't see this team improving their 07 record of 7-9. I don't see Edwards helping this team out all that much, and prehaps sharing some time with Losman. Hopefully Lee Evans, and Josh Reed will stay healthy for the below-par QB's.
Defense
This defense isn't a defense that should get overlooked. They have a two-time Pro Bowler at one end of the Line (Aaron Schobel), and another solid DE on the other side in Chris Kelsay. Not to mention that Buffalo added 6 foot 6, 310-pound DT Marcus Stroud from Jacksonville. Buffalo upgraded at LB this offseason, as well. Adding Kawika Mitchell from the defending Super Bowl Champs. MItchell could end up being 'the guy' in Buffalo as far as LB's go. Paul Posluszny needs to stay healthy this year after missing 13 games last year, and not recording a single sack in his 3 games played. The starting 4 in the secondary combined for just 7 INT's in 2007, and will have to do it a little more often this year to win some games, and get the defense off the field to rest.
Better or Worse in 08??? Last year's 31st ranked defense will, in fact, improve this year. I expect some solid production from the D-Line, and if the LB's stay healthy, I will expect Posluszny to breakthrough this year. I see the Bills jumping up to a 25th spot in Total Defense, at least.
Don't be Surprised if...
Edwards is benched halfway through the season in favor of Losman.
Buffalo's Defense experiences more injuries, particularly at the LB position.
Key Additions: Josh McCown (QB), Ernest Wilford (WR), Anthony Fasano (TE)
Key Losses: Zach Thomas; Dallas Cowboys (LB)
Offense
John Beck, the 'Phins second-year QB out of BYU, is currently second on the depth chart to new Dolphin, Josh McCown. I don't expect that to last very long, though. Ronnie Brown absolutely NEEDS to stay healthy, and gain 1200+ yards on the ground to keep it out of the QB's hands, (whomever that may be). Ernest Wilford, the former Jaguar, will be a nice target, standing at 6 foot 4. Wilford will most likely be the go-to guy in Miami, and dominate his opponents in the AFC East.
Better or Worse in 08??? Well, this offense really can't get much worse than 07. So, I gonna say yes, they will be better than last year. Maybe win 4 or 5 games, and improve from their 28th overall position on offense. Ronnie Brown should stay healthy this year, and the 'Phins upgraded their Line by drafting OT, Jake Long at first overall in this year's draft.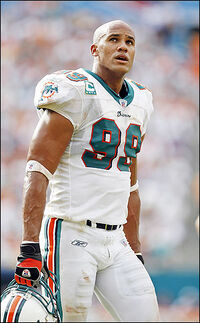 Defense
This defense will definitely struggle this year. Veteran LB, and tackling machine, Zach Thomas, left for Dallas, and All-Pro D-End, Jason Taylor could be gone soon, as well. You know what that means...Joey Porter is going to have to lead this rather weak defense. But, it's not the LB's, or D-Line that I'm worried about. That would be the secondary. Miami was 4th in the NFL in passing defense last year, but SS, Yeremiah Bell played just 1 game last year, and Jason Allen is still young, and in the learning process. In 15 games, 28-year old CB Mike Lehan recorded just 59 tackles, and 1 INT. But, if Miami wants to have a successful D, they are going to have to stop the run better than last year, as they gave up 153.5 Rushing YPG, could enough for dead-last in the NFL. The loss of Zach Thomas, and maybe Jason Taylor doesn't help the cause any.
Better or Worse in 08??? Worse. The passing game will do just as good as last year, I believe. But, their run-stopping won't improve a bit, and may end up being 32nd in the NFL for a second consecutive season. As a team, the Dolphins D will be worse in 08, I just don't think Porter will be able to lead this defense as well as he did in Pittsburgh.
Don't be surprised if...
Ernest Wilford becomes the go-to guy in Miami, like I said above.
Jason Taylor isn't a Dolphin come opening day, especially since he says he boycotting Miami's training camp. I think he'll stay true to his word.
Key Additions: Marcus Pollard (TE), Kelley Washington (WR)
Key Losses: Asante Samuel (CB; Philly), Junior Seau (LB; Free Agency)
Offense
Obviously NE is still the team to beat in this Division. New England went 16-0 last year, and was number one in passing, and overall offense. They have the number 1 QB in the league, and last year's MVP, Tom Brady. Brady to Randy Moss will still be a huge threat for opposing teams, obviously, and I don't see this team having any trouble defeating the rest of the AFC East teams. New England's rushing offense isn't anything to sneeze at either. Running Back Laurence Maroney ran for 835 yards in just 13 games (4.3 YPC), and the rushing offense didn't hesitate to gain yards while he sat out. The Offensive Line is pretty much the same line as last year, meaning not too many defenses are going to get to Brady.
Better or Worse in 08??? Well, this offense probably won't get much better, since they were number 1 in total offense last year. But, they won't be significantly worse either. Brady's offense didn't have a single big loss over the offseason, meaning Brady still has his line, and weapons. Look out NFL!! New England is ready to show the world why they were 16-0 last year.
Defense
While the Offense is still running on all cylinders, the defense may struggle a little more. The Pats LB's are another year older, and they lost their all-pro CB, Asante Samuel, who's headed for Philly. Tedy Bruschi still has the leadership skills, but can he still perform?? We probably won't know until the season starts, but it makes you wonder. Junior Seau is now a free agent, and will be missed in the defensive backfield for New England. Rodney Harrison is another one of those question marks surrounding the Pats D. Bottom Line: Secondary will struggle.
Better or Worse in 08??? I'm gonna go with 'about the same' despite a few big losses, and aging LB's. I still think Bruschi has the skill to lead this team to victory on the defensive side of the ball. Plus, with an offense like they have, who needs Defense?!?!
Don't be surprised if...
Brady, and Moss have another monster year.
New England rolls to an easy Division title, and goes deep into the playoffs.
Key Additions: Alan Faneca (G), Jesse Chatman (RB), Tony Richardson (FB), Kris Jenkins (DT), Calvin Pace (LB)
Key Losses: Jonathan Vilma (LB; New Orleans Saints)
Offense
Without a proven QB, not many teams can succeed, and I believe that may be the case in New York. Chad Pennington has yet to prove he can start all 16 regular season games, and take his team to the playoffs. So, I believe Kellen Clemens may start some games for New York, so he can gain more experience, and maybe lead NY to a WIld Card. But, Clemens managed to complete just 52% of his passes for 5 TD's, and 10 INT's in his rookie season last year. In 9 games last year Clemens accumulated a horrific 60.9 QB Rating, but did show some hope in a week 17 win over the Kansas City Chiefs. Clemens threw for only 115 yards, and completed half his passes, but didn't throw an INT, and had zero fumbles. Unfortunately for New York, I believe Pennington's time is done, and Clemens is the future. But, if Thomas Jones, and Leon Washington run well behind new FB, Tony Richardson, Pennington/Clemens may perform a little better. Despite the iffy QB situation, look for wideout Jerricho Cotchery to have a big impact on fantasy teams.
Better or Worse in 08???  I think the QB situation looks to be a little better than last year, especially since Clemens has had a chance to learn the offense a little better. The running game will improve because of the fact that they now have all-pro FB, Tony Richardson blocking for them.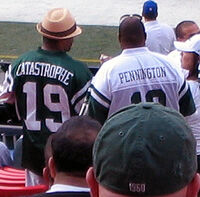 Defense
New York lost the 2004 Defensive POY in Jonathan Vilma, but added Calvin Pace to take his place at the LB position (From Arizona. David Harris, the second-year ILB from Michigan looks to have a big season after racking up 126 total tackles, and 5 sacks in his rookie season. So, I don't think NY will miss Vilma a bit. Darrelle Revis (age 22), and Kerry Rhodes (age 25) lead NY's young secondary which ranked 9th in the NFL in passing defense. Look for that to improve with age.
Better or Worse in 08???  I think this team has nowhere to go, but up. The defense will do just fine with the leadership of David Harris, and Kris Jenkins. I think this secondary will be overlooked, and will jump to maybe the 6th or 7th spot on passing defense. Especially if Jenkins is able to get to the QB.
Don't be surprised if...
David Harris is a Pro Bowler come February.
NY's run game jumps from 19th to inside the top 10 this year. I'm telling you, Richardson is highly underrated as a FB.
All in all, NE will run away with the AFC East, and NY will come in second, with Buffalo a close 3rd. Miami....Well, let's just wait til the season kicks off in September to find out how they do without Thomas, and Taylor roaming the defensive backfield.
UP NEXT: AFC South Early Preview!!! Have a great Memorial Day weekend!!
Ad blocker interference detected!
Wikia is a free-to-use site that makes money from advertising. We have a modified experience for viewers using ad blockers

Wikia is not accessible if you've made further modifications. Remove the custom ad blocker rule(s) and the page will load as expected.