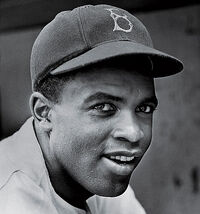 Every April 15 we are reminded of one name in Major League Baseball, Jackie Robinson.  Although of late the MLB seems to be pimping out Jackie in a full blown publicity stunt, it is important to remember who the man was… the greatest human being to ever take on such a burden in any sport.  Even if we could discount the civil rights strides and significance of it all, Jack Roosevelt Robinson would still be looked upon as an all-time great.
Jackie was born in Georgia but quickly moved to Pasadena, CA where he found a life of poverty and even went as far as joining a local gang.  But in sports Jackie found salvation and a way out, as many people of less opportunity have done after him.  Jackie succeeded in numerous sports in middle and high school before attending UCLA where he lettered in baseball, basketball, football, and track.  His best sport was football, where he was nearly untouchable; he even went to play for a semi-pro, integrated team in Hawaii the Honolulu Bears.  His football career was immediately halted though with the beginning of World War II where Jackie quickly enrolled in the service until 1946. When he returned he found opportunity in the game of baseball with a chance to play for the Kansas City Monarchs in the Negro League. But he would only play there for less than a month.
Jackie quickly caught the eye of Brooklyn Dodgers executive Branch Rickey.  Rickey brought him in for an interview process full of tirades and racial slurs and he told Jackie he wants to him "to have the guts not to fight back".  Rickey signed Robinson to a contract with the Dodgers AAA affiliate the Montreal Royals of the International League.  We all know what happens from here in terms of all the racial struggles when Robinson gets a chance with the Dodgers in 1947 and his Rookie of the Year title, MVP award in 1949, and his World Series title in 1955.
There are two immediate resounding terms of sadness when looking at Robinson. One, that he died so early at the age of 53 in 1972; and second, that his career was cut short because of his trade to the New York Giants in 1956, which Jackie refused.  He was traded because of his outspoken appreciation for Branch Rickey who was ousted by the Dodgers in earlier years.  This show no matter when or where Jackie Robinson was an American landmark and would stand up for any human being or cause that had such a just, honorable, loving, and courageous heart as his, and should not only be in our sports memories but in history books.
Major League Baseball has begun to overdo the significance of April 15, which is sad.  Last year seeing Jackie's widow, Rachel, speak was truly moving and she is just a much of a staple of American history as Jackie, but the MLB needs to remember what this day is all about.  Players should not be encouraged to wear the #42 simply because they are on the Dodgers or because they are black but rather they agree and appreciate what Jackie Robinson stood for and the incredible strides that the man made in his life.
Ad blocker interference detected!
Wikia is a free-to-use site that makes money from advertising. We have a modified experience for viewers using ad blockers

Wikia is not accessible if you've made further modifications. Remove the custom ad blocker rule(s) and the page will load as expected.