The final score reads UNC 90, Clemson 88, but that isn't what matters, at least not for the Clemson faithful. It would have been nice if Clemson could have pulled out the win, but they showed that they can play with not just anyone in the ACC, but with anyone in the country. They took the momentum of the big win at Alabama on New Years day, and brought it into this game and almost pulled it out. At the end, Wayne Ellington proved to be a little too good last night.
Ellington's 36 points, and game winning shot also overshadowed the great play of junior K.C. Rivers for Clemson. Rivers had 24 points and 6 rebounds. However, he failed to score in overtime.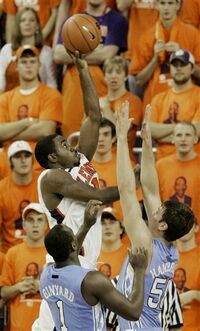 What many people also don't know is that James Mays played this whole game with a fracture in his left hand. During warmups, he jammed his finger while catching a ball awkwardly which led to the break in his hand. He finished the game with nine points, eight rebounds, four steals, and two blocked shots, but he was clearly bothered by it. He is also just coming off of a hip injury that sidelined him for four games.
What ultimately led to the Tigers losing though was the poor free throw shooting (14-27 to UNC's 24-30), combined with Terrence Oglesby's very poor shooting night. He was just 1-10 from the field, although he was the only bright spot from the free throw line, going 4-4. The Tigers have relied on the freshman's sweet three point stroke all year, and he just didn't have it last night. The free throw shooting will come. They have been recruiting better free throw shooters, and that shows already with Oglesby, and starting freshman point guard Demontezz Stitt.
With all of that said, the loss really is insignificant at this point. There is a new feeling around Clemson basketball, and it all starts with coach Oliver Purnell. Since Purnell has come to Clemson in 2003, he has totally revamped the team. He has gotten more wins in every year so far, and with 12 wins already this year, looks to continue that trend. He has taken Clemson from a school where people stopped caring about basketball, to a place where people are excited and talking about basketball again like they did when Rick Barnes was here. The difference between Purnell and Barnes though is that Purnell cares about Clemson, and wants to build a legacy here. Barnes knew he was never going to stay at Clemson, and just used it as a stepping stone to get to another school. Purnell cares about the people at this school and he loves the area. On saturday night, while students were camping out for tickets, he came and brought a bunch of pizzas and told everyone how much he appreciates the support we are giving the team.
Finally, prior to the game last night they gave out Orange T shirts to students with a purple picture of Oliver Purnell on it that said "Oliver Purnell's Posse." People are rallying around him, and I look forward to better things to come for this program.
Ad blocker interference detected!
Wikia is a free-to-use site that makes money from advertising. We have a modified experience for viewers using ad blockers

Wikia is not accessible if you've made further modifications. Remove the custom ad blocker rule(s) and the page will load as expected.