Article:Dead Soxy: Manny's HR Gives Sox Come-From-Behind Win Over Cleveland
Add New Page
Talk

0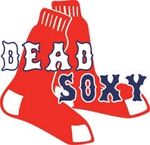 The Boston Red Sox trailed the Cleveland Indians late. Their backs were against the wall. But Manny Ramirez and Kevin Youkilis delivered in the clutch, and the Sox came out victorious.
In their first matchup since the Indians blew a 3-1 series lead against Boston last fall, the Red Sox proved that history repeats itself, dispatching Cleveland 6-4 on the strength of late home runs by Youkilis and Ramirez. The Indians played a pretty good game, leading Boston 4-1 for most of the tilt, but their relief corps (specifically Joe Borowski) killed them late in the game, surrendering 4 runs over the 7th, 8th, and 9th innings and wasting what had been a solid start by Jake Westbrook.
With Jon Lester on the mound for the Red Sox, the Indians were able to score 2 runs in both the fourth and fifth innings thanks to a number of walks and some timely hitting. Lester cruised through the first 3 innings, but ran out of steam in the 4th, walking the leadoff batter and allowing singles to the two batters who followed. The damage in the fifth was also caused by Lester's lack of control, as both of the baserunners who eventually scored were put on base by walks. When Lester was pulled in the bottom of that inning, the Indians led 4-1.
But from that point forward, it was a tale of two bullpens. Julian Tavarez (who conjured memories of El Tiante with a nifty fake pickoff in the 6th) and Mike Timlin shut down the Indians after Lester left the game, striking out 5 while allowing just 2 runners to reach base. Tavarez in particular was instrumental to Boston's effort; he threw 43 pitches in 2-2/3 relief innings, bridging the gap between the 5th and 8th innings without allowing a single run.
Meanwhile, Rafael Betancourt allowed a leadoff HR to Youkilis in the 8th, which cut the score to 4-3, and Borowski completely melted down in the 9th. He gave up a double to Julio Lugo, the first batter he faced, and Lugo came around to tie the game two batters later. Then he gave up a bloop single to David Ortiz (as a side note, Papi sort of broke his slump, going 2-for-5, although he still wasn't hitting the ball with authority), and served up a meatball to Ramirez, who promptly deposited it in the left-field stands... Red Sox 6, Indians 4.
All that was left was for Jonathan Papelbon, rested and ready after a night off, to come in and show the Indians what a real closer looks like. Pap mowed down Cleveland's 1-2-3 hitters, striking out 2, and the Red Sox had stolen another victory from the jaws of defeat against the Indians.
Standings Watch
8-6, 2nd in AL East, 0.5 games back
Up Next For The Red Sox